Since Monday morning, seven top executives have quit President Donald Trump's American Manufacturing Council in protest against his tepid response to a deadly attack by an accused white supremacist following a rally in Charlottesville, Virginia.
Yet no one has left the president's other business brain trust.
The Strategic and Policy Forum, a council of 16 big-name executives tasked with advising Trump on economic policy, includes some huge consumer brands, making those members more susceptible to public pressure through boycotts. Still, most of them did not respond to HuffPost's request for comment on Tuesday.
The fastest responses to HuffPost had tended to come from executives who lead finance and financial services giants that generally don't count ordinary consumers among their clients.
Steve Schwarzman, the billionaire chief executive of the investment goliath Blackstone Group, issued a strongly worded statement on Monday, condemning "bigotry, hatred and extremism" as an "affront to core American values." But his spokesman told HuffPost he had no plans to leave the council.
Mark Weinberger, CEO of the professional services firm EY, put out a similar statement against hate. His spokesman told HuffPost, "There is also no change to Mark's participation in the forum."
Adebayo Ogunlesi, the chairman and managing partner of the $40 billion investment fund Global Infrastructure Partners, declined to comment.
A spokesman for Daniel Yergin said the Pulitzer Prize-winning author and vice chairman of the financial services firm IHS Markit "has been on vacation and is unavailable" to comment.
A spokeswoman for Toby Cosgrove, chief executive of the nonprofit hospital chain Cleveland Clinic, explained why he planned to remain on the panel. "At this time, his status has not changed," she told HuffPost. "He has the ability to access the highest level of government to give direct input on healthcare issues."
Jack Welch, the former chairman of General Electric who now serves as a corporate gadfly and conservative pundit, could not be reached for comment, according to a spokeswoman. "Mr. Welch is on vacation and ... he will not be home until this evening," she said. "He did not bring his cell phone with him, so I can't reach him for a comment."
Walmart CEO Doug McMillon, who did not specifically respond to HuffPost, issued a strong rebuke of Trump's response to the Charlottesville violence in a statement posted on the company's website. But he indicated that he plans to stay on the Strategic and Policy Forum, according to The New York Times.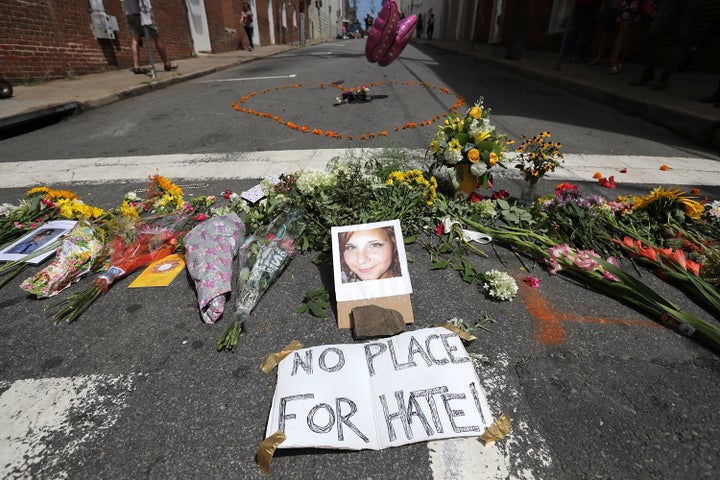 PepsiCo CEO Indra Nooyi, JPMorgan Chase CEO Jamie Dimon, General Motors CEO Mary Barra, IBM CEO Ginni Rometty, BlackRock CEO Larry Fink, Patomak Global Partners CEO Paul Atkins, Boston Consulting Group CEO Rich Lesser, former Boeing Company CEO Jim McNerney and Hoover Institute fellow Kevin Warsh also did not return requests for comment.
People protested in New York on Wednesday to demand that Schwarzman and Dimon step down from the council.
Over the past few months, three chief executives have resigned from the Strategic and Policy Forum in opposition to other decisions by Trump. In February, then-Uber CEO Travis Kalanick stepped down in hopes of distancing his ride-hailing service from Trump's executive order barring travelers from several Muslim-majority nations. In May, Tesla and SpaceX chief Elon Musk resigned after Trump's withdrawal from the Paris climate accord left him "no choice." Walt Disney Company CEO Bob Iger also resigned over the president's decision to pull the U.S. out of the historic climate agreement, which was signed by every country except Syria and Nicaragua.
Under Armour CEO Kevin Plank and Intel CEO Brian Krzanich resigned on Monday evening, hours after Trump gave a press conference in which he said "racism is evil" and called out the Ku Klux Klan and neo-Nazis.
On Wednesday, Inge Thulin, chief executive of the industrial conglomerate 3M, dropped out after "careful consideration." Campbell Soup Company CEO Denise Morrison resigned soon after.
"Racism and murder are unequivocally reprehensible and are not morally equivalent to anything else that happened in Charlottesville. I believe the President should have been ― and still needs to be ― unambiguous on that point," Morrison said in a statement. "Following yesterday's remarks from the President, I cannot remain on the Manufacturing Jobs Initiative."
In response, Trump lambasted Frazier for his company's high drug prices. He did not call out the other corporate chieftains specifically, but he vowed to replace them in a tweet on Tuesday morning.
But it's not clear that he will. The White House did not replace Klaus Kleinfeld after he stepped down as chief executive of the manufacturing giant Arconic in April and left the council. The administration did not even invite Ford Motor Company CEO Jim Hackett to join the manufacturing council after his predecessor, Mark Fields, retired in May.
No one has replaced Kalanick, Musk or Iger on the Strategic and Policy Forum, either.
Before You Go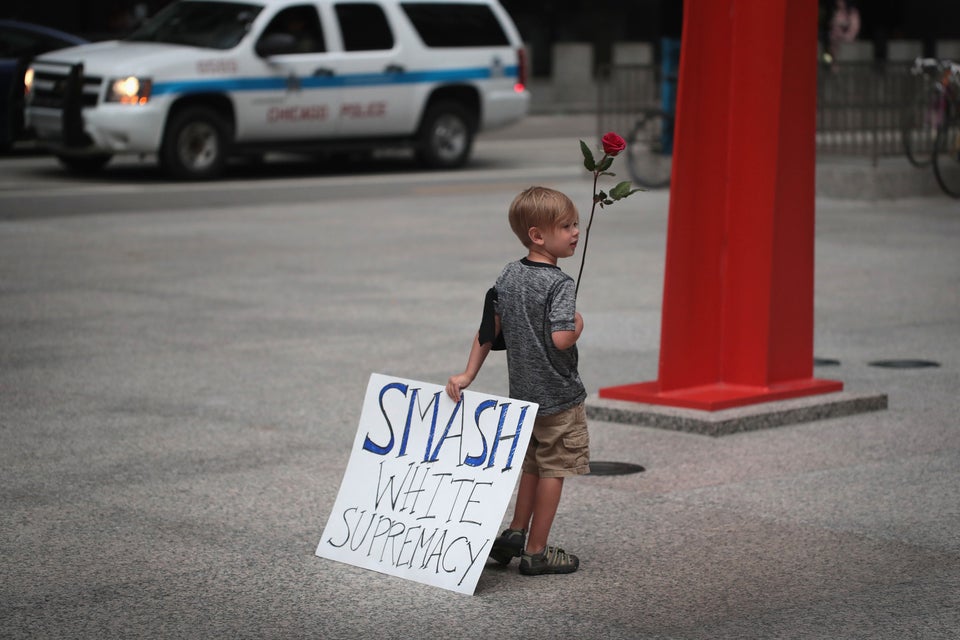 Powerful Signs From Charlottesville Protests Across The U.S.
Popular in the Community