WASHINGTON -- "I am acting as an agent of charities," Donald Trump boasted to a gaggle of reporters watching him unveil his newest venture, a board game, in February 1989. "From the Trump perspective, all the profits we make will go towards charities," Trump said, rolling gold-plated dice across the pink marble atrium floor of Trump Tower.
"Trump: The Game" allows players to compete in a Monopoly-style quest to accumulate wealth and property. At the time, Trump was at the pinnacle of his career, with a half-dozen high-rise developments in Manhattan that bore his name, and a mini-empire of casinos in Atlantic City.
Standing in front of a huge replica of his board game, and flanked by executives from game publisher Milton Bradley, Trump raised the stakes.
According to Trump biographer Gwenda Blair:

The Milton Bradley executives were shocked. During more than a year of planning, Trump had never mentioned giving the proceeds from "Trump: The Game" to charity, Blair wrote in The Trumps: Three Generations of Builders and a Presidential Candidate. "I hope the game makes many millions of dollars," Trump told reporters, adding that the real beneficiaries would be groups that funded research into AIDS, cerebral palsy care, and multiple sclerosis.
By August 1990, about 18 months after the game was unveiled, Trump said it had sold more than 800,000 copies. His donations to charity from the game, Trump said, had been around $1 million.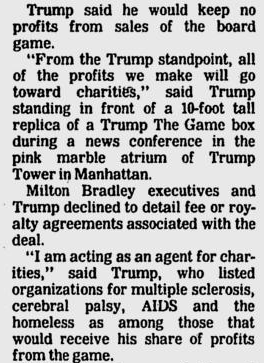 On store shelves, however, the game was a disappointment. Milton Bradley had planned to produce 2 million copies, but slow sales forced a reconsideration.
Still, 800,000 games at $25 each is about $20 million in sales. So where did Trump's proceeds go?
The Huffington Post on Friday put this question to Trump's lawyers, to an executive vice president at the Trump Organization, and to his presidential campaign spokeswoman. No one responded.
HuffPost also contacted Hasbro, the parent company of Milton Bradley, attempting to confirm Trump's claim of 800,000 games sold. There was no immediate response.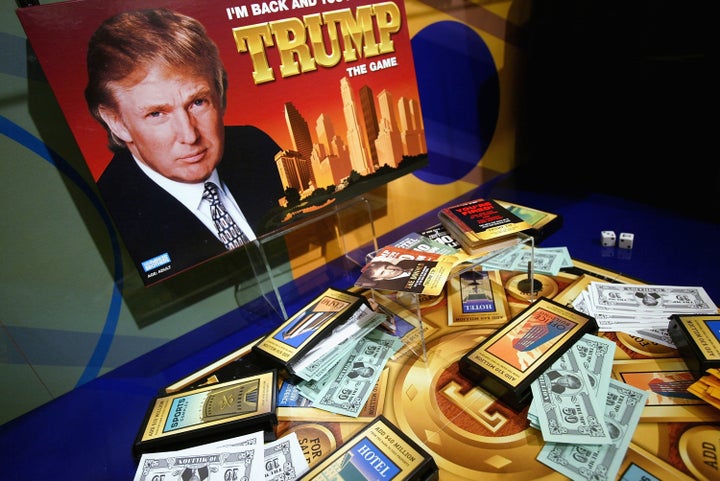 "Trump: The Game" appears to add to a growing list of charitable donations that Trump claims to have made, but haven't been substantiated by evidence from Trump, his staff, or charities.
Earlier this week, HuffPost reported on Trump's claim that the proceeds from his latest book, Crippled America, would be donated to charity. There was no record of donations, but Trump appears to have pocketed more than $1 million in royalties from the sales, which he reported as income last month to the Federal Election Commission.
Trump also promised to donate the proceeds of his Trump Vodka to charity in 2005. Trump does not drink, and said his donation would honor his late brother, Freddy Trump, who died from complications of alcoholism.
But it doesn't appear that Trump gave away any of the money he made from licensing his name to the vodka company. Trump and his staff refused to answer questions about the deal.
Scrutiny of Trump's claims of charitable giving has intensified in recent weeks, sparked by evidence that Trump lied about giving $1 million to veterans' groups earlier this year in a political rally and fundraiser ahead of the Iowa Republican caucus. It wasn't until The Washington Post demanded to see evidence of his gift that Trump finally wrote a check, in late May.
On its face, Trump's pledge involving "Trump: The Game" bears a strong resemblance to Crippled America, and to Trump Vodka. In each case, Trump promised large sums of money to charity as part of a pitch to help sell a product.
While it's impossible to calculate how much Trump's promises influenced the people who eventually bought Trump's licensed goods, press coverage of his promises made Trump look like a selfless millionaire, only interested in helping good causes.
When "Trump: the Game" went on sale, Trump was a businessman not involved in politics, and there was no particular reason to question what he said he gave to charity.
But now, he's the presumptive Republican presidential nominee, resisting pressure to publicly release his tax returns. Each new discrepancy between what Trump said and what he actually did chips away at voter trust in the candidate.
Popular in the Community