President Donald Trump did not mention the multi-count conviction of his former campaign chairman Paul Manafort nor the guilty plea by his former personal attorney Michael Cohen during a rally Tuesday in West Virginia that lasted more than an hour.
Instead, the president focused on his 2016 election, praised Republican Gov. Jim Justice as "the largest, most beautiful man" and insisted that there was no "collusion" during the presidential campaign.
"They're still looking for collusion. Where is the collusion?" Trump said at the Charleston, West Virginia, event. "Find some collusion. We want to find the collusion."
The president ignored the day's two biggest news events. Manafort was found guilty by a jury of five tax fraud charges, two bank fraud charges and a count of failing to report foreign bank and financial accounts. On the 10 other charges he faced, the jury could not come to an agreement and the judge declared a mistrial. He faces a maximum of 80 years in prison.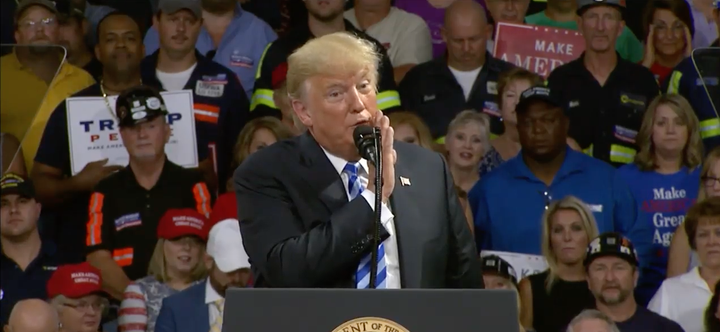 "I must tell you that Paul Manafort's a good man," Trump said as he exited Air Force One in West Virginia shortly after the jury delivered its verdict.
"It doesn't involve me, but I still feel, you know, it's a very sad thing that happened," he continued.
The attorney told a judge he had arranged the $130,000 payment to porn star Stormy Daniels and another related to former Playboy model Karen McDougal. Cohen said he did so "for the principal purpose of influencing the election" in Trump's favor.
It's not the first time Trump has steered clear of the day's news about his administration during one of his rallies. While uproar over the immigrant family separations he oversaw dominated the news in June, he barely mentioned it during a rally in Duluth, Minnesota.
As is usual at Trump rallies, the president opened Tuesday's event by celebrating his success in the state during the 2016 election and criticized his former presidential rival, Hillary Clinton. Minutes later, he moved on to a mashup of two other favorite subjects, the media and the national anthem.
"Unlike the NFL, you always honor and cherish our great American flag," he said of West Virginians before calling ESPN's decision not to air the national anthem before football games "terrible."
As the rally came to a close, Trump heaped praise on those gathered at the event, calling them the "super-elite" while bashing their liberal counterparts.
"We're the smart ones, remember," Trump said. "They're not elite; we're elite. You're smarter than they are, you have more money then they do.... Let them have the word elite. You're the super-elite."