President Donald Trump on Thursday claimed that he never "said there is a moral equivalency between" white supremacists and the activists protesting bigotry last weekend in Charlottesville, Virginia.
But Trump had on Saturday blamed "many sides" for the deadly violence at a white supremacists rally in Charlottesville, and waited two days to denounce the neo-Nazis and other far-right groups who organized the event.
Then, on Tuesday, he defended his initial response to the violence and lashed out at the anti-fascist activists who had been protesting the "Unite The Right" event. He also claimed there were "fine people on both sides" and even said that some of those attending the white supremacist gathering were "innocent."
"I am not putting anybody on a moral plane," he said. "You had a group on one side and the other and they came at each other with clubs and it was vicious and horrible. It was a horrible thing to watch. There is another side. There was a group on this side, you can call them the left. You have just called them the left, that came violently attacking the other group. You can say what you want. That's the way it is."
Saturday's white supremacist rally had been billed as a protest of the city's decision to remove a statue of Robert E. Lee, part of a nationwide effort to get rid of confederate monuments. Trump on Thursday denounced the effort as "foolish."
As The New York Times put it, "Trump buoyed the white nationalist movement on Tuesday as no president has done in generations — equating activists protesting racism with the neo-Nazis and white supremacists."
His Thursday comments were a direct rebuttal to Sen. Lindsey Graham (R-S.C.), who had on Wednesday accused Trump of "dividing Americans" with his Charlottesville response.
"Through his statements yesterday, President Trump took a step backward by again suggesting there is moral equivalency between the white supremacist neo-Nazis and KKK members who attended the Charlottesville rally and people like Ms. Heyer," Graham had said in a statement. "I, along with many others, do not endorse this moral equivalency."
Before You Go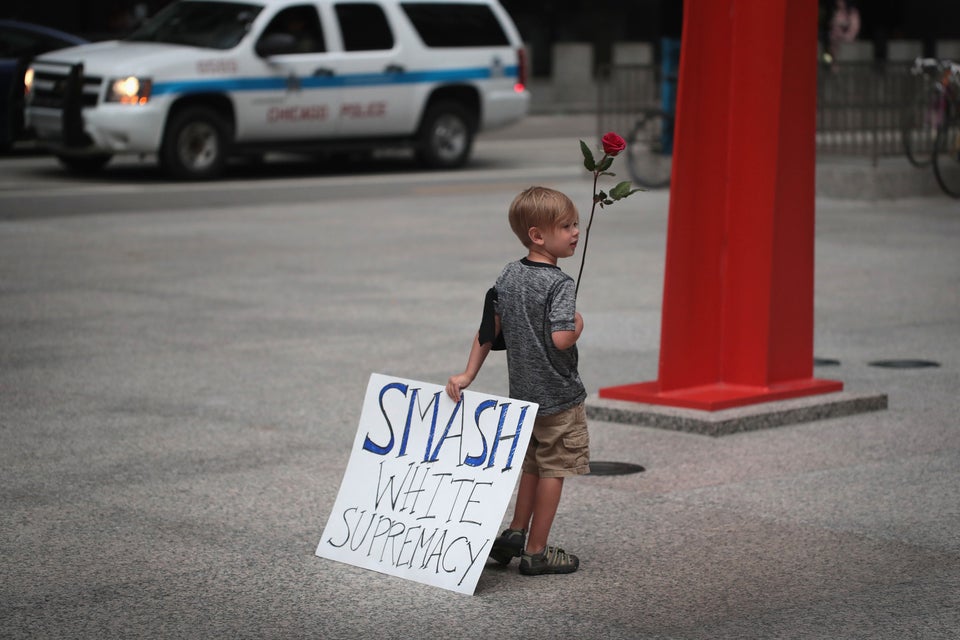 Powerful Signs From Charlottesville Protests Across The U.S.
Popular in the Community