Early Tuesday morning, while most people prepared to return to work after the New Year's holiday, the president-elect of the United States decided to share his opinion about one small aspect of the operations of a major U.S. auto manufacturer.
"General Motors is sending Mexican made model of Chevy Cruze to U.S. car dealers-tax free across border," Trump tweeted at 7:30 a.m. "Make in U.S.A. or pay big border tax!"
What prompted that tweet is puzzling.
Trump spent a lot of time last year bullying companies that shift production from the U.S. to Mexico, including auto companies, but GM had not recently made any Cruze announcements. It said it would make a version of the car in Mexico back in March 2015.
Trump has sometimes used Twitter to respond immediately to items he sees on TV, but cable news transcripts show no mention of the Chevrolet Cruze in the early hours on Tuesday. A spokesman for GM said he had "no idea" what caught Trump's attention. A spokesman for Trump didn't respond to a request for comment.
Trump's tweet did come hours before the Ford Motor Company announced that it had scrapped plans to build a new plant in Mexico in favor of expanding its investment at a factory in Flat Rock, Michigan. The company denied that Trump had any role in that switch, although Ford Executive Chairman Bill Ford Jr. told reporters that he'd notified Trump prior to the announcement. It's not clear exactly when they communicated.
It could be that Trump, knowing Ford's announcement was coming, tweeted about GM to suggest that he has been busy pressuring manufacturers to shift production back to the U.S. The president-elect has vowed to stop American companies from offshoring jobs, and news stories about a few high-profile examples could distract the public from the fact that hundreds of companies will continue to offshore jobs despite Trump's threats.
Yet the strangest thing about Trump's tweet is that GM actually does make the Chevy Cruze in the U.S., at a plant in Lordstown, Ohio. It produces a hatchback version in Mexico that it mostly sells in other countries.
"All Chevrolet Cruze sedans sold in the U.S. are built in GM's assembly plant in Lordstown, Ohio," GM spokesman Patrick Morrissey said in an emailed statement. Of the 190,000 Cruzes sold in the U.S. last year, the company has said, just 2.4 percent were hatchbacks made in Mexico. 
So Trump was exercised about 4,500 cars.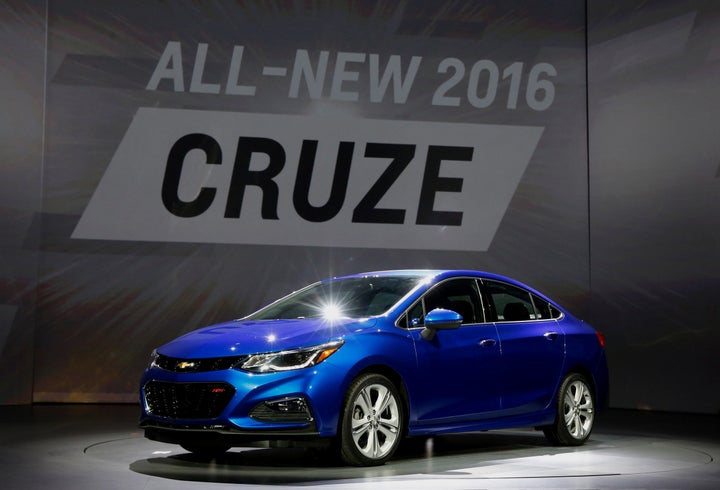 GM announced in November, one day after Trump's election victory, that it would be laying off workers at the Lordstown plant. The company isn't closing the facility, just reducing the number of cars made there, since U.S. demand for smaller vehicles like the Cruze has waned in favor of bigger cars ― which, industry analysts say, also happen to be a more profitable focus for domestic production.
"The shift reduction at Lordstown is solely based on aligning production with demand," Morrissey said.
Jeremy Acevedo, an analyst at the auto site Edmunds.com, said low gas prices have made smaller cars like the Cruze less popular with U.S. consumers.
"Gasoline has fueled a huge demand for light trucks. That's really affected what GM can produce and where the market is," Acevedo said. "You have an American buying public that's made a very rapid shift to SUVs, pickups and vans."
The Lordstown factory is not even equipped to build the hatchback version of the Cruze, Glenn Johnson, president of the local United Autoworkers Union, told The Associated Press. As for Trump's tweet, he said, "It makes for news, that's all."
Lordstown Mayor Arno Hill said he regretted that the plant would lay off about 1,200 workers this month, but that he didn't believe the company was doing so because of U.S. trade policy.  
"If your product isn't selling, you can't just keep churning them out," Hill said.
Trump's tweet reminded Hill of one that the president-elect sent in November when he falsely claimed to have worked with Ford to prevent a plant closure in Kentucky. Ford had never said it would close the plant.
"He did the same thing with Ford," Hill said. "You say something but then after you get all the facts, you have to draw back."
Of course, Trump didn't retract his false Ford tweets. Instead of drawing back, Trump usually pushes ahead on some other topic, often enough with another falsehood or attack.
After he successfully bullied the air-conditioner manufacturer Carrier into keeping a factory in Indiana last month, Trump couldn't resist inflating the number of jobs the company had said would stay. When the president of the local union corrected those numbers in a live interview on CNN, Trump, who apparently had been watching, immediately tweeted that the union leader was terrible at his job.
It could be that Trump tweeted about GM simply because the auto industry is an easy target for a president-elect looking to make an example of companies that have benefited from trade deals such as the North American Free Trade Agreement, which Trump campaigned on renegotiating. Over the last two decades, U.S. automakers have moved a significant amount of compact car production to Mexico, where labor is cheaper and sales of smaller vehicles are higher.
"A lot of it has to do with the auto industry being so public and companies in it being household names," Acevedo said. "It makes sense that they are targeted so often."
Calling all HuffPost superfans!
Sign up for membership to become a founding member and help shape HuffPost's next chapter