And just like that, Donald Trump has shown his true colors – proving, once and for all, that he's on the wrong side of history.
On the campaign trail, he called people from Mexico rapists and criminals. As president, he tapped "alt-right" sympathizer Steve Bannon and world-renowned racist Jeff Sessions as attorney general. Then, a few weeks ago, he refused to denounce neo-Nazis and white supremacists in Charlottesville, calling those among the KKK and other hate groups "very fine people."
And with his announcement today, President Trump stood on the side of hate and fear once again by ending DACA, a program that has opened doors for a generation of immigrant youth to work, study and contribute to their communities – without living in constant fear of deportation.
Since 2012, DACA – which stands for Deferred Action for Childhood Arrivals – has allowed nearly 1 million young people to live out their dreams in the only country they've ever called home. The program is a tangible reflection of the values we profess as a country – values like family, hard work and freedom that have made us the economic and cultural powerhouse we are today. That's because DACA is built on our shared belief that we must invest in our children – the future entrepreneurs, scientists, teachers, and artists – who will determine our country's shared future.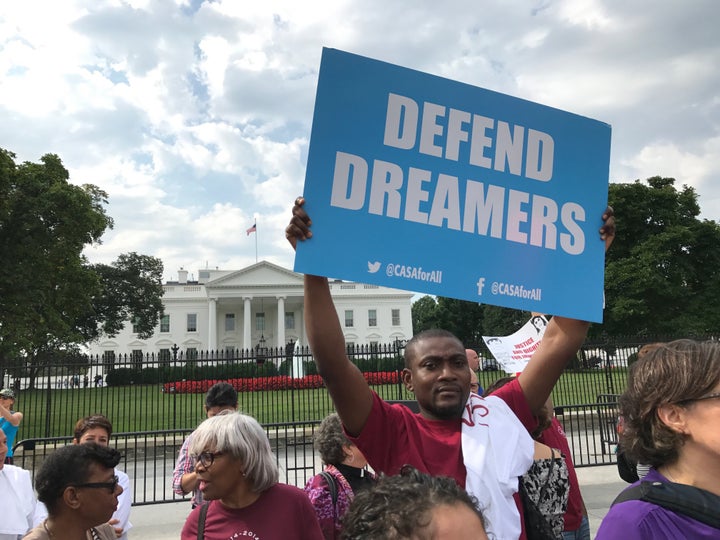 By cancelling DACA, Donald Trump broke his promise last April that the so-called Dreamers should "rest easy" knowing they would not be part of his anti-immigration agenda. Fueled by racism, hate and fear, the president's latest decision is exactly what the white supremacists in Charlottesville are pining for: a country where people of different races, religions and backgrounds are relegated to second class citizens. We're getting dangerously close to a new Jim Crow era, in which confederate soldiers who fought for slavery are lionized as heroes – and brown and black people are told to stay in their place.
We cannot allow the hate and bigotry we witnessed in Charlottesville to become the norm. The vast majority of Americans, on both sides of the political aisle, believe DACA is in the "best interest of our nation" until we pass a permanent solution: nearly two-thirds of Americans say they'd like to see a path for citizenship for Dreamers – not deportation. That's because family and freedom are American values – and they're worth fighting for.
Until we pass the Dream Act, DACA is a temporary solution for the hundreds of thousands of children who deserve an equal shot at life, no matter who their parents are or where they were born. With a president who seeks to divide us, we need to stand strong in the face of policies grounded in hate and beliefs based in violence and defend the democracy and the values that this country aspires to be.
We cannot allow Donald Trump's anti-immigrant, anti-family and pro-hate forces to destroy the moral fabric of this country. Let's demand our leaders protect people and families trying to build better lives and a stronger America for all of us.
Donald Trump has made his choice. Which side are you on?
Dorian Warren is president of the Center for Community Change Action.
REAL LIFE. REAL NEWS. REAL VOICES.
Help us tell more of the stories that matter from voices that too often remain unheard.
BEFORE YOU GO