WASHINGTON ― President Donald Trump plans to prioritize Christian refugees for resettlement over other persecuted people whose lives are threatened in their home countries, he said on Friday.
Trump made the statement before signing an executive order that he said would impose "new vetting measures to keep radical Islamic terrorists out of the United States of America."
The order suspends all refugee resettlement for 120 days and bars Syrian refugees from entering the U.S. entirely. It has a carveout, though, that would apply to Christian Syrians: During the 120-day suspension period, the U.S. government can approve admission of refugees persecuted for being a religious minority in their home country.
"Do you know if you were a Christian in Syria, it was impossible, at least very tough, to get into the United States?" Trump asked. "If you were a Muslim, you could come in, but if you were a Christian, it was almost impossible. And the reason that was so unfair ― everybody was persecuted, in all fairness ― but they were chopping off the heads of everybody, but more so the Christians. And I thought it was very, very unfair."
Some critics, including Sen. Ted Cruz (R-Texas), accused President Barack Obama of failing to protect Syrian Christians or even intentionally discriminating against them. Often, those same critics argue for excluding Syrian Muslims entirely. Trump has largely focused his opposition to refugees on Muslims, once proposing they should all be barred from entering the United States.
It's true that Christians make up only a small portion of Syrian refugees admitted into the United States. In the 2016 fiscal year, less than 1 percent of Syrian refugees admitted were Christian, although Christians make up about 10 percent of the Syrian population.
It's worth noting that Christians made up 44 percent of refugees from around the world admitted to the U.S. in the 2016 fiscal year, while 46 percent were Muslim ― calling into question the idea that Christians were being discriminated against as a whole. As of 2010, Christians made up about 31 percent of the world's population and Muslims made up 23 percent, but the Muslim population was projected to grow more quickly.
For Syrian Christians specifically, Obama administration officials and experts have said the numbers have more to do with logistics than any attempt to focus on one religion over another.
Only about 1 percent of all refugees worldwide are chosen for resettlement at all. Most are first vetted by the United Nations High Commission on Refugees, which determines whether they are, in fact, refugees ― someone who has been forced to leave his or her country and who "has a well-founded fear of persecution for reasons of race, religion, nationality, political opinion or membership in a particular social group," according to the UNHCR. The refugee agency also determines whether resettlement is an appropriate option for an individual or family.
Government officials explained the discrepancy in the resettlement rates of Christian and Muslim refugees from Syria during a Senate hearing in September. Simon Henshaw, of the State Department's Bureau of Population, Refugees, and Migration, said that although Christians made up about 10 percent of Syria's prewar population, they comprised only about 1 percent of those who have fled. Some still reside in Syria's government-controlled areas, while others have fled to Lebanon, where UNHCR and the U.S. have smaller programs for screening refugees, he said. Henshaw said they were trying to build up those programs.
Christian, Jewish and other refugee-focused organizations have condemned efforts to exclude Muslims or to prioritize members of one religion for resettlement over another.
The president of Open Doors USA, which focuses specifically on persecuted Christians, released a statement on Saturday condemning the prioritizing of one group over another. David Curry said that it is appropriate to recognize the need to protect persecuted Christians.
"However," Curry continued, "cherry-picking one religion over another only exacerbates the already severe worldwide trend of religious persecution. We encourage a need-based approach that treats all faiths equally and works toward the comprehensive strengthening of religious freedom around the world."
How will Trump's first 100 days impact you? Sign up for our weekly newsletter and get breaking updates on Trump's presidency by messaging us here.
Support HuffPost
The Stakes Have Never Been Higher
Before You Go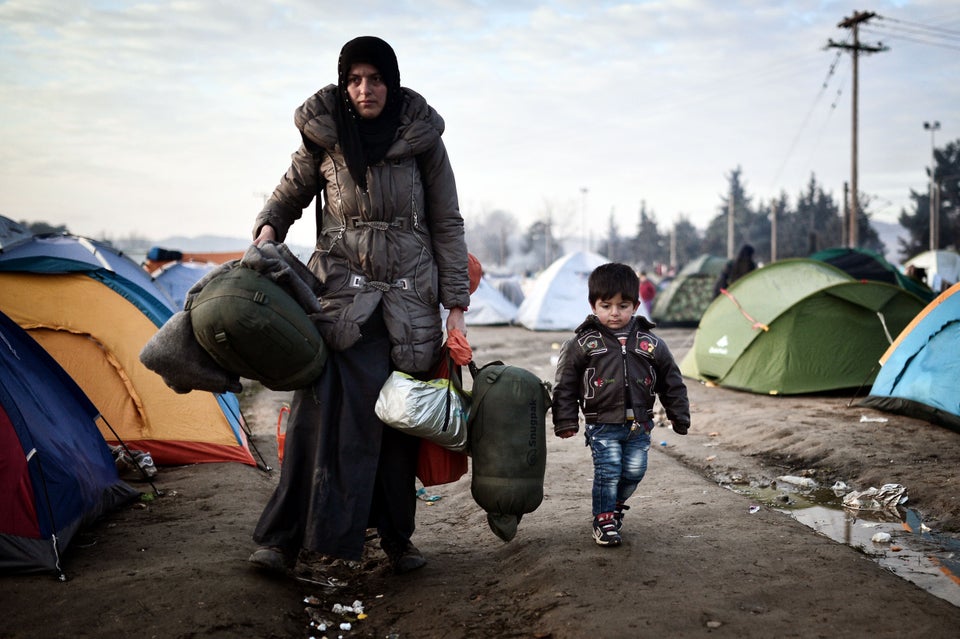 Migrants And Refugees Stuck At The Greek Border
Popular in the Community