LANGLEY, Virginia ― President Donald Trump used his first full day in office to visit the spy agency he has spent months disparaging ― and spent 15 minutes offering rambling, politically oriented remarks that sounded like a campaign speech.
"The reason you're my first stop is that, as you know, I have a running war with the media," Trump told some 400 CIA employees gathered Saturday afternoon in the iconic lobby of the building featured in numerous films and television shows.
"They are among the most dishonest human beings on earth," the president added. "And they made it sound like I had a feud with the intelligence community."
Trump and his choice for CIA director, Rep. Mike Pompeo (R-Kan.), spent about an hour meeting with top agency officials and touring the building before Trump returned to the lobby with the famous logo designed into the floor.
But then Trump ― standing in front of a wall inset with 117 chiseled-out stars, each representing an agent who died in the line of duty ― delivered a series of grievances and boasts:
He falsely claimed the media had reported that his inaugural crowd was smaller than it was: "It looked like a million, a million and a half people," he said.

And criticized reporters for saying he had removed a bust of Martin Luther King Jr. from the Oval Office, when he hadn't: "I would never do that, because I have great respect for Dr. Martin Luther King."

About Democrats, for not immediately confirming Pompeo on Friday: "They're doing little political games with me."

About his own intellect, based on his uncle who had taught at the Massachusetts Institute of Technology: "They say, 'Is Donald Trump an intellectual?' Trust me. I'm, like, a smart person."
Trump told the group of nonpolitical staff ― the agency is rare in that it has only a handful of political appointees ― that he was certain they had supported him.
"Probably almost everybody in this room voted for me," he said.
Trump also repeated a frequent campaign falsehood ― that he opposed the 2003 Iraq invasion before it happened ― while advocating for taking oil from Iraq. He also repeated a common campaign idea that the U.S. military has not been able to win wars of late.
"We were always winning things in this country. We'd win with trade. We'd win with wars," Trump said. "At a certain age, I remember hearing from one of my instructors the United States has never lost a war. And then, after that, it's like we haven't won anything. We don't win anymore."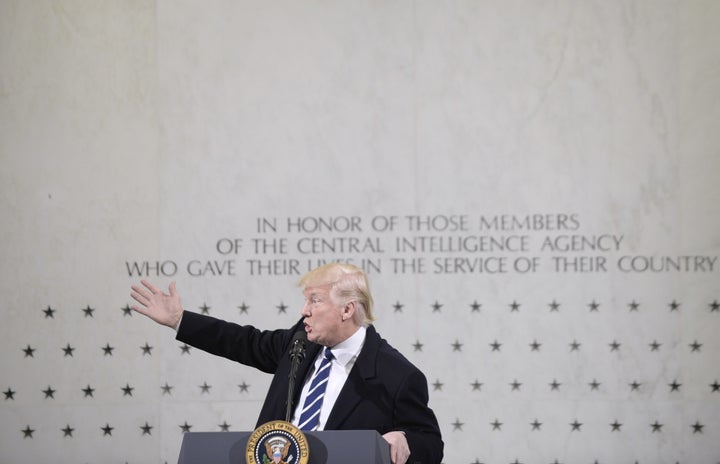 Republicans in Congress have also complained that Democrats did not allow a vote on Friday to confirm Pompeo. Senate Majority Leader Mitch McConnell accused Democrats of endangering the country by allowing the agency to go without a leader through the weekend.
However, on Friday the Senate on did confirm the appointments of retired Marine Corps Gens. James Mattis and John Kelly to run the Pentagon and the Department of Homeland Security, respectively ― with overwhelming votes that included most Democrats.
Trump attacked the intelligence community earlier this month, saying it didn't have any proof that Russian leader Vladimir Putin had directed the effort to hurt his Democratic opponent, Hillary Clinton, and help Trump. He attacked Brennan on Twitter the same evening the then-CIA director appeared on Fox News and asked Trump not to attack the intelligence community.
On Jan. 6, the FBI and the DHS released a declassified version of the consensus intelligence community analysis that Russian spy agencies had tried to help Trump. That was the same day Trump met with the top officials of U.S. intelligence agencies who personally briefed him on the detailed classified version of that report.
Five days later, at his first news conference since his election, Trump conceded for the first time that he believed Russia had been behind the hacking. However, he said later that it also could have been other countries.
Trump had for months claimed it was impossible to know who had stolen emails from Democratic Party officials and Clinton's campaign chairman, even though the Office of the Director of National Intelligence and the Department of Homeland Security issued a statement on Oct. 7 naming Russia and WikiLeaks.
WikiLeaks, which many in the intelligence world consider a mouthpiece for Russian spy agencies, released the stolen emails almost daily for the final month of the campaign. Trump, for his part, made the embarrassing details from those emails a central theme of his campaign, often exclaiming that he loved WikiLeaks during his rallies.
Trump did not mention Russia or the hacks during his remarks on Saturday, but did promise CIA employees he would return, preferably at a larger venue so more people could attend.
"I just wanted to really say that I love you, I respect you, there's nobody I respect more, you're going to do a fantastic job and we're going to start winning again, and you're going to be leading the charge," he said.
How will Trump's first 100 days impact you? Sign up for our weekly newsletter and get breaking updates on Trump's presidency by messaging us here.
Before You Go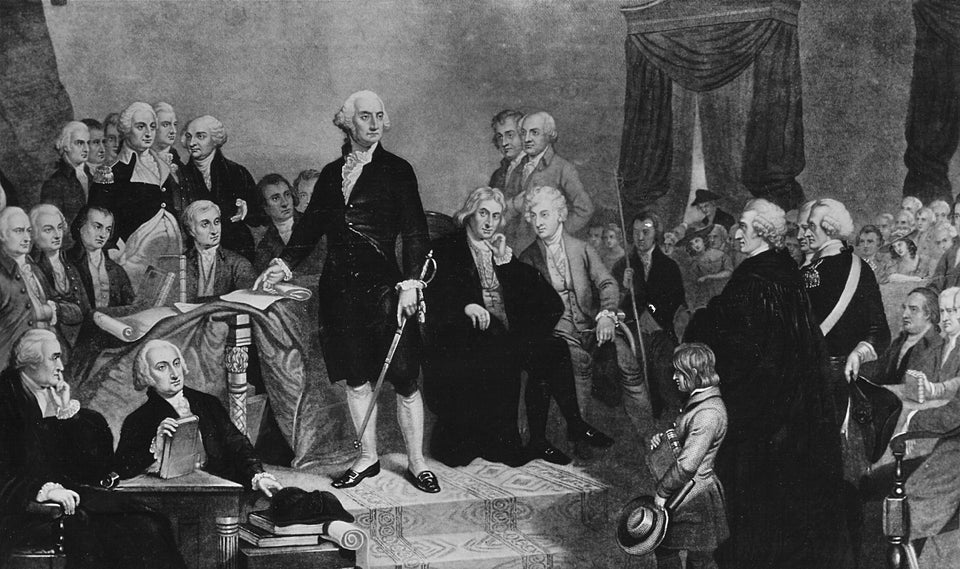 Presidential Inaugurations Over The Years
Popular in the Community