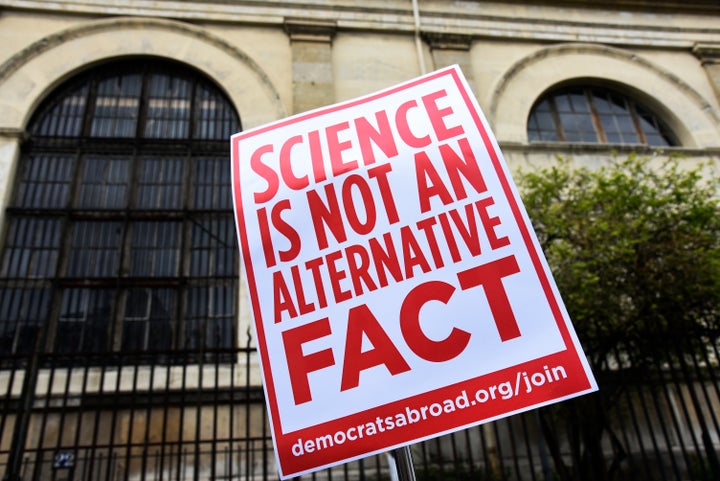 If you are worried about the United States' current standing in the world, here's another reason to make other nations question our government's relationship with reality.
As you probably know, Trump has unveiled executive orders to derail environmental goals put into play by the Obama administration.
Furthermore, he and his team are getting ready to hand over America's leadership role in the fight against climate change ― most likely to China.
Ironic, coming from the candidate who said he was going to make America great again.
China, whose urban inhabitants frequently don masks to breathe, is looking down the road. One example is the plan to replace almost 70,000 taxis in Beijing that run on fossil fuels with electric models.
Maybe Trump could hold a meeting with members of the Indian government to get a peek at their National Electricity Plan. India is working to "harness the potential" of renewable energy sources. They are number four in the world for "installed capacity of wind turbine power plants." They have declared an aim of being at a 60 percent level of renewable energy by 2027.
Except for Greece and Poland, the European Union has just announced that no more coal plants will be built after 2020. A press release from Eurelectric, whose tag line is "Electricity for Europe," stated a commitment to achieving "carbon-neutral" electricity. It outlines the point of view that the Paris Agreement decarbonization objectives are "essential to guarantee long-term sustainability of the global economy."
Germany has chosen 2015 as their target date to get the majority of their energy from renewable sources. They also see this accomplishment as a path to being competitive on an international business level.
If we continue on that path, we will be joining nations who lack the financial resources to do anything but burn coal and fossil fuels.
If we continue on that path, we will be joining nations who lack the financial resources to do anything but burn coal and fossil fuels.
There appears to be a lack of innovation in Trump's environment plans. While other nations are pushing the envelope to create a robust green energy job sector, Trump is taking a walk back to the beginning of the 20th century.
Trump, in his typically provocative way, has said that he will "stop all payments of American tax dollars to the United Nations global warming programs."
Mary Robinson, previous president of Ireland and a major advocate on Climate Justice, qualified a potential withdrawal from the Paris accords by America as "unconscionable."
According to stats from 2016, the United States was the second largest "producer of CO2 emissions worldwide, based on their share of global CO2 emissions." China was number one.
In a press conference at the White House with King Abdullah of Jordan, Trump stated, "The world is a mess." He claimed that the situation was inherited from his predecessor.
Actually, I think he is doing more than his part to put America and others in a downward spiral by ignoring the dangers of an overheating planet and the frightening ramifications.
Perhaps no one has told him that with rising sea levels, Mar-a-lago is in imminent danger.
Calling all HuffPost superfans!
Sign up for membership to become a founding member and help shape HuffPost's next chapter
BEFORE YOU GO