Wildfires are raging through California's wine country. Flooded homes in Houston, Texas, are still rotting. Puerto Ricans are languishing in darkness, collecting drinking water from streams. And South Florida and the U.S. Virgin Islands were still picking through the rubble, as yet another hurricane made landfall over the mouth of the Mississippi River.
Scientists say the frequency and severity of natural disasters like these are linked to climbing global temperatures. But the Trump administration on Tuesday announced plans to repeal the United States' only major policy to combat climate change.
The Clean Power Plan ― a set of Obama-era regulations aimed at slashing emissions from coal-fired power plants and boosting renewable energy production ― had yet to go into effect, after being temporarily blocked by the Supreme Court since February 2016. On Tuesday afternoon, Environmental Protection Agency Administrator Scott Pruitt ― who sued to halt the plan last year when he was Oklahoma's attorney general ― released a proposal to eliminate the policy without any replacement, leaving the country without a national strategy to adapt to global warming.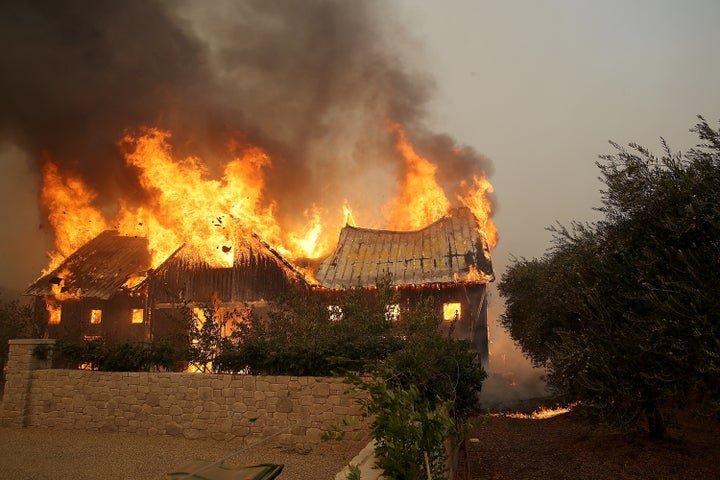 The announcement came in the wake of 15 wildfires in Northern California that left 15 dead and incinerated 1,500 homes and businesses, forcing thousands to flee.
Rain soaked the state last winter, stacking its mountains with colossal snowdrifts and quenching soil left parched after more than half a decade of historic drought. But record-breaking heat baked the West in July and August, drying its woodlands and leaving it vulnerable to the sort of blaze now engulfing the wine-producing region neighboring San Francisco.
"It's nauseatingly smoky," said Joseph Majkut, the climate policy director at the Niskanen Center, a libertarian think tank that works on convincing Republicans to take human-caused global warming seriously.
"These people have either no sense or a very sophisticated sense of irony to be doing this at this time," he added, referring to the Trump administration. 
Following an exceptionally hot summer, 172 fires ― 78 of which qualified as "large" incidents according to the National Interagency Fire Center ― burned more than 8 million acres in western Montana and the Pacific Northwest. That's almost double the 10-year average of 5.5 million acres.
Elsewhere, a spate of fierce hurricanes inundated parts of the South and Caribbean. Warmer oceans tend to exacerbate storms and shift their directions. After Hurricane Harvey dumped 30 inches of rain on Houston in August, scientists warned that the Category 4 storm served as a teachable example of the type of weather event their models predict will become more common as the planet continues to warm.
The next few weeks proved Mother Nature to be a cruel instructor. Hurricane Irma rampaged through the Caribbean before slamming into Florida as a Category 5 beast, knocking out power for millions and ultimately killing 69 people. Less than two weeks later, Hurricane Maria pummeled Puerto Rico and the U.S. Virgin Islands, crippling the U.S. territories' power grids and leaving whole areas uninhabitable. In Puerto Rico, which has a larger population than 21 U.S. states, the death toll continues to climb, hitting 39 this week as the island's aging utility struggles to rebuild electrical transmission wires.
Hurricane Nate, a far smaller Category 1 that devolved into a tropical storm, threatened to douse the South, Tennessee Valley and central Appalachian Mountains this week.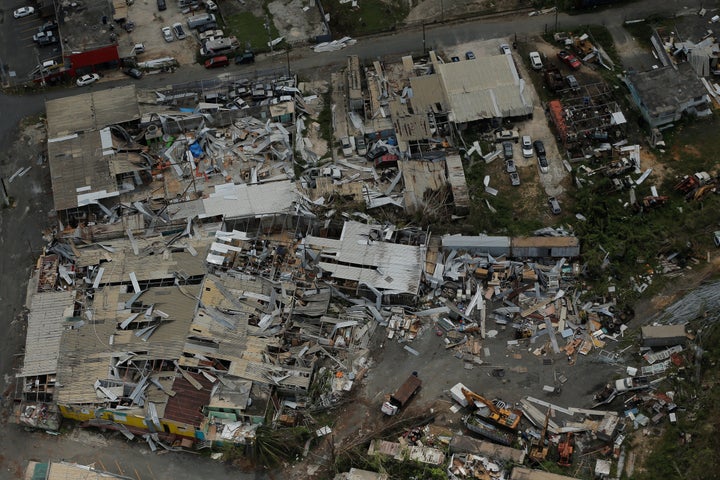 The Clean Power Plan would not have prevented the havoc wreaked by the wildfires and hurricanes. The regulations, moreover, outlined a minimal federal effort to reduce planet-warming emissions.
But the proposal to scrap the policy without any kind of replacement to curb greenhouse gases underscores the extent to which the Trump administration's refusal to acknowledge basic climate science is leaving the country vulnerable to global warming effects that are no longer theoretical.  
"It is crazy to think about having an EPA administrator who has nothing to offer in replacement of an admittedly not-so-good regulatory solution," former Rep. Bob Inglis (R-S.C.), now the executive director of the conservative environmental advocacy group RepublicEn, told HuffPost by phone on Tuesday. "To get rid of the Clean Power Plan without any idea of what to do that could be better is malfeasance on the part of the EPA administrator."
But Inglis said to Pruitt's credit, he chose an apt location in which to announce the repeal of the Clean Power Plan: a Kentucky town named Hazard.
Calling all HuffPost superfans!
Sign up for membership to become a founding member and help shape HuffPost's next chapter
BEFORE YOU GO
PHOTO GALLERY
Climate Visuals For The Climate Change Denier In Your Life