In a break with two decades of military planning, President Donald Trump has eliminated climate change from his administration's list of threats to national security.
The White House's 56-page National Security Strategy report, released Monday afternoon, included the word "climate" four times, thrice referring to business regulations and once to the environment.
About one hour later, Trump vowed in a 30-minute speech to defend the nation against new threats, including "cyber and electromagnetic attacks." He made little mention of climate change, only to list his plan to withdraw from "the very expensive and unfair Paris climate accord" as an achievement. Plugging his assault on fossil fuel regulations, he said his national security policy "embraces a future of American energy dominance and self sufficiency."
"We are declaring that America is in the game and America is going to win," said Trump, who has previously repudiated global warming as a Chinese hoax.
The report emphasized economic growth and "energy security interests." The text's one reference to global warming drew a distinction between "traditional pollution" and greenhouse gases, a nod to climate change deniers who dismiss planet-warming emissions like carbon dioxide as "food for plants."
"The United States will remain a global leader in reducing traditional pollution, as well as greenhouse gases, while growing its economy," the report states. "This achievement, which can serve as model to other countries, flows from innovation, technology breakthroughs, and energy efficiency gains – not from onerous regulation."
The move dispenses with decades of Pentagon policy. It also contradicts Defense Secretary James Mattis, chairman of the Joint Chiefs of Staff Gen. Joseph Dunford and four other former top military commanders who were quoted in the defense bill Trump signed last week saying things such as, "Climate change is a national security issue."
The announcement came nearly a week after Trump signed the National Defense Authorization Act, which devotes about 870 words to the "vulnerabilities to military installations" linked to climate change over the next 20 years. The bill warns that surging global temperatures, droughts and famines can lead to more failed states ― "breeding grounds of extremist and terrorist organizations" ― and that the Air Force's $1 billion radar installation on a Marshall Islands atoll "is projected to be underwater within two decades."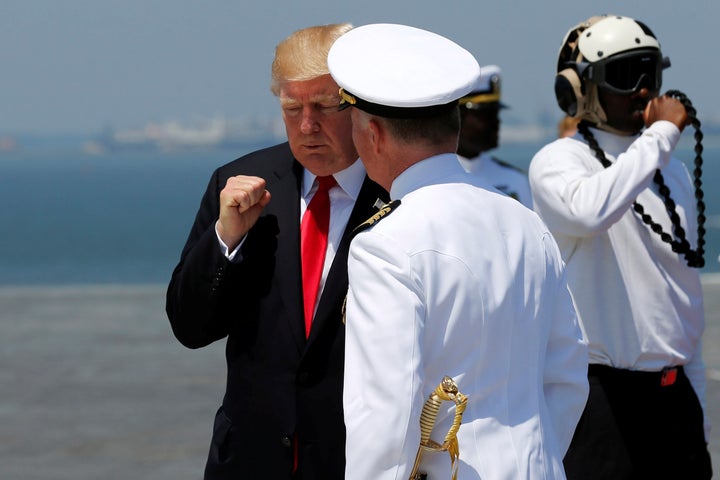 "A three-foot rise in sea levels will threaten the operations of more than 128 United States military sites, and it is possible that many of these at-risk bases could be submerged in the coming years," the bill reads. "In the Arctic, the combination of melting sea ice, thawing permafrost, and sea-level rise is eroding shorelines, which is damaging radar and communication installations, runways, seawalls, and training areas."
The new national security report comes amid a barrage of extreme weather events that scientists say illustrate the effects of climate change. Wildfires occurring months after the usual season are raging in Southern California. Back-to-back scale-topping hurricanes wreaked havoc on Texas, Florida, Puerto Rico and the U.S. Virgin Islands earlier this year. Last month, scientists announced that global fossil fuel emissions were set to hit an all-time high this year as carbon dioxide levels began surging again after staying flat for three years.
In September 2016, then-President Barack Obama issued a memorandum requiring all national security policies to "fully consider the impacts of climate change." The executive action cemented de facto policy at the Pentagon, which had begun incorporating climate change into its training and weapons testing earlier last year. The memorandum was built on a report from the National Intelligence Council, which cited heightened political tensions over diminished resources, increased migration from droughts and extreme weather, and disputes over geoengineering efforts as examples of potential security threats.
But climate change became an issue for the military long before Obama took office in 2009.
One of the earliest references to climate change dates back to May 1990. That month, the U.S. Naval War College issued a 73-page report, entitled "Global Climate Change Implications for the United States," which found that "Naval operations in the coming half century may be drastically affected by the impact of global climate change."
The issue gained prominence during George W. Bush's administration, despite the former oil tycoon president's rejection of climate change and withdrawal from the United Nations' Kyoto Protocol deal to curb greenhouse gas emissions. In October 2003, the National Defense University published a report warning that "global warming could have a chilling effect on the military."
"Recent evidence suggests that the oceans already may be experiencing large-scale changes that could affect Earth's climate," the report read. "Military planners should begin to consider potential abrupt climate change scenarios and their impacts on national defense."
That same month, the Defense Department's Office of Net Assessment drafted a report that took a decidedly more skeptical tone, but urged immediate action: "We have created a climate change scenario that although not the most likely, is plausible, and would challenge United States national security in ways that should be considered immediately."
"Climate change became an issue for the military long before Obama took office in 2009."
In 2008, the Bush administration's National Defense Strategy report stated definitively: "[C]hanges with existing and future resource, environmental, and climate pressures may generate new security challenges …. These risks will require managing the divergent needs of massively increasing energy demand to maintain economic development and the need to tackle climate change."
Even so, the military has been faulted for not doing enough to safeguard against climate change. Last week, the Government Accountability Office, the nonpartisan auditing arm of Congress, criticized the Pentagon for exempting dozens of bases from a department-wide climate vulnerability assessment, leaving the military without any consistent data on expenses caused by extreme weather and rising seas.
"As a result," the report says, "the military services lack the information they need to adapt infrastructure at overseas installations to weather effects associated with climate change and develop accurate budget estimates for infrastructure sustainment."
The military has for years evaded partisan battles of climate change by avoiding certain phrases with Orwellian diligence. In one chapter of journalist Jeff Goodell's new book "The Water Will Come," officials at the Naval Station Norfolk ― the world's largest naval station ― admit that the bill projects to raise docks as maintenance projects without referencing sea level rise. Yet the base suffers from routine flooding even when the sun is shining, and there's no plan to fix it, according to an InsideClimate News report.
Trump's announcement on Monday may only worsen the problem. But it's unlikely to signal a substantive shift in military policy. The National Security Strategy report "is mostly seen as a political document with no significant influence on the government's business," said Francesco Femia, president of the Center for Climate and Security.
"It obviously seems to be consistent with some broader political points the administration has made on climate," Femia, whose Washington-based policy institute includes former national security advisers, told HuffPost by phone on Monday. "But it's not consistent with what's already going on within the administration."
"It sends an oddly contradictory signal," he added. "It's unfortunate."
David W. Titley, a retired rear admiral in the Navy, said there is "nothing in this document that precludes the Department of Defense from continuing to do what it's doing."
"I really don't see this document as some sort of declaration of war on climate or anything like that," Titley, now a meteorology professor at Pennsylvania State University, told HuffPost by phone. "In that sense, I'm actually kind of happy. It could have been much worse."
During Trump's speech, as he railed against past administrations for failing to confront America's enemies more aggressively, the president made a statement that, ironically, could someday come from the mouth of a future president discussing rising seas and temperatures.
"This situation should have been taken care of long before I came into office when it was easier to take care of," Trump said.