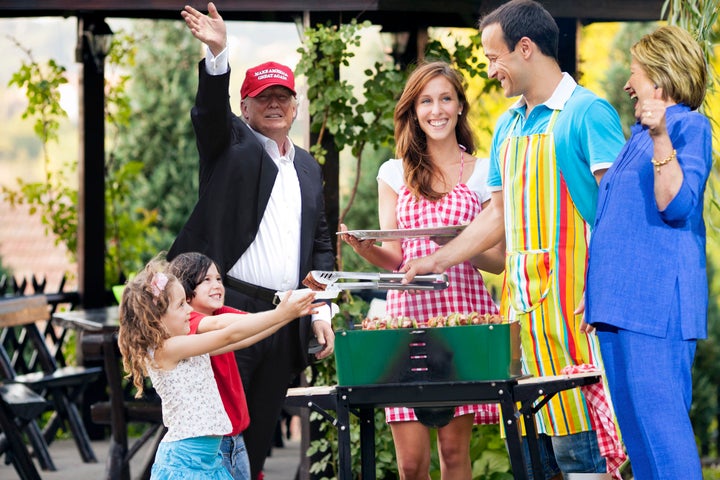 More Americans would vote for Hillary Clinton for president over Donald Trump, according to recent polls. But politics aside, they'd prefer to invite the reality TV star to a backyard barbecue over the former secretary of state.
The results may seem surprising, considering how disliked both candidates are. Trump has a 59 percent unfavorability rating in the poll, while Clinton doesn't do much better at 57 percent. Just 34 percent of voters have a favorable view of Trump, and 37 have a favorable view of Clinton. Put another way, Trump is only slightly more disliked than Clinton, with a net negative of 25 percent to her 20 percent.
In the barbecue question -- a seasonally appropriate variation on the famous question "Who would you rather have a beer with?" -- both candidates did predictably well with their bases. Eighty-six percent of Republicans said they'd invite Trump to a barbecue, and 76 percent of Democrats said they'd invite Clinton. 
Unsurprisingly, Republican respondents weren't thrilled by the idea of having Clinton as a barbecue guest -- only 5 percent of GOP respondents said they'd invite her over. She did somewhat better with independents, receiving 31 percent of their theoretical invitations.
Yet even some Democrats would rather invite Trump than Clinton. Sixteen percent of Democrats and 50 percent of independents said they would prefer to host the real estate mogul.
In fact, Trump was the preferred barbecue guest in every age group. Clinton got closest to narrowing the gap in the 18-34 demographic, trailing Trump by only 6 points in that group. But she really fell behind in the 50-64 age group, where 51 percent of respondents said they would prefer to host Trump and 39 percent preferred Clinton. 
Trump may be helped by the fact that he's a seasoned entertainer. Millions of people watched his reality TV show, "The Apprentice," which aired for 14 seasons. According to a poll conducted last fall by the media research group AMG, people who had watched "The Apprentice" liked Trump more than those that hadn't. And throughout his campaign, Trump's unpredictability and lack of filter has resulted in record ratings for many networks.
That may explain another one of the Quinnipiac poll's findings: Forty-four percent of respondents said they would rather watch Trump over the next four years, while 41 would prefer to watch Clinton.
Phrasing matters, too. Most of the questions in the poll were preceded with "regardless of how you intend to vote," which may have caused people to put their political feelings aside and answer the question in a different frame of mind. It should also be noted that in many other areas, Clinton outscored Trump -- more respondents would prefer to have her come to their aid in a personal crisis, for example.
We wonder what the result would have been if Sen. Bernie Sanders (I-Vt.) -- who has a higher favorability rating -- was included in the survey. So we're asking you. Take our quiz below.
Quinnipiac University surveyed 1,561 registered voters nationwide from May 24 to 30. The poll has a margin of error of 2.5 percent and was conducted by live interviewers who called both landlines and cell phones.
Calling all HuffPost superfans!
Sign up for membership to become a founding member and help shape HuffPost's next chapter