Both nominees responded during Monday's presidential debate to a question about how they will heal America's racial divide after the recent unrest in Charlotte, N.C., following the death of 43-year-old Keith Scott.
"Race remains a significant challenge in our country," Clinton said. "Unfortunately, race still determines too much, often determines where people live, determines what kind of education in their public schools they can get and, yes, it determines how they're treated in the criminal justice system."
"We've just seen those two tragic examples in both Tulsa and Charlotte ― and we've got to do several things at the same time," Clinton continued. "We have to restore trust between communities and the police. We have to work to make sure that our police are using the best training, the best techniques, that they're well-prepared to use force only when necessary. Everyone should be respected by the law, and everyone should respect the law. Right now, that's not the case in a lot of our neighborhoods."
Republican nominee Donald Trump, who did not comment publicly on the shooting, simply responded to the question by accusing Clinton of not wanting "to use a couple of words ― and that's 'law' and 'order.'"
"We need law and order. If we don't have it, we're not going to have a country," Trump said. "And when I look at what's going on in Charlotte ― a city I love, a city where I have investments ― when I look at what's going on throughout various parts of our country … we need law and order in our country."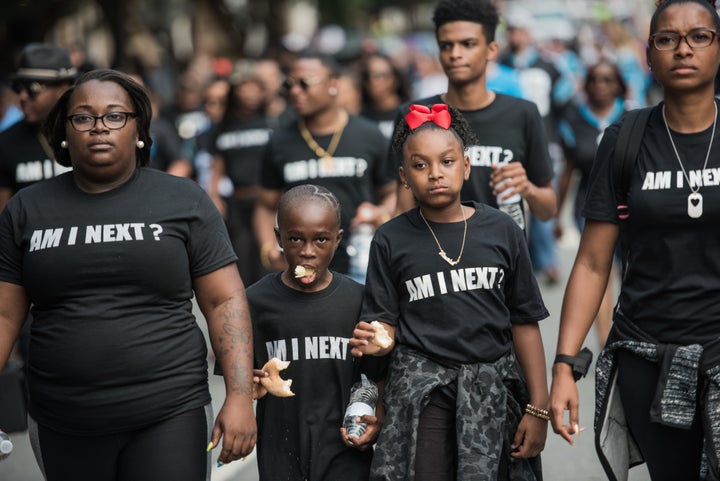 After increased demands from the community, Charlotte police released two partial videos of the shooting. Footage from a body camera shows an officer attempting to enter Scott's SUV. Dash cam footage shows an officer firing a Scott, who appears to be backing up with his hands by his side.
Protests rocked the city after Scott's death, with more than 12 officers injured early on Wednesday morning. Though things subsequently calmed down, tensions still ran high throughout the week.
At least 174 black people have been shot and killed by police this year, according to a tracker from The Washington Post. On average, police in Charlotte kill a civilian every two months.
REAL LIFE. REAL NEWS. REAL VOICES.
Help us tell more of the stories that matter from voices that too often remain unheard.
BEFORE YOU GO
PHOTO GALLERY
Protests Break Out In Charlotte After Police Shooting