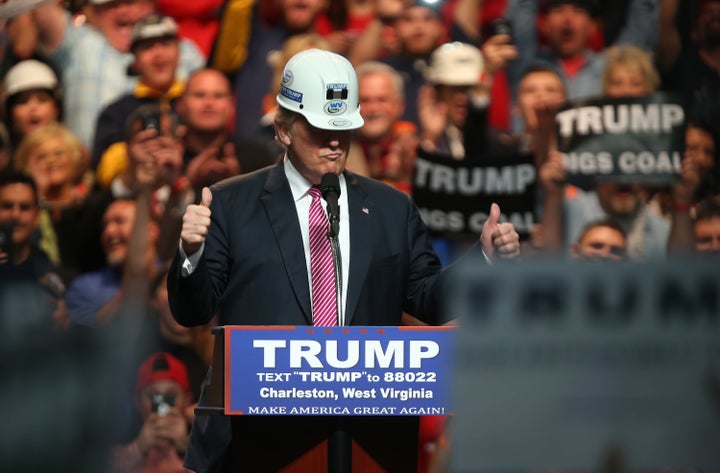 Hillary Clinton has a $30 billion, 4,300-word plan to retrain coal workers that covers everything from education and infrastructure to tax credits and school funding.
Donald Trump's coal plan is a duckface thumbs-up in a miner's hard hat and a rant about hair spray, President Barack Obama and China. The specifics of his plan to put coal miners back to work, David Gutman reported in the Charleston Gazette-Mail, are that he'd put coal miners back to work. That's it.
"Trump is a successful businessman. He is committed to success," the trade association's senior vice president, Chris Hamilton, told The Huffington Post.
"Hillary's plan is akin to somebody running you over, then offering to pick you up," he said. "It's not a plan. It's a care package."
What Trump's anger has that Clinton's policy lacks is a villain. In Trump's telling, the coal industry is hurting because of excessive safety and environmental regulations imposed by Obama's Environmental Protection Agency. It's a simple story that Trump can promise out-of-work coal miners he will reverse.
"Because Obama and the EPA are a focal point, they now have an easy explanation for why they're in trouble, why they have lost their jobs," Robert Rupp, political science professor at West Virginia Wesleyan College, told the Financial Times. "And surprise, surprise, what is Trump promising? He's promising that it's all Obama's fault and they're going to open up the mines."
Fact-checking Trump is a fool's errand, but as viscerally satisfying as it is to say Obama killed coal, it isn't true. The coal industry is killing itself, with debt it loaded up to fund deals that would only be profitable if Chinese demand for steel-making coal continued to surge. That was just before demand tanked. At the same time, coal has been battered by competition from cheaper natural gas and renewable energy, HuffPost's Kate Sheppard reported.
In other words, the coal industry is imploding. Peabody Energy, Arch Coal, Alpha Natural Resources, and Patriot Coal have filed for bankruptcy in recent months -- hurt by cleaner competition but also because of the industry's own mistakes. And the decline in coal jobs has been a decades-long trend. In 1985, the industry employed 177,000 people. By the end of 2008, that number had been whittled to just 86,000. Now it's just 56,000.
Clinton's plan starts by putting the coal industry in the context of cheaper renewable energy and natural gas, climate change, and the negative health effects of mining and burning coal. Her rival for the Democratic nomination, Sen. Bernie Sanders (I-Vt.), focuses on the shrinking number of well-paying jobs in coal country, and wants to spend $41 billion on things like worker benefits, clean energy and infrastructure. Both Clinton and Sanders clearly see the benefits of an economy that uses far less coal and employs far fewer people to mine it.
And both Democratic candidates' policies acknowledge that coal workers and communities shouldn't be punished anymore than they have because they work in a dirty, dangerous industry.
That isn't always the message Clinton delivers. She was forced to apologize for saying that she would bring renewable energy to coal country and "put a lot of coal miners and coal companies out of business."
"The Clinton plan is consistent in what we need to do and is in keeping with what other countries around the world are doing," Edward Cameron, a policy lead at the nonprofit corporate environmental coalition We Mean Business, told HuffPost. "Even as we transition away from coal, we need to protect and safeguard coal communities by giving them different types of livelihood options than before."
Still, Cameron said the success of Clinton's plan would depend heavily on the West Virginia officials tasked with executing it.
"I have enough experience traveling around the world over the last 20 years or so working on international development to see that the places that transition well are the places with solid local government," Cameron said.
Vox's David Roberts, writing about Clinton's energy plan as a whole, pointed out that, "for better or worse, Clinton resists the call for policy moonshots. She wants a plan that can be implemented within the bounds of foreseeable political reality."
Just try winning over a crowd of out-of-work coal miners with that line.
Alexander Kaufman contributed reporting.
Related
Popular in the Community