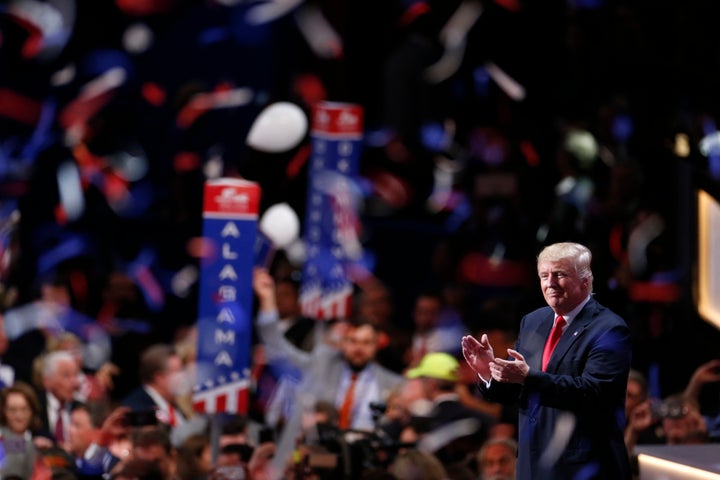 PHILADELPHIA – It was a tale of two swing-state cities.
Cleveland, where Republican Donald Trump's official presidential nomination was marred by a prime-time speaker who refused to endorse him, a plagiarized speech from his wife, and a workmanlike acceptance address that painted a gloomy portrait of America.
And Philadelphia, where Hillary Clinton became the Democratic nominee in a program that, despite early worries of divisive drama, featured A-list entertainment and soaring, optimistic speeches from the sitting president and vice president.
First impressions notwithstanding, it was Trump who likely won.
While the four days in Philadelphia brought Clinton the traditional benefits of a nominating convention – especially party unity and free media – Trump got from Cleveland something he needed far more: A big step toward normalcy.
A reality TV star with a long, troubled business record, prone to grade-school insults against those who challenge him and a propensity for nearly daily falsehoods has, thanks to the Republican National Committee, won the veneer of a traditional presidential candidate. The packed arena, the roll-call vote, the repeated "next president of the United States," the big balloon drop at the end – just like candidates from Ronald Reagan to Bob Dole to Mitt Romney have enjoyed.
"For Trump, he had one job:  be seen as a legitimate choice ― and honestly, just standing on stage and not throwing up did that," said Steve Schale, the Florida Democratic strategist who helped President Barack Obama win that state twice. "Given that no one circles the wagons like the GOP, there was almost no chance he wouldn't leave Cleveland with a bit of a boost."
How much attention typical voters pay to political conventions is unclear, particularly in recent elections as broadcast networks have devoted less and less time to covering them and other entertainment options have become easily available. Networks' decisions were based, in large part, on the growing importance of primaries. Conventions have became less a place where choices and decisions are made, and more of a four-day advertisement (although both Republican and Democratic primaries this year held the possibility of brokered conventions).
Still, most political professionals and observers see the conventions as the start of the general election campaigns, when the majority of voters start paying serious attention to the candidates. And as such, both sides expend tremendous amounts of time and energy trying to give the impression of party unity and showcasing the candidate in the best possible light.
By those traditional measures, Democrats clearly had the advantage. Their main worry was that supporters of Vermont Sen. Bernie Sanders would disrupt the proceedings, potentially making it harder for Clinton to bring the most liberal segment of the party onboard behind her. And while groups of Sanders' delegates and guests managed to heckle speakers – including Obama – they were relatively few in number. More important, while they were audible in the hall itself, they were not really noticeable on the television feed, which is how the overwhelming majority of viewers see the conventions.
Apart from that, leading Democrats, from Obama and Vice President Joe Biden to former President Bill Clinton and Massachusetts Sen. Elizabeth Warren, offered full-throated endorsements for Clinton while simultaneously painting Trump as dangerously unfit and unprepared.
In sharp contrast, the only effective endorsements for Trump in Cleveland came from his own children. Among the previous GOP nominees and presidents still alive, only Bob Dole from 1996 attended. Former presidents George H.W. Bush and George W. Bush skipped the convention, as did the 2008 and 2012 nominees, John McCain and Mitt Romney.
Romney, in fact, delivered a scorching speech in March to denounce Trump and is now considering an endorsement of Libertarian nominee Gary Johnson.
Yet even that was outdone by Trump's runner-up in the primaries, Texas Sen. Ted Cruz, who did appear at the GOP convention in a prime-time speaking spot, only to urge delegates to vote their conscience – the rallying cry of anti-Trump Republicans' last attempt to deny him the nomination.
The RNC, which held daily news conferences two miles from the Democrats' convention arena to sell the media on how badly it was going, downplayed the significance of Cruz and the party's other problems.
"We might have had a couple of hiccups last week, but when someone came out and didn't endorse the presidential candidate of our ticket, they were booed," RNC strategist Sean Spicer said Thursday. "Night after night, speaker after speaker, some very prominent Democrats have been booed. Leon Panetta, [former] secretary of defense, booed last night. Former presidents, booed – by their own party."
But Mo Elleithee, a Clinton campaign aide in 2008 and now director of Georgetown University's Institute for Politics and Public Service, said Republicans had a bad convention at a far more fundamental level than the scorecard of who endorsed and who was booed.
"It's the first real opportunity to begin to expand beyond the base and begin reaching out to a broader electorate. General elections are about addition ― appealing to a broader group and trying to bring them into the fold," Elleithee said. "To that end, I think the Republican convention actually failed."
Elleithee said that with the exception of Trump's children, the other GOP speakers largely stayed on Trump's message that the United States is in terrible shape and that only he can set things right. "Most of the big-name speakers used a lot of the same rhetoric from the primaries that is alienating a lot of the broader electorate," Elleithee said.
Schale, of Florida, said that given Trump's lack of knowledge or interest in the functioning of government, a much more significant inflection point in this election could well be the first debate this autumn.
"I believe the biggest challenge Trump faces is this basic question, if he is up for the job.  I am not convinced that toe-to-toe with Clinton that he can pass that test, and if he doesn't, I think the race is functionally over at that point," Schale said. "But if he does, I suspect it is going to be an exceptionally tight race with small margins in a small number of states."
Calling all HuffPost superfans!
Sign up for membership to become a founding member and help shape HuffPost's next chapter
BEFORE YOU GO