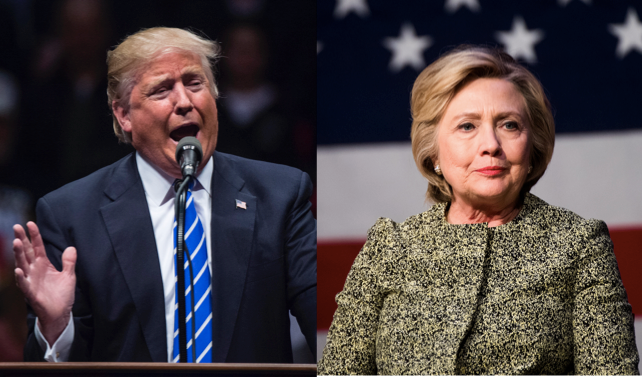 Donald Trump is strongly disliked by married women, while Hillary Clinton struggles to pick up support from young women. Few Republicans plan to vote for Hillary Clinton in November, regardless of the GOP nominee. And President Obama's approval ratings are staying out of the red. This is HuffPollster for Tuesday, April 12, 2016.
MARRIED WOMEN DISLIKE TRUMP - Mark Niquette: "Seventy percent of married women who are likely general-election voters have an unfavorable opinion of the Republican front-runner, according to the Purple Slice online poll conducted by Purple Strategies for Bloomberg Politics. Almost 60 percent said the way Trump talks about women is offensive and embarrassing and makes him unacceptable as a presidential candidate, and more than half said the billionaire is setting a new low in negativity….Women, particularly single women, tend to vote Democratic, but the married women subset has leaned more Republican. In the 2012 election, married women preferred Mitt Romney over President Barack Obama 53 percent to 46 percent, and since 1996 Republican presidential candidates have won the married women vote, according to Gallup….In a general-election match-up, the Democratic front-runner defeats Trump 48 percent to 36 percent, while against Texas Senator Ted Cruz, she is in a tie at 43 percent." [Bloomberg]  
FEMALE VOTERS' AGE GAP ON CLINTON IS DRIVEN BY LIFE EXPERIENCES - Lori Poloni-Staudinger, J. Cherie Strachan and Brian Schaffner: "Clinton hasn't resonated much with young voters, including young women. In fact, Sanders beats Clinton among young voters overall by as much as 60 points, while Clinton loses young women by about 30 points….Democratic women who said they had been discriminated against because of gender were more likely to choose Clinton over Sanders, even after accounting for ideology, age and income….Older women are more likely to report that their education or career had been affected by gender discrimination and caring for children….In most age groups, Clinton supporters report higher levels of child-care responsibilities limiting their choices than do their comparable Sanders supporters….Fewer younger women have seen their prospects limited by discrimination and child-care responsibilities. Here's what they have faced personally: being part of the generation hardest hit by the Great Recession, and seeing student debt and poor job prospects as major career obstacles." [WashPost]  
FEW REPUBLICANS SAY THEY'D VOTE FOR CLINTON - Hannah Hartig and Stephanie Psyllos: "[A]ccording to the latest NBC News/SurveyMonkey Weekly Election Tracking poll...When given the choice between Clinton, Cruz, a third party candidate, or not voting, registered voters are fairly split between Clinton and Cruz... When asked about Trump as the GOP nominee in November instead of Cruz, registered voters are split between Clinton and Trump, though the race is tighter...[O]nly about half of Cruz supporters and half of Trump supporters said they would vote for the other GOP candidate in a general election... In a theoretical November contest wherein Clinton and Trump were the candidates, 56 percent of Cruz supporters would vote for Trump and a quarter would vote for a third party candidate. Similarly, 53 percent of Trump supporters would vote for Cruz and 28 percent would vote for a third party candidate if their options in November were between Clinton and Cruz." [NBC]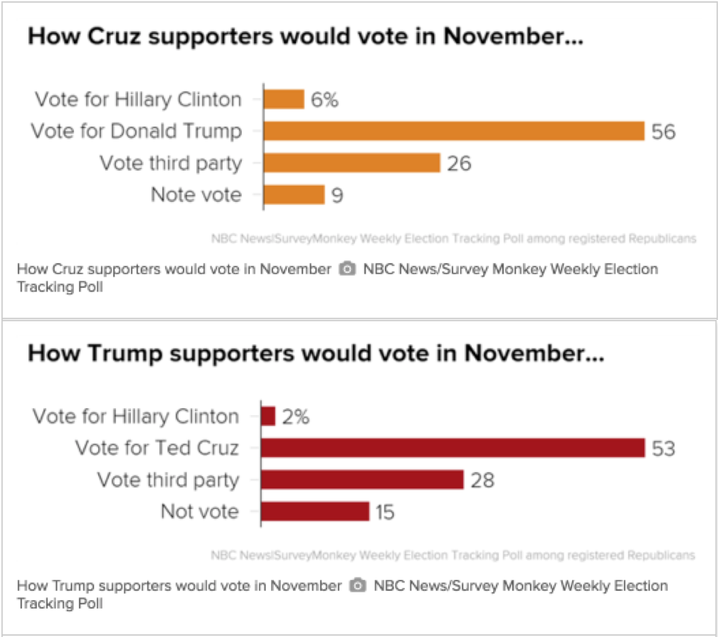 General election matchups are still hypothetical - Both parties are still in the midst of a primary election fight. It's fairly clear what the outcome will be on the Democratic side, but the Republicans could battle all the way to the convention. Until the nominees are set, general election polls remain hypothetical and not predictive of what could happen in the fall.
TRUMP IS WEAKEST CANDIDATE IN MODERN HISTORY - Harry Enten: "Trump's 37 percent of the cumulative primary vote and 46 percent of delegates won so far may sound impressive, but his percentages make him the weakest Republican front-runner, at this point in the process, in decades. Of course, a front-runner is still a front-runner, but by historical standards Trump is limping along — hence the increased chances of a contested convention….Past GOP nominees...had bigger shares of the vote at this point, even if they started out slowly….You'll also note that past nominees tended to increase their delegate and vote leads from this point forward, mostly because their rivals had faded or dropped out...Trump isn't so lucky. Ted Cruz is almost certainly going to fight hard all the way to the last primaries on June 7 and beyond." [538]
OBAMA'S APPROVAL CONTINUES TO RISE - Kathleen Hennessey and Emily Swanson - "As many in the United States hold their noses in the search for the next president, they're increasingly warming to the president they already have. Buoyed by some good economic news and a surge of goodwill from his base of supporters, President Barack Obama is seeing his approval rating rise….For the first time since 2013, half of those questioned approve of the job Obama is doing in office, according to an Associated Press-GfK poll. The survey found the apparent uptick in approval extended across issues, including foreign affairs, immigration and, most notably the economy, where people said they felt slightly better about their own prospects and Obama's stewardship. Asked about their opinion of Obama more generally, those surveyed were more likely to give him a positive rating than any of the candidates for president, Republican or Democrat." [AP]
The president's average rating tops 50 percent - HuffPost Pollster's chart of all publicly available polling has shown Obama's positive ratings rising since December. His approval rating now stands at approximately 50 percent mark, a point last achieved in February of 2013. The uptick is mirrored in his ratings among Democrats and independents, and he's even up a tiny bit among Republicans, where his 13 percent approval is up from 10 percent in late 2015. [HuffPost Pollster chart]
HUFFPOLLSTER VIA EMAIL! - You can receive this daily update every weekday morning via email! Just click here, enter your email address, and click "sign up." That's all there is to it (and you can unsubscribe anytime).
TUESDAY'S 'OUTLIERS' - Links to the best of news at the intersection of polling, politics and political data:
-Jonathan Ladd argues that Donald Trump is attempting to remove libertarians and neoconservatives from the Republican coalition. [Vox]
-Mark Murray and Marianna Sotomayor explain how superdelegates work. [NBC]
-Catholics are divided in their opinions of Bernie Sanders. [PRRI]
-Amy Erica Smith explores whether or not Americans still believe in democracy. [WashPost]
-Christopher Ingraham explains how visualizations can distort data. [WashPost]
REAL LIFE. REAL NEWS. REAL VOICES.
Help us tell more of the stories that matter from voices that too often remain unheard.