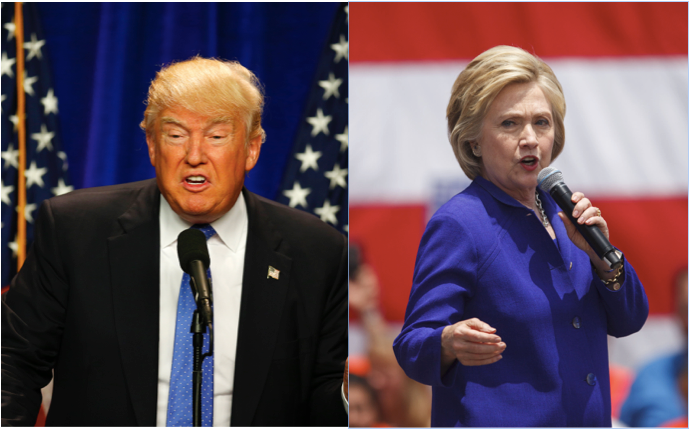 Donald Trump's already bad favorable rating has dropped again, but Hillary Clinton isn't doing much better on average. There aren't a lot of battleground state polls yet. And focusing on gun control could help Trump. This is HuffPollster for Wednesday, June 15, 2016.
TRUMP'S ALREADY HISTORIC UNFAVORABLE RATINGS GET WORSE - Gary Langer: "Seven in 10 Americans see Donald Trump unfavorably in a new ABC News/Washington Post poll, up 10 points in just the past month to a new high since he announced his candidacy for president. But Hillary Clinton reached a new high for unfavorability as well, 55 percent. The results mark the striking challenges facing both candidates, cementing their position as the two most unpopular presumptive major party nominees for president in ABC News/Washington Post polling dating to 1984.Trump's result reverses a boost he received after securing the Republican presidential nomination, from 37-60 percent favorable-unfavorable in mid-May to 29-70 percent now, after a week in which he took sharp criticism for suggesting that he was being treated unfairly by a federal judge because of the judge's Mexican heritage….Trump's unfavorable score is a point from his highest on record, 71 percent in late May last year, just before he formally entered the presidential race June 16. His decline in favorability in the past month was broadly based across groups." [ABC]
Poll averages show Americans dislike Clinton almost as much as Trump - Trump doesn't look that much worse than Clinton in the HuffPost Pollster polling averages, which take all publicly released polling into account. Trump's unfavorable rating is about 61 percent, which makes the 70 percent finding from ABC/Washington Post poll look like an outlier for now. However, more polling could confirm a shift. Clinton's unfavorable average is 55 percent, right in line with the new ABC News/Washington Post poll.
A majority of voters say they could never support Trump - Allen Smith: "A new Bloomberg poll released on Tuesday showed Donald Trump trailing Hillary Clinton by a whopping 12 points - but that was not even the worst number for the presumptive Republican presidential nominee. An overwhelming 55% of total respondents said that they could never support Trump. In comparison, 43% of those polled said that they could never support Clinton....Just 8% of those not supporting Trump were open to the idea of backing the Manhattan billionaire, while 7% of uncommitted respondents were open to the idea of supporting Clinton." [Business Insider]
NOT MUCH POLLING IS AVAILABLE IN BATTLEGROUND STATES YET - Steven Shepard: "As the 2016 general election begins, [Hillary] Clinton holds a 5-point overall advantage in the POLITICO Battleground States polling average over Trump, 44.8 percent to 39.8 percent. That lead extends to the state level: Clinton has the advantage in eight of the 11 individual swing states….The debut of the Battleground States polling average sets a baseline for the race to 270 electoral votes, focusing only on the 11 states most likely to determine the outcome in November — Colorado, Florida, Iowa, Michigan, Nevada, New Hampshire, North Carolina, Ohio, Pennsylvania, Virginia and Wisconsin….At the moment, the POLITICO polling average across the competitive battleground states is only marginally closer than the national polling average across all 50 states….One reason is that polls are currently sparse in some of the battleground states identified by POLITICO. There hasn't been a credible public poll of a Clinton-Trump match-up in Nevada, and in three other states, the polling average — which draws on the five most recent polls in each state — goes back to include some surveys conducted last year." [Politico]
That means national polls are getting lots of attention - As expected, Clinton is rising in the national polls on the heels of securing the Democratic nomination -- and possibly further boosted by several unpopular statements made by Trump. Three polls were mostly conducted after Clinton became the presumptive nominee. The most recent poll from Bloomberg and Selzer shows Clinton leading Trump by the largest margin, 12 points. Earlier polls from Morning Consult and NBC/SurveyMonkey show Clinton leading by 5 points and 7 points, respectively. The Bloomberg/Selzer poll could be an outlier, but the difference could also stem from asking the question in different ways: Bloomberg/Selzer included Libertarian candidate Gary Johnson in the options, while the other two didn't. Morning Consult and NBC/Survey Monkey also had higher undecided percentages than Bloomberg/Selzer. The HuffPost Pollster average errs on the side of caution and puts Clinton ahead by about 6 points -- 45 percent to Trump's 39 percent.
A note on Gary Johnson - Right now the HuffPost Pollster chart still classifies Gary Johnson as "other" since the polls vary on whether he is included in the tossup question. Some pollsters are including Johnson as an option (and a few are including Green Party candidate Jill Stein), some are simply including an "other" category and some are adding Johnson in the tossups in a follow-up question after asking Clinton vs. Trump. Our policy is to use only the first tossup question, since prior questions will affect responses to later questions, and many of those are not including Johnson. However, we are monitoring the polls and will consider adding the libertarian candidate to the chart if there's a critical mass of pollsters that include Johnson in their first election tossup question.
GUN CONTROL COULD BE A GOOD ISSUE FOR TRUMP - Nate Cohn: "The gun-control debate could hit a sweet spot for Donald Trump. His position has appeal to a group that he needs to gain the White House — less educated white Democrats — without doing much to alienate traditionally Republican voters. Mr. Trump made the issue a big part of his response to the mass shooting at an Orlando nightclub, saying that his probable opponent, Hillary Clinton, 'wants to take away Americans' guns' and promising to meet with the National Rifle Association 'to discuss how to ensure Americans have the means to protect themselves in this age of terror.' According to an Upshot analysis of Pew Research data, nearly half of white working-class Democrats think it's more important to protect gun rights than to control gun ownership. That's a larger percentage of Democratic voters than agree with Mr. Trump on many of the other issues that he stresses on the campaign trail. At the same time, Mr. Trump's position has considerable support from Republican-leaning voters. About three-quarters of Republican-leaning voters side with gun rights over gun control, according to the Pew data." [NYT]
HUFFPOLLSTER VIA EMAIL! - You can receive this daily update every weekday morning via email! Just click here, enter your email address, and click "sign up." That's all there is to it (and you can unsubscribe anytime).
WEDNESDAY'S 'OUTLIERS' - Links to the best of news at the intersection of polling, politics and political data:
-Chris Cillizza reviews a Harvard study that shows how the media helped Donald Trump. [WashPost]
-Alan Abramowitz's forecast model shows Donald Trump winning the general election -- and he doesn't believe it. [Vox]
-Charlie Cook thinks there could be a larger-than-usual number of voters who are voting against a candidate rather than for a candidate in 2016. [Cook Political Report]
-Election forecasters believe a third party candidate could get more support than usual in 2016. [WashPost]
-Americans' confidence in police ticks slightly up from one year ago. [Gallup]
Popular in the Community