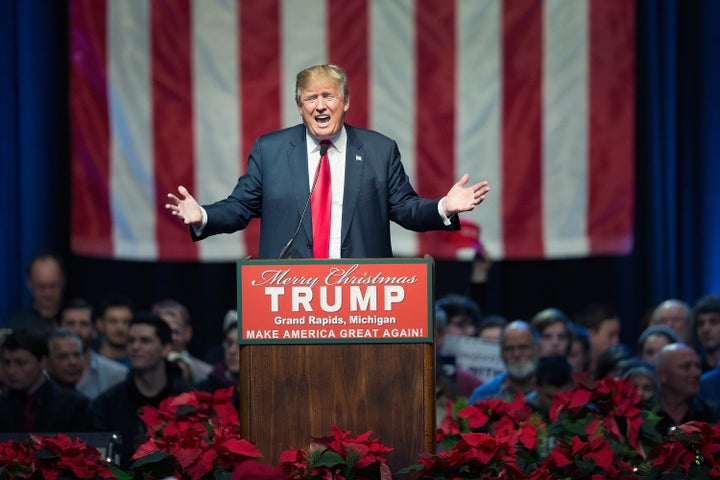 Maybe it's time to stop talking about Donald Trump's use of the word schlong and time to start talking about his other crass comment from Monday night.
It happened at the same place and time -- in western Michigan, during a campaign rally, while Trump was talking about Hillary Clinton. One minute Trump was talking about Clinton getting "schlonged" when she lost to President Barack Obama in the 2008 primaries. (Schlong is Yiddish for penis.) The next minute, Trump was mocking Clinton because, during Saturday night's Democratic presidential debate, she left the stage during an advertising break and was late to return.
Media reports later confirmed what many viewers undoubtedly figured out on their own. Clinton had gone to the bathroom and needed some extra time, in part because the women's room was farther from the stage than the men's room. Trump, unaware or uninterested in such details, decided it was a chance to undermine the likely Democratic nominee. "Where did Hillary go?" Trump said. "They had to start the debate without her. ... I know where she went. It's disgusting. I don't want to talk about it."
Why a bathroom break would be "disgusting" wasn't immediately clear. Everybody pees. Everybody poops.
It's true for Democrats and it's true for Republicans.
It's even true for Donald Trump.
One possibility -- and this is arguably the most generous interpretation -- is that Trump just has a weird obsession with, or aversion to acknowledging, normal bodily functions.
As Aaron Blake of The Washington Post noted on Tuesday, Trump has been known to deny bathroom breaks to people working for him. And as The New York Times reported over the summer, Trump once exploded in anger during a legal deposition because a lawyer requested a pause so that she could pump breast milk. Trump yelled at her, saying, "You're disgusting, you're disgusting," according to a description that the lawyer's husband and co-counsel gave. Then Trump walked out of the room. (A lawyer for Trump did not dispute the comments, but added that they were "in no way a statement about her decision to breast-feed or pump.")
A less generous interpretation of Trump's comments, not mutually exclusive with squeamishness over potty talk, is that he doesn't realize that using the bathroom can be more complicated for women than for men -- or that, as a general rule, society doesn't allow for that fact. The writer and activist Soraya Chemaly laid out the facts in a Time magazine essay in January:
Women need to use bathrooms more often and for longer periods of time because: we sit to urinate (urinals effectively double the space in men's rooms), we menstruate, we are responsible for reproducing the species (which makes us pee more), we continue to have greater responsibility for children (who have to use bathrooms with us), and we breastfeed (frequently in grotty bathroom stalls). Additionally, women tend to wear more binding and cumbersome clothes, whereas men's clothing provides significantly speedier access.
This shouldn't surprise anybody who's ever attended a concert or sports event, and noticed long lines for the women's rooms while men walk in and out of their facilities easily. In just the last few years, local governments have taken steps to address this problem, passing "potty parity" ordinances that require that builders of stadiums and other large venues add enough women's bathrooms to avoid creating those long lines.
Even the U.S. Congress finally came around in 2011, opening a women's restroom near the Speaker's Lobby in the House. Previously, female members of Congress had to walk down the hall, through tourists, to find a bathroom.
It's possible these sorts of arrangements irk Trump -- that he sees them as one more unnecessary nod to political correctness, or as an accommodation to the less-physically capable gender. Keep in mind that the theme of Trump's riff Monday night was that Clinton is too weak to be president.
But Clinton, not Trump, is the one who fought her way into a male-dominated profession. And Clinton, not Trump, is the one who went through labor and gave birth to a child.
Those things take real strength -- the kind that Trump loves to talk about, but may not actually have.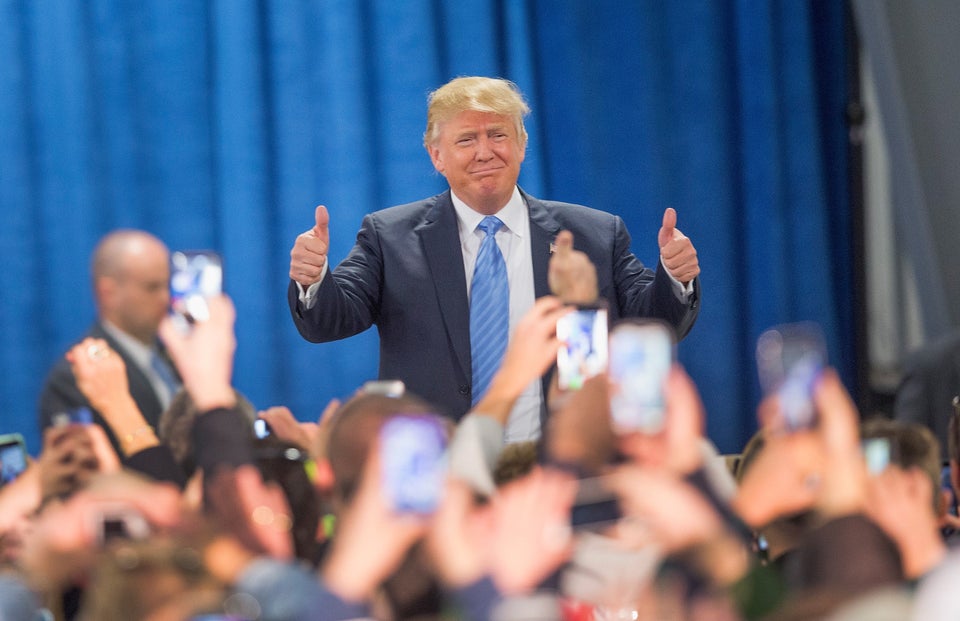 Donald Trump On The Campaign Trail
Popular in the Community