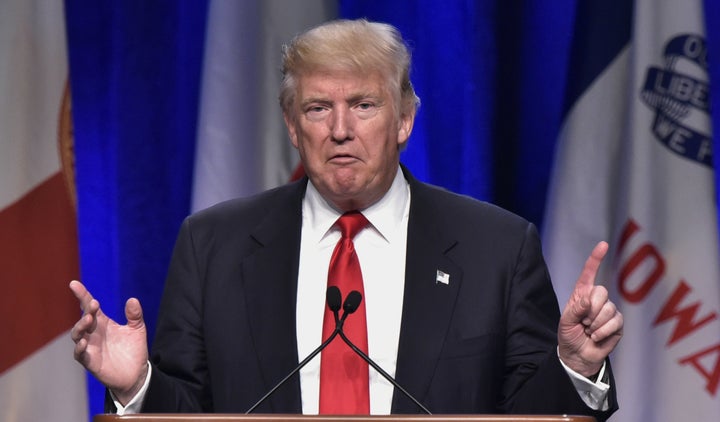 WASHINGTON ― Republican presidential nominee Donald Trump says there is "still much that needs to be investigated in the field of 'climate change.'" (Scare quotes his.)
Trump, who has previously said that climate change is a Chinese hoax, mostly avoided the climate question in a candidate forum on science policy released Tuesday. Rather than answer a question about what should be done to address it, Trump raised some hypotheticals:
Perhaps the best use of our limited financial resources should be in dealing with making sure that every person in the world has clean water. Perhaps we should focus on eliminating lingering diseases around the world like malaria. Perhaps we should focus on efforts to increase food production to keep pace with an ever-growing world population. Perhaps we should be focused on developing energy sources and power production that alleviates the need for dependence on fossil fuels. We must decide on how best to proceed so that we can make lives better, safer and more prosperous.
Democratic nominee Hillary Clinton, on the other hand, said that the science on climate change "is crystal clear," and that it is a "defining challenge of our time." She noted her goals of generating half of U.S. electricity from clean energy sources, installing half a billion solar panels in her first term, and cutting U.S. oil consumption by a third.
Trump, Clinton and Green Party nominee Jill Stein responded in writing; Libertarian nominee Gary Johnson did not reply. In most examples, Clinton and Stein offered fairly detailed policy ideas. Trump's responses were mostly short statements that were less detailed and, in some cases, didn't address the issue raised in the question.
The candidates were asked about how they would "foster a culture of scientific transparency and accountability in government," and protect scientists and federal agencies from political interference.
"Science is science and facts are facts," said Trump. "My administration will ensure that there will be total transparency and accountability without political bias. The American people deserve this and I will make sure this is the culture of my administration."
Clinton's answer was also somewhat vague, pledging that she would "support efforts to ensure a culture of scientific integrity in each of our science-based agencies, strengthen the credibility of government research, and facilitate open communication and public engagement."
They were also asked about regulations ― how science would inform their administration's decisions to "add, modify, or remove" federal rules, as well as how they would "encourage a thriving business sector while protecting Americans vulnerable to public health and environmental threats."
Trump's answer was again characteristically nonspecific. "This is about balance," he wrote. "We must balance a thriving economy with conserving our resources and protecting our citizens from threats. Science will inform our decisions on what regulations to keep, rescind or add. A vibrant, robust free market system will regulate the private sector."
Other topics the candidates address in the forum range from how to spur innovation and fund research to how to address specific concerns like ocean health and biodiversity.
Popular in the Community