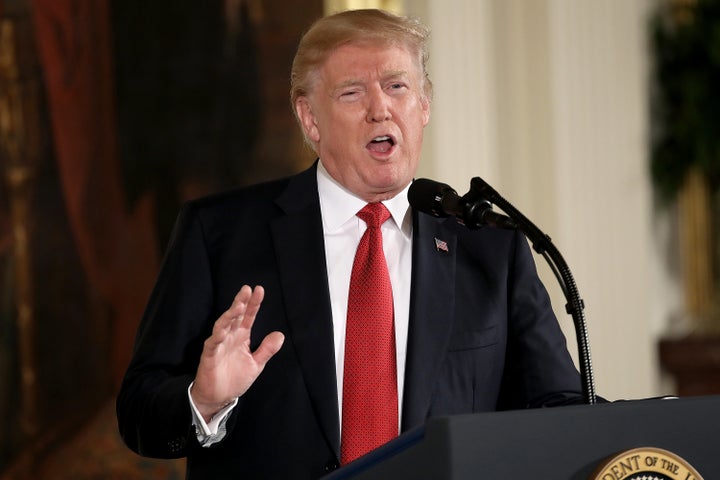 By Steve Holland and Phil Stewart
WASHINGTON (Reuters) - President Donald Trump will declare that China and Russia are competitors seeking to challenge U.S. power and erode its security and prosperity, in a national security strategy he will lay out in a speech on Monday.
"They are determined to make economies less free and less fair, to grow their militaries, and to control information and data to repress their societies and expand their influence," according to excerpts of Trump's strategy released by the White House.
The strategy, a product of months of deliberations by the president and his top advisers, does not repeat former President Barack Obama's 2016 description of climate change as a U.S. national security threat, aides said.
Trump has vowed to withdraw the United States from the Paris climate accord unless changes are made to it. "The United States will continue to advance an approach that balances energy security, economic development, and environmental protection," the document will say.
Trump's national security posture reflects his "America First" priorities of protecting the U.S. homeland and borders, rebuilding the U.S. military, projecting strength abroad and pursuing trade policies more favorable to the United States.
The singling out of China and Russia as "revisionist powers" in the document reflects the Trumpadministration's wariness of them despite Trump's own attempts to build strong relations with Chinese President Xi Jinping and Russian President Vladimir Putin.
A senior administration official who briefed reporters said Russia and China were attempting to revise the global status quo - Russia in Europe with its military incursions into Ukraine and Georgia, and China in Asia by its aggression in the South China Sea.
The strategy will pledge to protect critical U.S. infrastructure from cyber hacking and vow to "go after malicious cyber actors." Both China and Russia are often accused of cyber attacks against U.S. targets, allegations they deny.
Trump has been working with Xi to exert pressure on North Korea over its nuclear and ballistic missile programs, but has made little progress on his vow to negotiate terms more favorable to the United States to lower a trade deficit that reached $347 billion in 2016.
On Sunday, Putin called Trump to thank him for providing U.S. intelligence that helped thwart a potentially deadly bomb attack in St. Petersburg, Russia.
U.S. intelligence agencies blame Russia for meddling in the 2016 presidential election campaign and there is a U.S. investigation into whether there was collusion between Trump campaign aides and Russians. Russia denies interfering in the election and Trump has denied any collusion took place.
The document will say, according to the excerpts, that competition with China and Russia requires Washington to rethink policies based on the assumption that engagement with rivals and including them in international institutions "would turn them into benign actors and trustworthy partners."
"For the most part, this premise turned out to be false," the document says.The strategy will also cite North Korea, Iran and Islamist militant groups as threats to U.S. interests and will single out Pyongyang for seeking biowarfare.
"As missiles grow in numbers, types, and effectiveness, to include those with greater ranges, they are the most likely means for states like North Korea to use a nuclear weapon against the United States. North Korea is also pursuing chemical and biological weapons which could also be delivered by missile," the document will say.
(Reporting by Steve Holland and Phil Stewart; Editing by Peter Cooney)
Popular in the Community