Robert Murray, owner of the world's largest private coal company, said this week that he's told President Donald Trump he can't single-handedly revive the coal business.
"Can the coal industry be brought back?" Murray ― a major Republican donor who asked to move a court date last year so he could attend Trump's formal nomination at the Republican National Convention ― told The Columbus Dispatch in an interview published Sunday. "The answer is, I've suggested to President Trump that he temper his expectations."
Murray's remarks were published just two days before the White House released its long-awaited executive order on energy and climate change, a move that Trump has promised will "save our coal industry."
"The miners are coming back," the president told a rally in Louisville, Kentucky, last week.
But the evidence suggests coal will continue to shrink, particularly in the regions most devastated by the industry's decline.
The executive order, which Trump signed on Tuesday, will sound the death knell for the Clean Power Plan, a sweeping Obama-era regulation meant to slash carbon emissions from the utility sector by putting limits on coal- and natural gas-fired power plants and encouraging use of renewables like wind and solar.
"Perhaps no single regulation threatens our miners, energy workers, and companies more than this crushing attack on American industry," Trump said Tuesday at a press conference, flanked by miners. "We're ending the theft of American prosperity and rebuilding our beloved country."
The order will lift a temporary moratorium put in place last year on coal leases on federal lands. It also does away with federal guidelines directing agencies to factor climate change into policymaking, and disbands a team tasked with calculating the "social cost of carbon," which the previous administration pegged at $36 per ton of carbon dioxide.
During the 2016 presidential campaign, Trump rebuked his Democratic opponent Hillary Clinton's $30 billion plan to retrain miners in economically depressed Appalachia for new careers, vowing instead to bring back the high-paying jobs of decades past. Trump's promises ignited in the coal industry what The Washington Post describes as "flickering signs of life." Coal prices have doubled since last year. Rail car deliveries of coal soared 16 percent this year. Coal company stocks surged. Peabody Coal, the country's biggest coal producer, announced plans to pull itself out of bankruptcy next month.
Yet those gains seem merely cosmetic when you consider the long-term outlook for coal.
The coal business and its political allies accused former President Barack Obama of waging a "war on coal" ― that is, pursuing a set of policies meant to punish an industry that once fueled transcontinental railroads and powered most homes in America. It's easy to blame whatever administration is in office during a time of industrial decline. It's easier still to point the finger at the first president to make a top priority of addressing man-made global warming. But while the Obama-led policy pivot toward clean energy may have helped dim investors' view of coal, market forces are actually to blame for the uptick in layoffs and bankruptcies.
Even Murray recognizes the severity of the situation. In 2014, the man known as the "last king of coal" told an industry conference: "If you think it's coming back, you don't understand the business. Or you're smoking dope."
The decline in demand is twofold.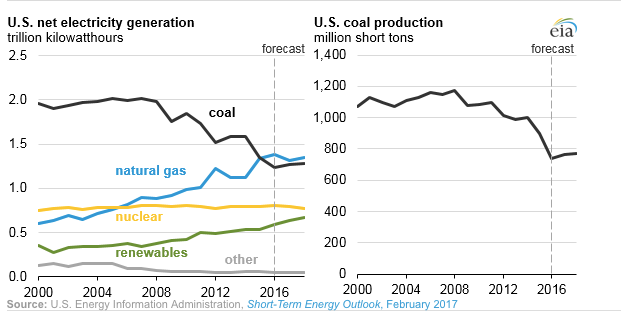 On the domestic side, natural gas devoured the U.S. electricity market as utility companies converted to a cleaner-burning fuel made cheap by advances in hydraulic fracturing, or fracking. In 2002, the U.S. added more than 3,571 miles of pipeline to carry natural gas, supporting a surge in use of the fuel to produce electricity. By 2016, natural gas overtook coal as the top source of electricity. The loss signaled a slow-moving catastrophe for coal, which saw its zenith in the mid-1970s, when Congress responded to an oil embargo crisis by giving the industry a decade-long monopoly on new power plants in an effort to wean the U.S. off energy imports. Faced with real competition from a cleaner-burning fuel, coal lost utilities' favor.
And coal had already been in decline. In 1985, the industry employed 177,000 people. By the end of 2008, when George W. Bush was still president, that number had fallen to 86,000. It was down to 56,000 last year. But coal's steepest slump in recent memory came in 2012, when Chinese demand tapered off.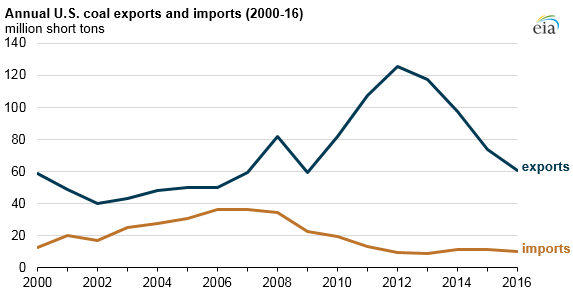 It's there, on the foreign side, that coal was dealt its most devastating blow. The industry bet big on China continuing to buy huge amounts of U.S. coal to fuel its rapid construction of power plants and its seemingly unlimited appetite for steel smelting. In 2012, though, the Chinese economy began to slow. By that point, the country had become so notorious for air pollution that companies started selling bottled air in its smog-choked cities. A year later, coal consumption in the country peaked. Chinese demand fell by 3 percent in 2014, and dipped another 4 or 5 percent the year after, according to the Sightline Institute, a think tank. In 2016, coal consumption in China fell by 4.7 percent year over year, and its share of the country's energy mix fell by 2 percent to 62 percent, the National Bureau of Statistics of China reported.
U.S. exports of coal mirrored that decline. Data released earlier this month by the U.S. Energy Information Administration shows that in 2016, coal exports fell for a fourth consecutive year to 60.3 million short tons, less than half the record volume shipped overseas in 2012. Demand doesn't seem likely to come roaring back in China, either. In January, China canceled 103 new coal-fired power stations as commits to spending $380 billion on renewables over the next four years. And China already has a surplus of its own coal miners. A subsidiary of China National Coal Group, the third-largest coal mining company in the world, recently announced plans to lay off 4,000 workers by the end of the year.
To be sure, the coal industry has reason to be excited ― but those reasons have almost nothing to do with the new administration. Last year, the U.S. became a net exporter of natural gas, and prices are forecast to rise this year and next as supplies are shipped overseas. As a result, coal production is on track to inch up slightly in 2017 and 2018 as coal regains a sliver of the electricity sector.
"In Appalachia, where exhausted mines drive extraction costs up, coal production is actually slated to decrease 3.3 percent by 2018."
But the gains would go almost entirely to Western coal-producing states such as Montana and Wyoming, where it's cheaper to mine. Production in the West is expected to rise from 407 million short tons last year to 443 million short tons in 2018, according to data from the EIA. In the interior coal region ― which consists of Arkansas, Illinois, Indiana, Kansas, Louisiana, Mississippi, Missouri, Oklahoma, Texas and part of Western Kentucky ― coal mining is projected to climb from 150 million short tons to 152 million short tons over the same period.
But in Appalachia, where exhausted mines drive extraction costs up, coal production is actually slated to decrease 3.3 percent, from 183 million short tons in 2016 to 177 million short tons in 2018.
"We already have enough coal reserves to last us for two decades," Tyson Slocum, director of the energy program at the watchdog group Public Citizen, said in a statement. "Renewing leasing now under a system plagued by loopholes will do nothing but continue to line the bulging pockets of coal company CEOs, who, it bears mentioning, have continued to rake in millions in bonuses while running their companies into the ground and laying off workers."
These are market trends that were already happening before Trump's win in November. Moreover, the White House's proposed budget would actually hurt voters who abandoned the Democratic Party to hand Trump victories in Pennsylvania, West Virginia, Kentucky and Tennessee, in part because of his vow to bring back coal jobs.
"I am disappointed that many of the reductions and eliminations proposed in the President's skinny budget are draconian, careless and counterproductive," Rep. Hal Rogers (R-Ky.), a firm Trump ally from a coal-mining district, said in a statement. He added that the programs help "reduce poverty rates and extend basic necessities to communities across the Appalachian region."
This article has been updated with Slocum's statement, and with details from the March 28 signing of the executive order.
Before You Go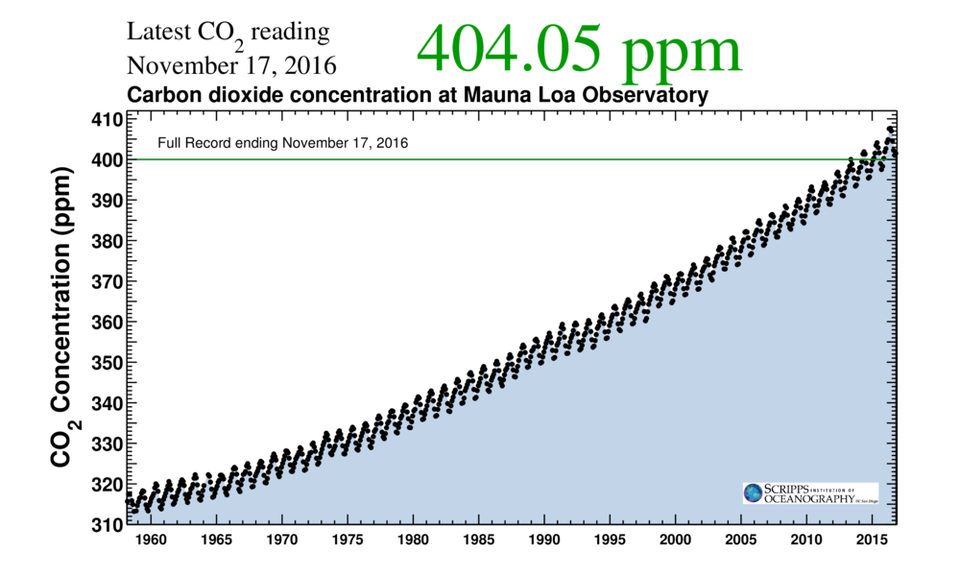 Climate Visuals For The Climate Change Denier In Your Life
Popular in the Community