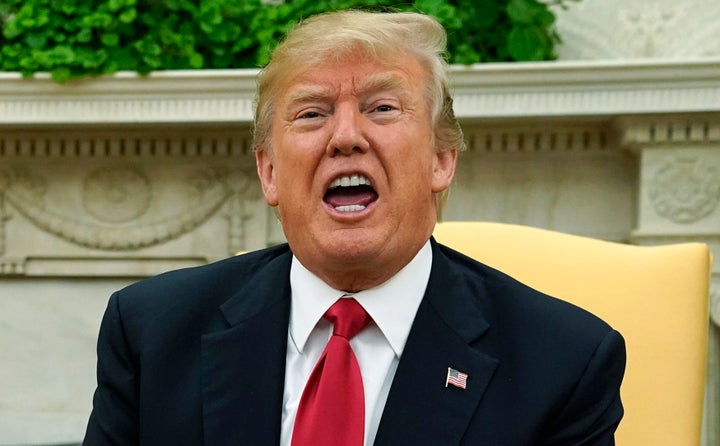 WASHINGTON ― President Donald Trump's own administration recommends that those 65 and older get an annual "cognitive impairment" screening as part of their annual physicals.
So will Trump's physician follow that guidance Friday and check for early signs of dementia?
The White House would not say.
To Yale University psychiatry professor Bandy Lee, not evaluating Trump despite what she considers obvious signs of mental degeneration since he took office will endanger the country.
"He is the commander in chief," said Lee, who noted that she was speaking for herself and not for Yale. "Unfortunately, we're seeing signs of impairment in the sitting president."
Lee is among 27 psychiatrists and mental health experts who wrote last year's The Dangerous Case of Donald Trump, which questioned the president's mental fitness. The book did not receive nearly as much attention as Michael Wolff's new Fire and Fury: Inside the Trump White House, which describes an ignorant but emotionally charged chief executive with deteriorating cognitive skills.
Trump's rambling, at times barely coherent remarks have been a feature of his persona going at least as far back as the start of his presidential campaign in June 2015. He has been impulsive, serially dishonest and quick to lash out at perceived slights going back decades further.
But Lee said his worrisome behaviors have been getting more frequent and more severe since he took office. "It's been markedly getting worse. All the signs have been getting worse," she said.
According to the National Institute on Aging, housed in Trump's Department of Health and Human Services, older patients should have brief annual assessments for cognitive impairment as part of their well-care exams under Medicare. "Many people who are developing or have dementia do not receive a diagnosis. One study showed that physicians were unaware of cognitive impairment in more than 40 percent of their cognitively impaired patients," the NIA website states.
Lee pointed out that military commanders must take assessments to ensure they are mentally fit for those positions. She said that if it were up to her, she would insist on a much more comprehensive exam for Trump. "If I were his private psychiatrist, I would recommend a full neuropsychiatric evaluation."
Lee, of course, will play no role in Trump's physical exam, which will be conducted by White House doctor Ronny Jackson at Walter Reed Military Medical Center on Friday. And while the White House would not respond to queries about a cognitive impairment assessment, spokesman Hogan Gidley had a one-word answer to whether Trump would get a psychiatric evaluation: "No."
His mental state notwithstanding, Trump is the most physically out-of-shape president since William Howard Taft a century ago. Every modern president since Ronald Reagan has had a workout regimen. Bill Clinton, despite a weight problem, could run at an 8-minute-mile pace. George W. Bush rode mountain bikes. Barack Obama spent each morning in the gym and played the occasional game of basketball.
Trump does none of this, while favoring high-caloric food. His initial campaign manager, Corey Lewandowski, described a typical evening meal for Trump as two McDonald's Big Macs, two fish sandwiches and a chocolate shake ― a total of 2,430 calories.
It remains unclear what of Jackson's exam will be released and when that might happen.
The Obama White House released findings from his first physical upon taking office. It reported Obama was in good health, although he still was struggling to stop smoking. And his cholesterol count had crept upward. Eight years earlier, the George W. Bush White House put out his exam results, which found he was in the top 2 percent for cardiovascular fitness for men of his age.
Americans' only medical information about Trump comes from his longtime personal doctor, Harold Bornstein. In a single-page letter just weeks before the 2016 general election, Bornstien declared Trump to be in "excellent physical health" and provided data on his blood pressure, his cholesterol count and, oddly, his testosterone.
The same doctor nine months earlier, in an even shorter letter, had noted Trump's "astonishingly excellent" lab results and closed: "If elected, Mr. Trump, I can state unequivocally, will be the healthiest individual ever elected to the presidency."
Popular in the Community