WASHINGTON ― Donald Trump Jr.'s hopes of getting Russian government help for his father in last year's election have popularized a word for critics of the White House: "treason."
And it is almost certainly wrong ― at least in the legal sense.
"There is a lot of behavior that is really bad, and is a betrayal of the United States," said Carlton Larson, a law professor at University of California, Davis, and an expert on the topic. "But it's not technically treason."
The younger Trump on Tuesday published an email chain from June 2016 showing his interest in obtaining negative information about Democratic nominee Hillary Clinton, even though the business associate offering it said it came from the Russian government.
"If it's what you say I love it," Trump Jr. wrote back within minutes of receiving the offer.
While the colloquial meaning of treason is acting against the interest of one's country, the legal definition ― spelled out in the United States Code ― is much narrower. The law states that an American citizen who "levies war" against the government or gives "aid and comfort" to the nation's enemies is guilty of treason, punishable by at least five years in prison and possible execution. 
Russia, a potent geopolitical adversary with thousands of nuclear warheads, is not technically an enemy of the United States.
"Russia does not qualify. We're not at war with them. There are no active hostilities," said Paul Crane, a University of Richmond law professor and former federal prosecutor. "That would be the first hurdle."
This is the message of many Republicans, from members of Congress who call the rhetoric overheated, to the president's defenders in the conservative media, to the White House itself, where deputy press secretary Sarah Sanders earlier this week said: "I think those new words are ridiculous."
But supporters of President Donald Trump probably shouldn't take the near impossibility of a treason charge as a sign the president and his team are in the clear. A variety of other statutes could come into play, Crane said.
Among them are campaign finance laws that prohibit foreign involvement in federal elections, he said, as well as broader anti-corruption laws that prohibit offering a benefit in return for election assistance.
These cases are not necessarily easy to prove, Crane said. "There is a line that can't be crossed. It's always unclear when you hit that line," he said, adding that another danger area is if one party encouraged the other to commit a crime – stealing emails, for example. "Conspiracy is always on the table."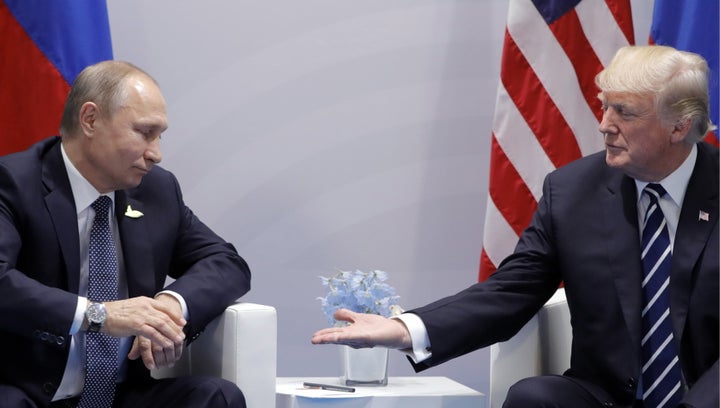 On July 27, 2016, Trump during a news conference invited Russia to hack into computer systems to find the emails Clinton had deleted from her private server: "Russia, if you're listening, I hope you're able to find the 30,000 emails that are missing." Trump later said he was joking.
On May 9, Trump fired FBI Director James Comey, who had been leading the agency's investigation into Russia's meddling in the 2016 presidential election, and into whether Trump's campaign had colluded with Russian officials. Trump had earlier asked Comey to drop a related probe into Trump's first national security adviser, Michael Flynn, and his contact with Russians, but Comey refused.
Trump's press office initially claimed the president was merely following the recommendations of Attorney General Jeff Sessions and his top deputy when he fired Comey. But Trump on May 11 told NBC News that he was going to fire Comey regardless of the Justice Department's recommendation, and added that the Russia investigation played into his thinking. Trump also told Russia's foreign minister and its U.S. ambassador during their May 10 Oval Office visit that Comey's probe was putting "great pressure" on him, and that Comey was a "nut job," according to a New York Times report that the White House has not refuted.
In January, the Office of National Intelligence issued the consensus view of U.S. intelligence agencies that not only had Russia meddled in the 2016 presidential election, but it had done so to hurt Clinton and help Trump.
"We assess Russian President Vladimir Putin ordered an influence campaign in 2016 aimed at the U.S. presidential election. Russia's goals were to undermine public faith in the U.S. democratic process, denigrate Secretary Clinton, and harm her electability and potential presidency," the report states. "We further assess Putin and the Russian government developed a clear preference for President-elect Trump. We have high confidence in these judgments."
Just days after Comey's firing, Deputy Attorney General Rod Rosenstein appointed former FBI director Robert Mueller as special counsel to handle the Russia probe. Mueller has hired a number of prosecutors for his team, but has not given any public updates on the status of his investigation or possible charges he may be considering.
UC Davis's Larson said Trump and his campaign staff are lucky that the United States has such a narrow definition for treason. A Russian citizen who colluded with the CIA to influence the Russian government, for example, would almost certainly have a tough time of it.
"I think there's a decent chance that Putin would call that person a traitor," Larson said.
Calling all HuffPost superfans!
Sign up for membership to become a founding member and help shape HuffPost's next chapter
BEFORE YOU GO