WASHINGTON — President Donald Trump was thinking about the FBI's investigation into potential ties between the Trump campaign and Russia when he decided to fire FBI Director James Comey, the president said in a highly anticipated interview with NBC News on Thursday.
"I was going to fire Comey, knowing there was no good time to do it," he told Lester Holt. "And in fact when I decided to just do it, I said to myself, I said, 'You know, this Russia thing with Trump and Russia is a made-up story, it's an excuse by the Democrats for having lost an election.'"
During the interview, Trump described the FBI director as a "showboat" and a "grandstander," and revealed he had made a decision to get rid of Comey prior to the recommendations of Deputy Attorney General Rod Rosenstein and Attorney General Jeff Sessions. The claim contradicts statements Trump's staff made earlier.
Holt asked Trump if he is upset with Comey over the bureau's ongoing investigation, to which Trump replied, "I just want somebody that's competent. I am a big fan of the FBI. I love the FBI."
"As far as I'm concerned, I want that [investigation] to be absolutely done properly," Trump said, adding that while firing Comey when he did would potentially "confuse people," it was the right decision.
At seemingly every turn, Trump has compromised investigations into alleged Russian meddling in the 2016 election. And his decision to fire the man leading a probe into possible collusion between his campaign and Russia unsurprisingly raised people's suspicions.
But Trump insists there's nothing there.
"I have nothing to do — this was set up by the Democrats," he said. "There is no collusion between me and my campaign and the Russians. The other thing is the Russians did not affect the vote and everybody seems to think that."
In his May 9 letter informing Comey of his termination, Trump said he appreciated the FBI director informing him "on three separate occasions" that he personally was not under investigation. One of those occasions, Trump told NBC, was during a dinner at the White House. The president claims Comey asked him during their meal if he could continue to lead the FBI and that Trump said he would "consider it."
The New York Times reported Thursday about a private White House dinner, presumably the same one, in which Trump demanded Comey's loyalty. After Comey told Trump he could expect Comey's "honesty," the president inquired as to whether it would be "honest loyalty," the Times reported, citing two of Comey's associates.
During the 13-minute NBC interview, Trump also discussed former national security adviser Michael Flynn, who resigned from the administration in February after it was revealed he had discussed U.S. sanctions against Russia with the Russian ambassador to the U.S. Asked why it took 18 days to fire Flynn, Trump told Holt he didn't get the sense from his team that his termination needed to happen immediately.
"This man has served for many years. He's a general. He's, in my opinion, a very good person," Trump told NBC. "I believe that it would be very unfair to hear from somebody who we don't even know and immediately run out and fire a general."
Holt also asked Trump if he ever considered what people would think of his meeting with Russia's foreign minister Sergey Lavrov the morning after firing Comey.
"I never thought of it. It was set up a while ago and frankly I could have waited, but what difference does it make," Trump said. "I'm not looking for cosmetics. I'm looking to do a great job for the country."
View Trump's full NBC Nightly News interview above.
Support HuffPost
The Stakes Have Never Been Higher
Before You Go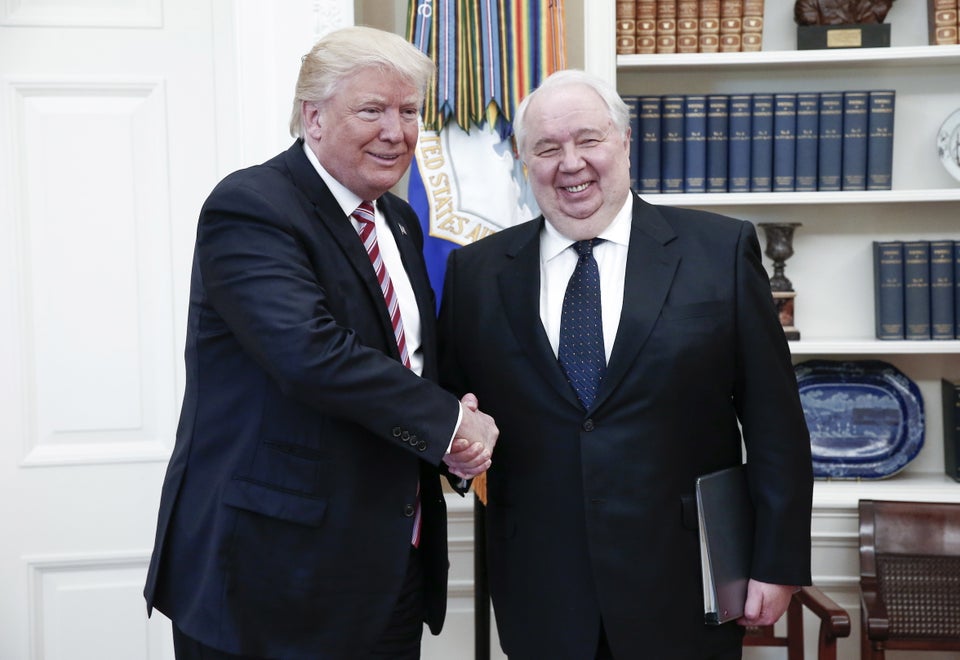 Donald Trump Meets With Russian Officials
Popular in the Community