WASHINGTON ― President Donald Trump talked about river barges and locks and highways and American steel during a visit to Cincinnati, Wednesday ― but even his mind seemed 500 miles to the east, where a Senate committee began two days of hearings that could bog down his presidency even further.
"It's time to rebuild our country, to bring back our jobs, to restore our dreams, and yes, it's time finally to put America first," Trump said.
The setting was the Ohio River separating that state from Kentucky, with barges carrying West Virginia coal moored within the camera shot. Trump spoke for 30 minutes, largely reading from a teleprompter and offering few details, in a flat tone to a crowd of about 400. "Our infrastructure program will be based on forging new partnerships and demanding new accountability for every federal taxpayer dollar."
The speech was the highlight of "Infrastructure Week," the White House's attempt to move its own agenda and drive more favorable media coverage in a week expected to be dominated by the appearance of fired FBI Director James Comey before the Senate Intelligence Committee on Thursday.
By that measure, though, Trump's day trip did not succeed. He had no sooner wrapped up his address than the committee released Comey's prepared remarks that showed a president trying repeatedly to pressure the man leading the investigation into Trump's presidential campaign to profess his personal loyalty to him.
"The president then returned to the topic of [recently fired national security adviser] Mike Flynn, saying, 'He is a good guy and has been through a lot,' " Comey wrote of his Feb. 14 meeting with Trump. "He repeated that Flynn hadn't done anything wrong on his calls with the Russians, but had misled the vice president. He then said, 'I hope you can see your way clear to letting this go, to letting Flynn go. He is a good guy. I hope you can let this go.' "
White House deputy press secretary Sarah Huckabee Sanders told reporters on the Air Force One flight back to Washington that Trump's staff was still reviewing Comey's opening statement. "The president is very focused on his agenda," she said. "He's going to continue moving forward with exactly what the people of this country elected him to do. And he's not letting the distractions get in the way of that."
Trump fired Comey on May 9. He told the Russian foreign minister and the Russian ambassador during an Oval Office visit days later that firing Comey ― whom Trump called "a nut job" ― had relieved the pressure on him from the investigation, according to a published report.
Wednesday morning, prior to Trump's speech in Ohio, Director of National Intelligence Dan Coats, National Security Agency Director Michael Rogers and Acting FBI Director Andrew McCabe testified that they never felt pressured to do anything inappropriate. But they declined to answer in an open hearing whether Trump or members of his administration asked them for their help in ending the FBI investigation into Flynn.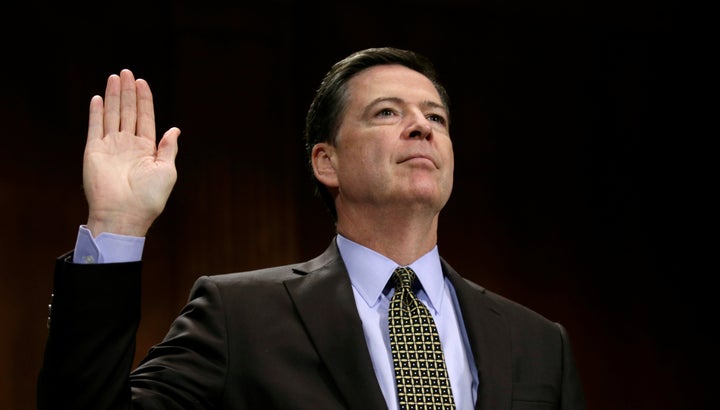 The Washington Post reported Tuesday that Trump had asked Coats to do precisely that. And Comey's prepared remarks confirm earlier press reports that Trump had asked Comey directly to drop the Flynn probe into his contacts with Russian officials ― contacts that Acting Attorney General Sally Yates warned could make Flynn a blackmail target. (Yates was fired soon afterward, ostensibly for refusing to defend Trump's travel ban in court.)
U.S. intelligence agencies have concluded that Russia worked to hurt Clinton and help Trump during the 2016 election, in part by stealing documents and emails from the Democratic Party and from Clinton's campaign chairman and then releasing embarrassing ones on a near daily basis in the final weeks of the campaign through WikiLeaks.
Trump praised WikiLeaks for doing this in almost every campaign appearance in October, and for months claimed that it was impossible to know who had stolen the emails.
That Russian meddling, and possible collusion with the Trump campaign, remains under investigation by the FBI and committees in both the House and Senate. After Trump fired Comey, Trump's Justice Department appointed Robert Mueller, who ran the FBI from 2001-2013, as special counsel to run the Russia investigation.
Popular in the Community