WASHINGTON – With a possible obstruction-of-justice probe on the line that could determine the future of his presidency, Donald Trump Friday set the terms: It will be his word against that of the FBI director he fired.
It's a match-up Trump may come to regret.
James Comey is a 30-year career law enforcement officer and prosecutor with a reputation as straight shooter. Trump has been known for decades for unhesitatingly dispensing falsehoods – a habit that has not diminished with his taking of the Oval Office.
"It's difficult to look at Comey and besmirch his reputation," said Rick Tyler, a Republican consultant who worked for Texas Sen. Ted Cruz during the 2016 GOP primaries. "I don't think Trump would recognize the truth if he stumbled across it."
Comey on Thursday testified under oath that Trump had asked him for his personal loyalty and pressured him into dropping an investigation into Trump's first national security adviser, Michael Flynn, over his undisclosed discussions with Russian officials.
Comey had already been conducting an investigation into potential collusion between the Trump campaign and Russian intelligence agencies, which the U.S. intelligence community concluded worked to help Trump win the presidency.
Over the course of two-and-a-half hours before the Senate Intelligence Committee, Comey matter-of-factly called the president a liar. Asked why he took such detailed notes about his meetings with Trump, when he hadn't done so after meetings with former presidents George W. Bush or Barack Obama, Comey answered that it was "the nature of the person."
"I was honestly concerned that he might lie about the nature of our meeting, and so I thought it really important to document," Comey testified.
On Friday, during a warm afternoon in the White House Rose Garden, Trump followed up on a earlier statement on Twitter and claimed it was Comey who was lying.
"I didn't say that," Trump said about asking Comey to drop the Flynn probe at a private White House meeting – as visiting Romanian President Klaus Iohannis stood a few feet away at their joint news conference.
"I hardly know the man. I'm not going to say, 'I want you to pledge allegiance,'" Trump said about asking Comey for his loyalty. "Who would do that? Who would ask a man to pledge allegiance under oath? I mean ― think of it, I hardly know the man. It doesn't make sense. No, I didn't say that and I didn't say the other."
Trump went on to say that he would provide those answers under oath: "One hundred percent."
Whether he ever gives a full statement to special counsel Robert Mueller is unclear. Trump frequently promises things but then reneges – he promised, for example, to release his tax returns if he ran for president, which he has subsequently refused to do.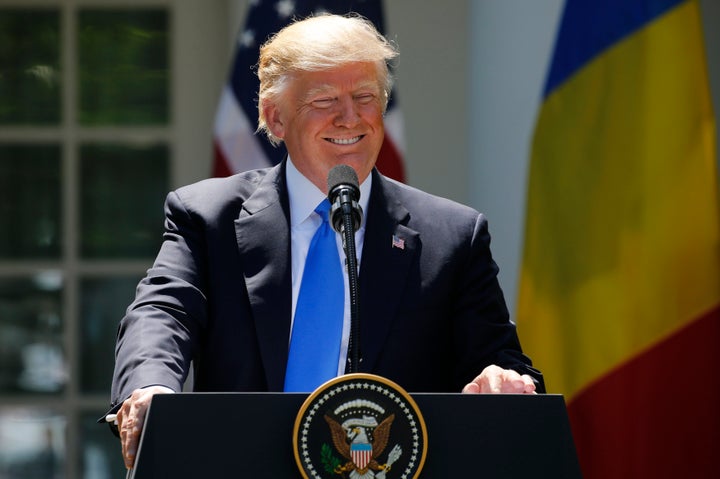 In any event, the veracity of any such statements is also unclear. Trump has been known for decades for his willingness to say false things to advance his interests, including in legal depositions taken under oath. In the 1990s, he was even known for calling reporters and pretending to be non-existent Trump Organization subordinates to plant favorable stories about himself.
He called People Magazine once posing as "John Barron" to claim that his employer ― that is, Trump himself ― was dating Italian model Carla Bruni. (Bruni denied she'd had anything to do with Trump and called him a "lunatic.")
His readiness to deliver falsehoods to his audiences and journalists frustrated his primary campaign rivals, who saw GOP voters seem to accept Trump at his word, regardless of evidence to the contrary.
One of Trump's last opponents to drop out was Ted Cruz, who on the morning of the pivotal Indiana primary let loose a three-minute tirade about Trump's lack of honesty.
"This man is a pathological liar. He doesn't know the difference between truth and lies," Cruz told reporters. "He lies practically every word that comes out of his mouth. And he had a pattern that I think is straight out of a psychology textbook. His response is to accuse everybody else of lying…. I say pathological because I actually think Donald—if you hooked him up to a lie-detector pass, he could say one thing in the morning, one thing at noon, and one thing in the evening, all contradictory, and he'd pass the lie-detector test each time. Whatever lie he's telling, at that minute he believes it, but the man is utterly amoral."
Trump won the Indiana primary, the GOP nomination and then, against improbable odds, the presidency with the assistance of Russian intelligence agencies working to sabotage his Democratic rival, according to U.S. intelligence officials.
The false statements, though, have continued, right from his first full day on the job when he told CIA employees that some 1.5 million people had attended his inauguration, when the actual number had been a fraction of that.
The fact-checking site PolitiFact showed Trump with the highest rate of false statements of any candidate in the 2016 campaign. As of Friday, of the 410 Trump statements PolitiFact has analyzed since he entered the race in 2015 through this week, a full 69 percent are rated "mostly false," "false," or "pants on fire."
Trump's long and troubled history with the truth may overwhelm whatever advantage the imprimatur of the White House might otherwise afford. Polling shows that a majority of Americans find Trump dishonest – an impression that his staff is unlikely to be able to counter.
Thursday, White House deputy press secretary Sarah Huckabee Sanders, asked about Comey's testimony calling Trump a liar, responded: "I can definitively say the president is not a liar. I think it is frankly insulting that question would be asked."
That kind of answer, said Tyler, was not helpful, given Trump's long and storied record of untruths through the years. All she had to do was answer that she wasn't going to dignify that sort of question and to move on, rather than defend Trump so combatively and damage her own credibility.
"It's the most fundamental mistake you can make in communications," Tyler said. "And she went and did it."
Calling all HuffPost superfans!
Sign up for membership to become a founding member and help shape HuffPost's next chapter