WASHINGTON ― President-elect Donald Trump's decision to keep his ownership in his business, creating a multitude of conflicts of interest while he sits in the Oval Office, has so far drawn no critical response from Republicans in Congress. Democrats on Thursday began to show what they'll do about it. 
Rep. Elijah Cummings (D-Md.), ranking member of the House Oversight Committee, sent a letter to House Speaker Paul Ryan (R-Wis.) signed by all House ranking committee members asking him to "join us in fulfilling our sworn constitutional duty by seeking and obtaining copies" of all relevant documents related to Trump's business empire.
Cummings' letter seeks Trump's personal and corporate tax returns for the past five years, documents referenced by Trump and his tax lawyer at Wednesday's press conference, corporate charters, balance sheets and income statements from the past five years, and documents that would help Congress protect against violations of the Constitution's Emoluments Clause, which bars most foreign payments to government officials.
"We must do our job," Cummings said at a news conference explaining the letter. "We must obtain documents of President[-elect] Trump's vast global entanglements. In other words, we don't even know what he owns. We don't know what he owes money to."
He added: "We want the speaker to join us in doing our job under the Constitution ― to act as a check."
The letter and news conference underscored the position that Democrats find themselves in as Trump prepares to take power as a walking, talking conflict of interest. They are in the minority in both chambers of Congress. They control no committees. They have no subpoena power. If they want any congressional oversight of Trump, they'll need help from Republicans.
So far, that hasn't materialized. Ryan has not commented on Trump's unprecedented business arrangement, deferring to Oversight Committee Chairman Jason Chaffetz (R-Utah). Chaffetz has said that he won't be a "cheerleader" for Trump, but won't hold any hearings until after the inauguration.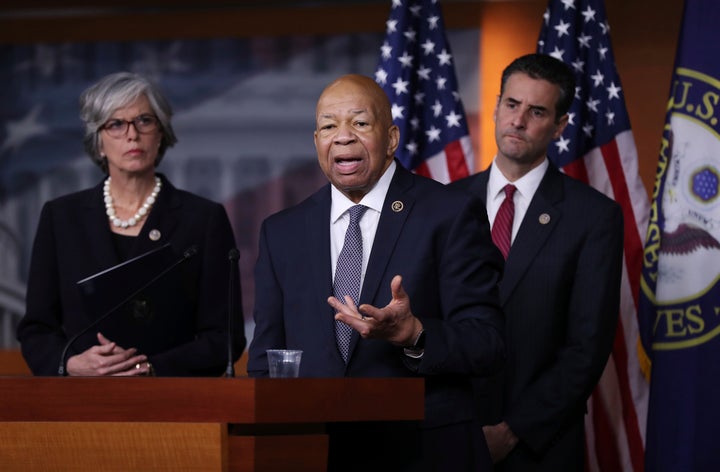 Meanwhile, Democrats in the House and Senate are plotting how they can best pressure Trump to do what bipartisan ethics advisers say he should do ― divest his conflicting business holdings. This inevitably will involve getting congressional Republicans on the record on various pieces of legislation.
Cummings, from his perch as the top Democrat on the Oversight Committee, is the leader of House Democrats on the issue. He has sent multiple letters to Chaffetz calling for hearings on Trump's conflicts. In December, he held a shadow hearing that featured Norm Eisen, Obama's former ethics adviser; Richard Painter, former ethics adviser to President George W. Bush; and Stephen Gillers, a New York University ethics professor. All testified with recommendations, which Trump failed to take.
Rep. John Sarbanes (D-Md.), the leading House proponent of campaign-finance and ethics reforms, will lead House Democrats' Democracy Task Force. In the last Congress, the task force focused on discussion and promotion of campaign-finance, lobbying and ethics reforms, and was led by former Rep. Donna Edwards (D-Md.). Sarbanes will continue those efforts, while expanding the task force as an organizing body for Democrats responding to Trump's conflicts.
"We're going to kind of keep Trump and his crowd ― keep their feet to the fire on this," Sarbanes told The Huffington Post.
The task force will act as a main hub of information about Trump's business conflicts for Democratic members on oversight committees. The task force also will help Democratic lawmakers craft messaging that connects issues related to Trump's conflicts with the GOP agenda. For example, Democrats will show how Republican efforts to gut the Dodd-Frank financial reform law could benefit Wall Street and foreign banks that Trump owes huge debts to.
Democrats also plan to force Republicans to take a position on legislation that would make Trump and future presidents more accountable to the public by requiring the divestment of conflicting assets and the disclosure of tax returns. Rep. Katherine Clark (D-Mass.) is the chief sponsor of a key measure that would do this.
"Every Democrat and every Republican should want to eliminate the uncertainty and promote accountability within the executive branch," Clark said at Thursday's news conference with Cummings. "We invite our colleagues to work with us together."
In the Senate, Democrats plan a similar effort. Their leader is Sen. Elizabeth Warren (D-Mass.), who has introduced legislation identical to Clark's. After Trump announced his plan for his business on Wednesday, Warren took to Twitter to call it "a joke" that "puts us all at risk."
Sen. Ben Cardin (D-Md.), ranking Democrat on the Senate Homeland Security and Governmental Affairs Committee, put out a statement joined by Warren and six other Democrats, declaring, "every tweet, statement, meeting, policy, executive order, bill signing, or other decision will present a fresh opportunity for President-elect Trump to line his pockets at the expense of the American people."
The plan in the Senate will begin to take shape when the next budget reconciliation comes up. Democrats said they will force votes on amendments aimed at ending Trump's conflicts of interest and requiring more disclosure. This would most likely include a vote on Warren's legislation.
Senate Democrats also will look for ways that businesses or citizens could bring legal challenges to Trump's operation of his businesses, and for cases Democrats can support with legal briefs. This could be a rival hotel company claiming it lost business due to an unfair advantage Trump's hotels have gained by his presidency. It could be citizens challenging a favorable local government action for a Trump golf course. Or it could be a rival vintner challenging government approval of foreign workers for Trump's winery.
Finally, Senate Democrats are looking for ways to get executive branch inspectors general and the General Accounting Office to investigate potential conflicts or wrongdoing in government actions related to Trump's businesses. Cummings said on Thursday that a letter that he and Rep. John Conyers (D-Mich.) sent the Department of Justice inspector general prompted the new investigation into the FBI's handling of its Hillary Clinton email probe.
Cummings blamed Trump for putting Democrats in this position. "I wish we would not have to do this, but President-elect Trump has now made his decision and his decision has made this necessary," he said.
He added: "It is up to us to act as an independent check on the executive branch."
Calling all HuffPost superfans!
Sign up for membership to become a founding member and help shape HuffPost's next chapter
BEFORE YOU GO