WASHINGTON ― The Trump administration's conflicts of interest and ethics missteps have been a boon for the congressional letter-writing industry. The first week of March featured no less than five official letters sent by Democratic lawmakers asking for more information on the multitude of controversies swirling around President Donald Trump and his team.
Without the power to hold hearings and issue subpoenas that comes with majority control in Congress, Democratic lawmakers have practically no legal means of obtaining information about subjects they deem important. Writing letters to agencies and the White House asking for information about particular issues is one way they can seek and publicize their pursuit of that information. The boom in letters also highlights the many areas where information is lacking from the Trump administration.
The letters show that questions are still unanswered about Trump's ethics and lobbying executive orders, the lease between Trump's company and the General Services Administration, the protection of overseas Trump-branded properties, and the failure of White House aide and presidential son-in-law Jared Kushner to divest from business holdings that could present conflicts of interest. Some of these letters followed up on previous requests for information while others asked questions that had not yet been directed to the administration.
The letter from Sens. Tom Udall (D-N.M.), Sheldon Whitehouse (D-R.I.) and Richard Blumenthal (D-Conn.) is a new inquiry. The three senators sent a letter to Defense Secretary James Mattis, Homeland Security Secretary John Kelly and Secretary of State Rex Tillerson on Thursday asking if the three departments are providing or plan to provide extra security for Trump-branded properties in foreign countries.
The president's name is publicly displayed on properties in Turkey, Dubai, the Philippines, India, Canada, South Korea, Ireland and the United Kingdom. These properties are not secured in the same way as overseas U.S. government properties.
"An act of terrorism on one of these properties could potentially lead him to take actions in his official capacity that he would not take if the property were not owned by his organization," the senators warn.
They want to know if federal resources are being used to secure these buildings or if there are internal discussions about doing so. The letter also asks whether the three federal agencies are renting or have purchased space in any of the president's properties.
Rep. Peter DeFazio of Oregon, the ranking Democrat on the House Transportation and Infrastructure Committee, and Rep. Hank Johnson (D-Ga.) sent a letter Tuesday to the inspector general for the General Services Administration as a follow-up to two unanswered letters. The DeFazio and Johnson letter asks Carol Ochoa, the inspector general, to launch an investigation into the GSA's management of the lease that Trump holds to operate a hotel out of the GSA-owned Old Post Office Pavilion.
"Because President Trump failed to transfer or eliminate his controlling interest in the property prior to his inauguration, he is now able to negotiate new and favorable financial terms with the Administrator he appoints," the letter reads. "Left unchecked, this arrangement is fraught with the possibility that President Trump and his children will enrich themselves at taxpayers' expense. This is simply untenable."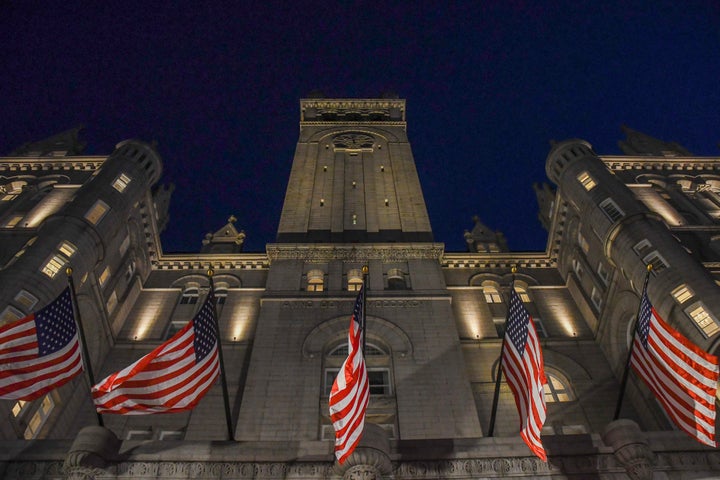 Trump's D.C. hotel is the most clear-cut example of a conflict of interest he created by not divesting or separating himself from his business. He is now in a position where, as president, he is both the landlord and the tenant. His children will participate in annual negotiations with the GSA that will affect how much they pay and their tax bill. Trump will also appoint a new administrator of the GSA to oversee his own lease. The president and his hotel were sued on Thursday by a nearby restaurant for unfair competition.
It is not just the president's conflicts of interest that Democrats want answers about. Sen. Elizabeth Warren (D-Mass.), Sen. Tom Carper (D-Del.) and Rep. Elijah Cummings (D-Md.) sent a letter to the White House counsel's office on Wednesday asking what assets Kushner has divested from. The letter follows a report by ProPublica that Kushner has not fully divested himself of assets that could create conflicts of interest. The report added that Kushner's ownership stake in buildings that receive public housing money from the Department of Housing and Urban Development has led him to recuse himself from policy discussions related to the department.
The other two letters sent this week from Democratic offices concern executive orders related to ethics. Sen. Jon Tester (D-Mont.) sent a letter to the White House asking whether the administration plans to continue the Obama administration's practice of publicly disclosing ethics documents and annual reports that show any waivers provided for ethics rules imposed by executive orders issued by both President Barack Obama and Trump.
"The annual reports disclose whether the Ethics Pledge has been waived for any appointees, and if so, the names of those receiving the waivers and whether the waivers were handed out appropriately," Tester wrote.
Rep. Bill Pascrell (D-N.J.) sent a letter to the White House on Thursday to ask whether Trump's executive order placing a lifetime ban on administration officials from lobbying for foreign governments will apply to retired Lt. Gen. Michael Flynn, the former national security adviser. Flynn was fired by Trump for lying about his conversations with the Russian ambassador during the presidential transition. On Wednesday, Flynn retroactively registered as a foreign agent for work he did for a Turkish client prior to the election. Trump's executive order gives the president the power to waive any of its lobbyist bans for individuals.
"I urge you to publicly certify that neither you, nor any member of your administration, have waived or will waive the restrictions imposed on administration officials from engaging in any activity on behalf of any foreign government or foreign political party for former National Security Advisor Michael Flynn," Pascrell requested.
It's unclear if the administration will answer any of these questions.
REAL LIFE. REAL NEWS. REAL VOICES.
Help us tell more of the stories that matter from voices that too often remain unheard.