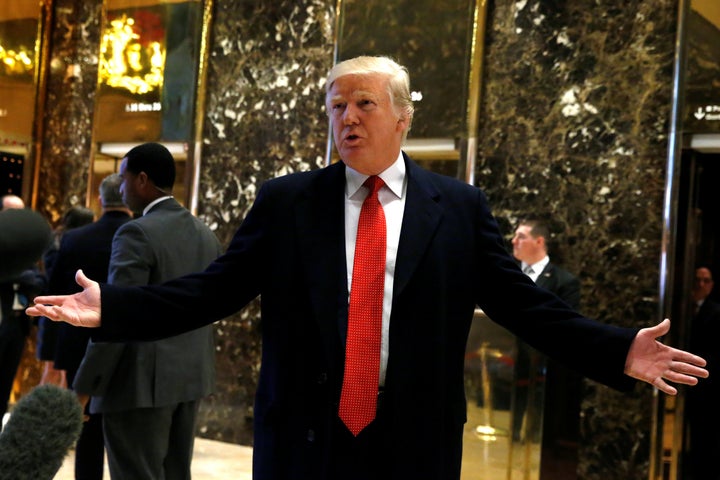 President-elect Donald Trump is doing exactly what he always said he was going to do with his company, the Trump Organization. But he's spinning it as a new decision — and the press is buying it.
The New York Times, citing unnamed sources, reported Wednesday evening that Trump won't sell his stake in his company. His adult sons will run the business, but he won't transfer ownership to them. And he certainly won't be doing anything remotely resembling divesting or installing an independent administrator to run the Trump Organization.
It's a plan that does almost nothing to address the massive conflicts of interest inherent in owning a real estate and branding business while serving as president of the United States.
It's also the same thing he's been promising to do for months.
You don't need to rely on unnamed sources to know that Trump plans to have his adult children run his business while he's in the Oval Office. He said so on live TV during a Republican primary debate in January. He said so in September. His son Donald Jr. has said the same thing. On Nov. 10, two days after Trump won the election, his attorney said the president-elect's children were already running the business with, he claimed, no involvement from their father. (Heightening the conflicts of interest is the fact that his three oldest children are also on his transition team's executive committee.)
The only notable difference reported in the New York Times story is that Trump's daughter Ivanka will also step aside from the business. Ivanka Trump and her husband, Jared Kushner, are reportedly moving to Washington, D.C., to work in some as-yet-to-be-determined roles in her father's administration. (Kushner's potential position brings its own multibillion-dollar conflicts and, given his marriage to Ivanka, may also violate anti-nepotism laws.)
And the president-elect's team is making sure reporters know he may still change his mind. "No final decisions have been made," Trump spokeswoman Hope Hicks told HuffPost. Hicks added that, as previously announced, Trump will publicly announce his plan on Dec. 15.
"This leaves us exactly where we thought we would be," said Noah Bookbinder, executive director of Citizens for Responsibility and Ethics in Washington. "It is, assuming this is what he announces next week, an entirely inadequate approach to avoiding conflicts."
By maintaining a stake in his company, Trump will not relieve himself of his conflicts of interest, current or future, or any appearance of conflicts. He will maintain an enormous private financial interest that could at any time clash with American interests. His private business interests create a conflict for the president-elect whenever he assesses what the United States should do or say about the actions of world leaders.
Consider the brutal state campaign of murder led by President Rodrigo Duterte of the Philippines. Trump has his name on a tower in metro Manila and would benefit from an amicable relationship between Duterte's regime and the U.S. government. Last week, Trump invited the Philippine leader to Washington and reportedly praised the way police in that country have been killing people suspected of using or dealing drugs. Trump adviser Kellyanne Conway did not respond when she was asked about the invitation on Dec. 3.
Domestically, Trump will soon appoint a new head of the General Services Administration, which oversees the lease for Trump's D.C. hotel. Each year, that person will have to renegotiate terms of his boss's lease with his boss's adult children. This appointment is an immediate conflict of interest for Trump; the relationship will be an ongoing conflict for the incoming GSA head.
The same will be true of Trump's appointments to the National Labor Relations Board, who will be able to rule against union organizing efforts at Trump's casinos and hotels.
Trump's reported refusal to divest from his business — despite the recommendations of ethics experts from both parties as well as in a bizarre stream of tweets by the Office of Government Ethics — may technically be allowed under federal law. His foreign holdings and debts, however, could very well be unconstitutional under the emoluments clause, which bars government officials from receiving payments or gifts from foreign governments or foreign government-owned corporations.
Trump owes hundreds of millions of dollars to the government-owned Bank of China, while the Trump Tower in New York City rents space to the government-owned Industrial and Commercial Bank of China. Since his election, the Trump International Hotel in D.C. has become a hotspot for holiday events held by foreign governments, including Bahrain and Azerbaijan.
The appointment of Donald Jr. and Eric Trump as joint heads of the Trump Organization will also do nothing to alleviate any concerns about conflicts of interest. They serve on the executive committee of their father's transition team, thus negating any separation between the business and his administration. They can use their two roles to advance their own and their father's private financial interests. The president-elect obviously wants his company to succeed ― to keep him rich, to keep his children employed and successful, and to ensure them great wealth upon his retirement.
These aren't just apparent conflicts of interest. They are actual conflicts of interest.
"It goes to the core of what presidents are supposed to do," said Norm Eisen, former ethics adviser to President Barack Obama. "They're there to serve the public interest and not the private interest, and the worst private interest of all is their own financial interest."
That's the interest Trump seems to be refusing to leave behind as he enters office.
Sign up for the HuffPost Must Reads newsletter. Each Sunday, we will bring you the best original reporting, longform writing and breaking news from The Huffington Post and around the web, plus behind-the-scenes looks at how it's all made. Click here to sign up!
Popular in the Community