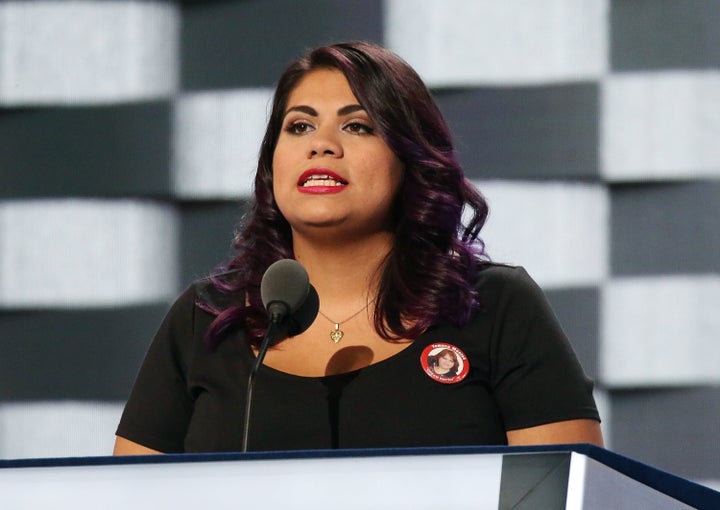 WASHINGTON ― When President Donald Trump addresses a joint session of Congress next week, he'll also be talking directly to a Muslim student, an Iraqi immigrant, the children of an undocumented woman whom his administration deported, and others closely affected by his immigration policies.
Lawmakers regularly invite guests to presidential addresses in order to send a message. This year, several Democrats are aiming their guest list at Trump's efforts to ramp up deportations, block refugees and stop travelers from seven Muslim-majority nations. 
Democratic Party leaders are also giving a major platform to a young undocumented woman, Dreamer Astrid Silva, who will deliver the party's Spanish-language response to the president's speech. 
Reps. Raúl Grijalva and Ruben Gallego, both Arizona Democrats, have invited the U.S.-citizen daughters of Guadalupe "Lupita" García de Rayos to attend Trump's address. Their mother was deported from her home in Phoenix earlier this month.
"[W]e believe it is important for Donald Trump to face the people who have been victimized by his disastrous policies," Gallego said in a statement on Friday. "As a result of Trump's immigration enforcement efforts, Phoenix lost a long-time member of the community and two young Americans lost their mother."
Sen. Mark Warner (D-Va.) seeks to bring attention to arrests of immigrants in his state by inviting Rev. Keary Kincannon, the pastor of Rising Hope Mission Church in Fairfax County, Virginia. Immigration and Customs Enforcement agents recently grabbed people outside a hypothermia shelter at the church. 
"My hope is that this will send a message to President Trump: these actions diminish the immigrant community's trust and cooperation with law enforcement, and they hurt Virginia's families, neighborhoods, and communities," Warner wrote in a Facebook post. 
Rep. Jim Himes (D-Ct.) will bring Marwan Sulaiman, who came to the U.S. from Iraq as a teenager on a student visa in 2007. In January, Trump attempted to bar all travelers from Iraq and six other countries from the U.S. for at least 90 days in an executive order that has since stalled in the courts. The president has said he plans to issue a new executive order next week with the same goal of barring a large swath of people from entering the country.
"If President Trump's proposed policies on immigration and refugees were in place at the time, however, this bright young man would have been denied access to our country and had a very different future," Himes said in a statement. "We must stop villainizing innocent people fleeing turmoil and terror in their homelands and seeking safety within our borders."
The president's travel ban disproportionately targeted Muslims, although he and White House officials have said it was not a "Muslim ban." During the campaign, Trump proposed to bar all Muslims from entering the country, and as president, he said he would be willing to make exceptions for Syrian Christians while continuing to bar Syrian Muslims.
Rep. Bill Foster (D-Ill.) has invited Samia Abdul-Qadir, a high school student who is Muslim, to hear Trump's congressional address in person. Earlier this month, she spoke at an event Foster held on the travel ban, telling the crowd that a fellow fencing-team member had said she "looked like a terrorist" in her hijab.
Rep. Norma Torres (D-Calif.) said she is bringing a legal permanent resident who was detained at Los Angeles International Airport during the initial phase of the travel ban. 
Rep. Luis Gutiérrez (D-Ill.) is also focusing on the travel ban by bringing Chicago-based immigration attorney Fidaa Rashid, who is the daughter of refugees and works mostly with Middle Eastern clients.
"If he looks up during the speech, I want Trump to see the face of a woman, the face of a Muslim, and the face of someone whose family has enriched and contributed to this country despite starting out as refugees," Gutiérrez said in a statement. "Trump needs to know that real people are hurt by his policies and Ms. Rashid can make that point in so many ways."
The story has been updated with Rep. Torres' invited guest.
BEFORE YOU GO
PHOTO GALLERY
How Donald Trump Talks About Undocumented Immigrants