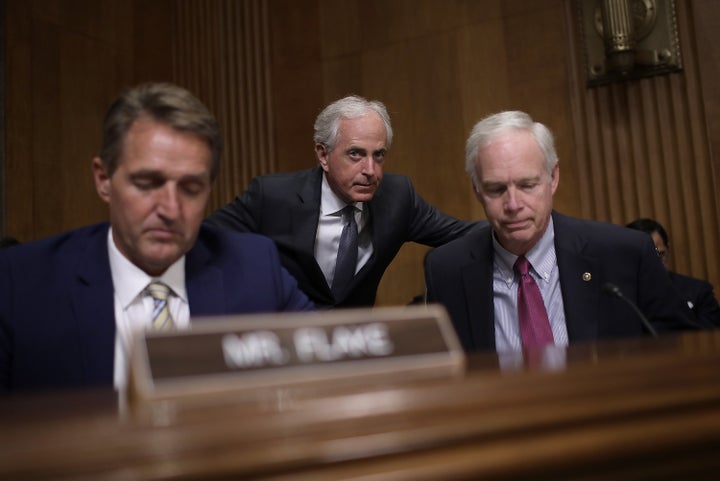 WASHINGTON ― The only people standing between an impulsive and angry President Donald Trump and thermonuclear war would be high-ranking military officers willing to declare a first-strike order "illegal."
That was the message Tuesday from an extraordinary, first-time-in-four-decades hearing convened by Senate Foreign Relations Committee Chairman Bob Corker ― who last month said he worried that Trump could "start World War III" and called the White House an "adult day care center."
"We are concerned that the president of the United States is so unstable, is so volatile, has a decision-making process that is so quixotic, that he might order a nuclear weapons strike that is wildly out of step with U.S. national security interests," Sen. Chris Murphy (D-Conn.) said at the hearing Tuesday. "Let's just recognize the exceptional nature of this moment."
Corker, a Republican from Tennessee, did not criticize Trump during the two-hour session, and instead framed the issue as a review of Congress' war-making authority as prescribed in the Constitution.
The experts testifying at the hearing said that while the protocols for nuclear weapons use give the president unilateral control when the United States is under attack from a nuclear strike, the commander in chief is far more restrained when trying to initiate a pre-emptive strike.
"The system is not a button that the president can accidentally lean against on the desk and immediately cause missiles to fly, as some people in the public, I think, fear it would be," said Peter Feaver, a Duke University political science professor.
C. Robert Kehler, who once led the United States Strategic Command as a four-star Air Force general, said military officers given a first-strike order are obliged to consider whether such an action was "proportionate" to the potential threat. If the answer is no, the order would have to be considered illegal, he said.
"The military does not blindly follow orders," Kehler said. "And that is true with nuclear orders as well, and I think that should be a reassuring piece for the American public, and it ought to be reassuring to our allies and our adversaries as well."
Brian McKeon, a top Pentagon official under former President Barack Obama, acknowledged under questioning from committee members that an officer in the chain of command who refused to comply with a presidential order would face removal. "You'd either get a new secretary of defense or get a new commander. But you'd have a real constitutional crisis on your hands if that occurred," he said.
And that, said Sen. Edward Markey, is why his bill requiring a president to seek congressional approval before launching a first strike is so necessary.
"I don't think that the assurances that I've received today will be satisfying to the American people," said Markey, a Democrat from Massachusetts. "I think they can still realize that Donald Trump can launch nuclear codes just as easily as he can use his Twitter account without the check and balance of the United States Congress."
Republican members on the committee said they worried that adversaries would see and read about the committee hearing and infer that Trump was losing support in his role as commander in chief, making them more likely to attack the United States or its allies.
"Particularly … people that are isolated from the world, don't get a lot of information, and have never had anyone tell them they're wrong or no," said Florida's Marco Rubio (R). "It's basically one guy, who has a bad night and gets up and decides he wants to do something about it."
Rubio was referring to North Korean dictator Kim Jong Un ― but his description was similar to the way Democrats on the panel were describing Trump.
"I want the president to act in a way that acknowledges input from a lot of experts, and not to act based on a Twitter post," said Sen. Jeanne Shaheen (D-N.H.).
Trump in August warned North Korea against threatening the United States: "They will be met with fire and fury like the world has never seen." In a September speech at the United Nations, Trump said the United States would "totally destroy North Korea" if it had to.
The president has been even less restrained on Twitter. In a September tweet, he warned about North Korean leaders: "They won't be around much longer!" And during his recently concluded visit to Asia, Trump called Kim "short and fat" after the young dictator reportedly called him old.
"Even Gen. Kelly, the president's chief of staff, can't control the president's Twitter tantrums," Markey said. "As a result, many Americans share my fear that the president's bombastic words could turn into nuclear reality."
Popular in the Community