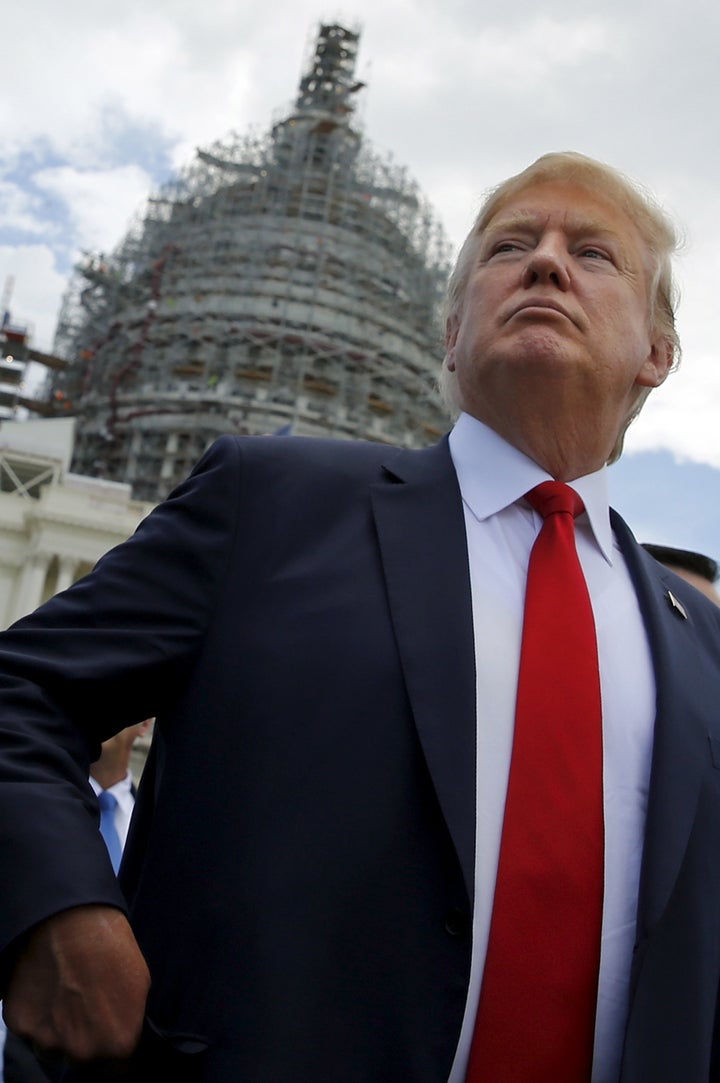 WASHINGTON -- Donald Trump is almost certain to be the Republican nominee, voters are calling for seismic changes to our political system, and not a single Republican member of Congress has lost a primary this year. Um, what?
There are plenty of theories on The Rise Of Trump -- some better than others -- but most explanations hinge on the extreme dissatisfaction voters have toward Washington and our current politics. In the Trump-is-a-hand-grenade scenario, voters chose the political neophyte in an effort to blow up government.
But if Republican voters are truly trying to make rubble of the Capitol, why are those same voters turning out to the polls and re-electing their members of Congress at every turn?
Ask Republican members of Congress, and they'll do the verbal equivalent of scratching their heads.
"Oh! Great question!" Rep. Rod Blum (R-Iowa) excitedly told The Huffington Post. "I don't have an answer to that."
A number of Republicans thought it was a surprising contrast -- "I don't get it," Blum said -- and most Republicans agreed that there was considerable outrage among voters.
"I don't think people are happy with Republicans," Rep. Justin Amash (R-Mich.) said.
But if voters aren't happy, why aren't they supporting disruptive challengers?
The most cogent Republican response seems to be that this goes back to "that adage," in the words of Rep. Paul Gosar (R-Ariz.), "people are upset with the way Congress works as a whole, but they like the individual."
Fenno noted that, when he visited congressional districts, constituents frequently told him their congressman was the best. That, coupled with incumbents winning re-election more than 90 percent of the time despite poor congressional approval ratings, led Fenno to observe a clear separation between how voters see Congress writ large and how they see their individual member of Congress.
Still, all the incumbent advantage aside, it seems odd that Trump could rise to power in some populist fit of rage while voters go out and re-elect their congressmen.
"I don't disagree," said Rep. Scott DesJarlais (R-Tenn.), a conservative House Freedom Caucus member who was one of the first lawmakers to endorse Trump. "Maybe that's a little strange, but it's been a strange election year."
Except that, excusing Trump for a moment, maybe it's not that weird.
The last time no Republican lost a primary was 2004, and there are five other times in the last 30 years where only one Republican lost in a primary.
On the Democratic side, this same dynamic is playing out. Voters who are feeling the Bern are still re-electing their Democratic representative. Only Chakka Fattah (D-Penn.), who's mired in an ethics scandal, has lost his bid thus far.
And this Tuesday, the dynamic will become less noteworthy, as at least one incumbent Republican will lose their seat when Reps. George Holding and Renee Ellmers square off in North Carolina because of redistricting.
But isn't it surprising if no true GOP challenger beats an incumbent this primary season, when roughly 20 million of 30 million Republican primary voters went for outsiders Trump and Sen. Ted Cruz (R-Texas)?
Not really, political scientists say.
Robert Boatright, the author of Getting Primaried: The Changing Politics of Congressional Primary Challenges, told HuffPost that primary challengers are most often driven by outside groups. "I think the sorts of groups that have financed primary challenges in previous years are probably preoccupied with aiding Republican incumbents in states where Trump may be a drag on the ticket," Boatright said.
"Trump basically has so dominated people's attention this year that conservative groups haven't really tried to mount any challenges," he added.
It's true that congressional approval ratings are still in the toilet. The most recent Gallup poll in May showed that only 18 percent of respondents approve of the way Congress is handling its job. But those numbers are actually up from 11 percent in November, and they've been on a pretty steady rise this year.
As Fenno pointed out decades ago, congressional approval ratings matter very little in re-election, particularly when voters clearly separate their member from Congress as a whole.
Perhaps it's less notable that voters are re-electing their congressmen across the board, and more notable that they ever nominated Trump.
Popular in the Community