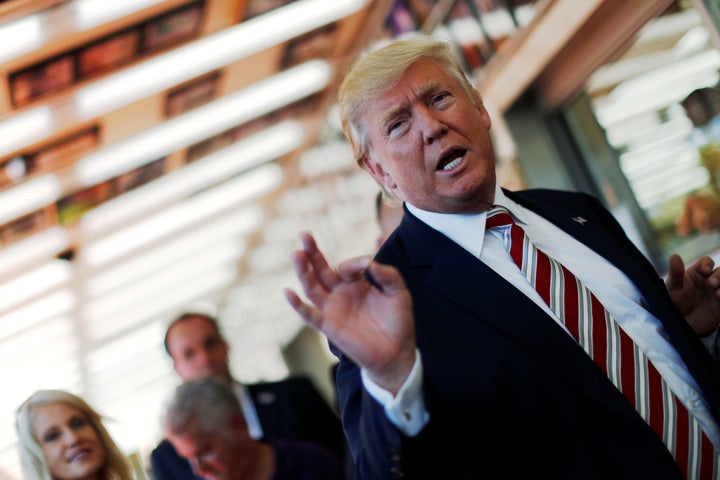 President-elect Donald Trump famously loves fast food. But does he love it enough to put a fast-food executive in charge of the Labor Department?
On Friday, the New York Times reported that Trump is mulling Andrew Puzder to be his labor secretary. Puzder is the chief executive of CKE Restaurants, the parent company of Carl's Jr. and Hardee's. The Times attributed its brief report to an anonymous official on Trump's transition team. Puzder met with Trump in person last month after the election.
Although Trump's cabinet is rapidly taking shape, the incoming administration hasn't made any formal announcements about the labor post, and a few other names have been kicking around. But if Puzder were plucked, it's safe to say he would be the first burger chain chief tasked with enforcing workplace safety laws and policing the nation's employers for wage theft.
For those who want to preserve President Barack Obama's legacy on the labor front, Puzder would be an alarming choice to put atop the Labor Department. He's been a loud critic of several of the president's priorities and reforms, including raising the minimum wage and making more workers eligible for overtime pay.
Earlier this year, Obama used his executive power to change the nation's overtime rules and make them more generous to workers. Under the new rules, which are currently blocked in court, 4.2 million additional salaried workers would be entitled to time-and-a-half pay when they work more than 40 hours in a week, making them one of Obama's most sweeping reforms done through executive action.
In a 2014 Wall Street Journal opinion piece, Puzder insisted the new rules would end up hurting workers, including fast-food managers who'd be guaranteed overtime pay. "Overtime pay has to come from somewhere, most likely from reduced hours, reduced salaries or reduced bonuses," he wrote.
In an interview with Business Insider earlier this year, Puzder wasn't too keen on the idea of hiking the minimum wage, either. He said that boosting the mandated wage floor would force fast-food executives like himself to look into replacing workers with robots. "With government driving up the cost of labor, it's driving down the number of jobs," he said. "You're going to see automation not just in airports and grocery stores, but in restaurants."
As the nation's top labor official, the labor secretary is in charge of the agency's wage-and-hour division, which investigates allegations of wage theft. Puzder would have some experience in this arena. Like all fast-food chains, Carl's Jr. and Hardee's restaurants have been investigated frequently in the past for allegedly shorting employees on pay. Most fast-food restaurants are owned and operated by franchisees rather than the chain itself.
A recent analysis by Bloomberg found that fast-food joints like Hardee's and Carl's Jr. that operate on the franchise model are often found to have broken the law. Wage-and-hour officials found violations about 60 percent of the time that they investigated those two chains, according to Bloomberg.
On his personal blog, Puzder wrote that Trump's victory in the election will be good for the restaurant business, since the incoming president will roll back regulations that Puzder deems too burdensome. Obamacare, in particular, has helped lead to a "government-mandated restaurant recession," Puzder wrote, even though the National Restaurant Association predicts that restaurant growth will outpace the economy at large this year.
Puzder was an adviser to Mitt Romney when he ran for president in 2012, and he sometimes took to the airwaves or his personal blog to make the case for Trump during 2016. According to his official bio, Puzder was a trial lawyer before becoming an executive at CKE. He recently co-authored a book called Job Creation: How It Really Works and Why Government Doesn't Understand It.
Popular in the Community