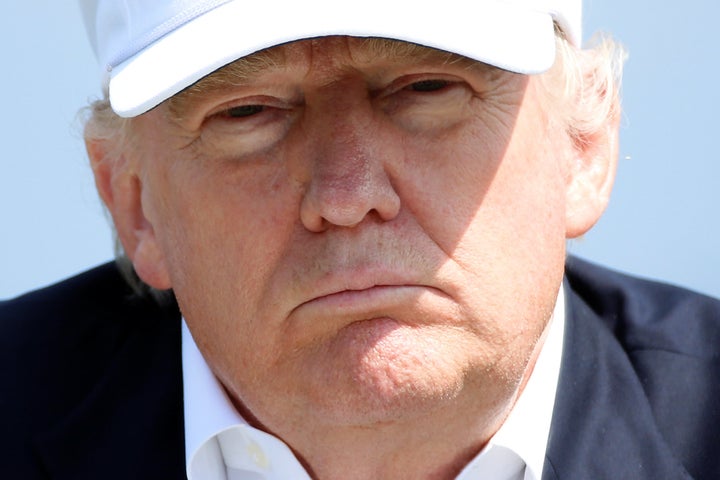 Republicans working to deny Donald Trump their party's nomination at next month's convention may not have the votes lined up to pull that off, but they've certainly gotten Trump's attention.
On an anti-Trump conference call Sunday evening, Georgia delegate Bobby Booth said the No. 2 person in the Trump campaign had called him, asking whether he'd been contacted by anti-Trump organizers. "I told him I was seeking them out," Booth said.
The conference call comes as the anti-Trump "Free the Delegates" movement gets more media attention, along with radio ads from a friendly super PAC, cable TV ads from a secret donor political group and more establishment Republican support.
Joining the call Sunday was former New Hampshire Sen. Gordon Humphrey (R), who supported Ohio Gov. John Kasich in the GOP primaries. "Donald Trump is just about the worst candidate you can think of," he said.
Just a week ago, both Trump and RNC chief strategist Sean Spicer were calling the anti-Trump group a media invention. Trump called it a "hoax" that had been "made up by the press," and also said there was "no mechanism" by which his GOP rivals could challenge his candidacy.
Neither the Trump campaign nor the RNC responded to The Huffington Post's queries about what steps they are taking, if any, to counter the anti-Trumpers.
But Booth's report suggests that Trump's campaign is now taking the insurgent group seriously. Colorado delegate Regina Thomson said the Trump campaign is using its meager campaign funds to cover travel and lodging costs for volunteers and delegates attending the Cleveland convention to shore up Trump's support there, rather than using the money against his Democratic opponent Hillary Clinton.
The chances of modifying convention rules to relieve delegates of their obligation to vote for Trump are now "better than even," and new delegates are contacting the group each day, Thomson said. "That is not a man of integrity," she said of Trump. "The Republican Party and the American people deserve better."
"Donald Trump is just about the worst candidate you can think of."
The anti-Trump activists have just over two and a half weeks before the Convention Rules Committee meets in Cleveland prior to the convention. Although Trump won a total of 1,457 delegates in the primaries and caucuses this spring, the rule that requires those delegates to vote for Trump must be re-adopted by this year's convention to remain valid.
The "Free the Delegates" group is hoping to win over a majority of the 112-member rules panel on its proposal to insert a "conscience clause" that would let any delegate avoid voting for a candidate whose record violates the delegate's religious or moral beliefs.
Group leader Kendal Unruh, also a Colorado delegate and a member of that rules committee, said she believes that the full convention will go along with the conscience clause if the rules committee approves it – and that it would effectively be the end of Trump's candidacy.
"If there are Rules members who are listening in," she said Sunday, "I need your votes."
Popular in the Community