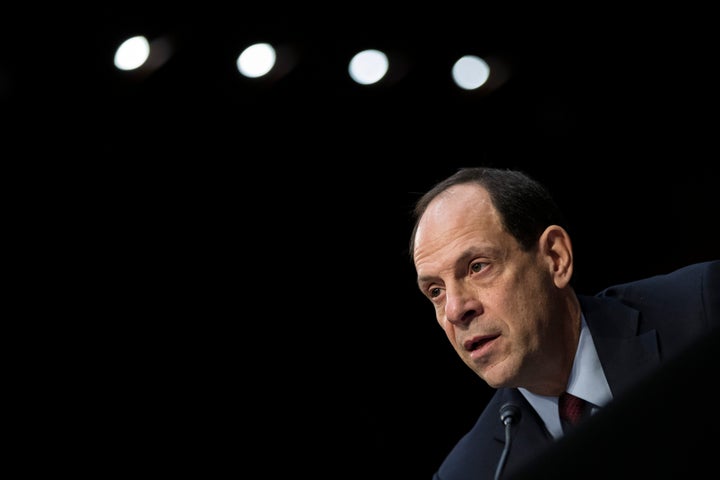 President Donald Trump removed the inspector general set to probe corruption and provide oversight of the government's massive response to the economic downturn caused by the coronavirus pandemic on Tuesday, the latest sign of his disdain for any oversight of his administration.
The $2 trillion coronavirus response law, passed last month, set up a panel of 10 inspectors general to serve as watchdogs as the government tries to limit fraud, wrongdoing and mismanagement. That panel, dubbed the Pandemic Response Accountability Committee, selected Glenn Fine — who was the acting Pentagon inspector general and is a former Justice Department inspector general — to lead them.
But on Tuesday, Trump removed Fine from his job as acting Pentagon inspector general, making him no longer eligible to lead the panel under the law. Trump named Sean O'Donnell, the inspector general of the Environmental Protection Agency, to fill the acting role at the Pentagon as well.
The move, which was sharply condemned by congressional Democrats, illustrates how Trump is bucking against any government oversight of his administration's response to the pandemic, which has come under fire for its delays and disorganization. Nearly 11,000 Americans have died as a result of the pandemic, and economists believe the unemployment rate is likely to hit double digits.
Trump has spent the past week raging against inspectors general throughout government. He fired the intelligence community's inspector general, Michael Atkinson, on Friday night, still angry over Atkinson's handling on the whistleblower complaint that led to Trump's impeachment.
Earlier this week, he questioned the independence of the inspector general of the Department of Health and Human Services after the watchdog released a report revealing supply shortages and testing delays at hospitals responding to the pandemic. Trump complained, without any basis, that the report was wrong and the top watchdog at HHS, Principal Deputy Inspector General Christi Grimm, was biased against him.
Democrats attacked Trump's decision as politically motivated.
"Donald Trump has zero ethical credibility; this is clearly a move to help his cronies get richer at taxpayer expense," said New York Rep. Carolyn Maloney, who chairs the House Oversight Committee, on Twitter. "So let me be clear: Congress is a co-equal branch of government. The laws we pass must be obeyed. This is far from over."
Senate Minority Leader Chuck Schumer, another New York Democrat, called the move "corrupt" and said Trump is "so clearly afraid of strong oversight."
Iowa GOP Sen. Chuck Grassley, a longtime supporter of government oversight and whistleblowers, gently suggested Trump cease his attacks on inspectors general.
"I encourage Pres Trump 2view IGs as helpers 2hold bureaucracy accountable+draining swamp," Grassley wrote in his trademark Twitter patter.
Fine, a career civil servant, spent 11 years as the Justice Department's inspector general, covering the Clinton, Bush and Obama administrations. He's been the acting inspector general for the Pentagon for the past four years, and will stay in the job as top deputy inspector general at the Defense Department.
The Pandemic Response Accountability Committee is one of three portions of the coronavirus law designed to provide oversight of the biggest spending law in American history, along with a congressional oversight committee and a special inspector general to oversee a $500 billion Treasury Department fund designed to rescue flailing industries. Trump nominated Brian Miller, a White House aide and former Bush administration inspector general, to fill the latter role.
Only one member of the Congressional Oversight Commission has been named so far: Schumer named Bharat Ramamurti, a former aide to Massachusetts Sen. Elizabeth Warren, to the panel on Monday. House Speaker Nancy Pelosi, House Minority Leader Kevin McCarthy and Senate Majority Leader Mitch McConnell will all get their own picks, and Pelosi and McConnell will jointly select the fifth member of the commission.
On Tuesday, Ramamurti said it was crucial for the oversight commission to start its work as soon as possible.
"The congressional oversight commission is the one oversight body in the CARES Act that Trump can't undermine directly," he wrote on Twitter about Fine's dismissal. "This disturbing news is another reason to get it up and running quickly and for it to demand full cooperation from the administration."
A HuffPost Guide To Coronavirus
Popular in the Community