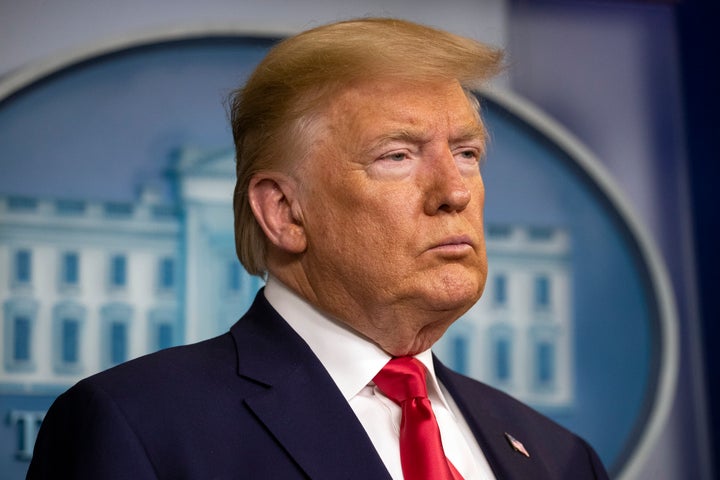 WASHINGTON ― President Donald Trump on Saturday announced new coronavirus-related travel restrictions on Iran, South Korea and Italy, but continued to downplay the threat posed by the virus and laud his own handling of the outbreak.
"We moved very early, and it turned out to be a lifesaver," he said in a hastily called news conference from the White House.
He added that Americans most likely will not contract the virus and those who do will probably not become very ill. "So healthy people, if you're healthy, you'll probably go through a process and you'll be fine."
That rosy assessment, though, was contradicted by Dr. Anthony Fauci, the renowned expert who heads up the National Institute of Allergy and Infectious Diseases. He said that between 75% and 80% of people who contract the virus will suffer cold- or flu-like symptoms and then recover. But the remainder, Fauci said, would likely face more severe symptoms, require hospitalization and "need advanced medical care."
Trump did acknowledge that death of a patient from the disease in Washington state, news of which was announced just before he began speaking in the White House briefing room. "Unfortunately one person passed away overnight," he said.
Trump also said that when he used the word "hoax" regarding the coronavirus on Friday evening at a political rally in South Carolina, he was referring to Democrats who are using the outbreak to attack him. "The hoax is on them," he said. "I'm not talking about what's happening here, I'm talking what they're doing."
Most direct travel with Iran had already been banned under previous sanctions rules, but now any foreign national who has visited Iran in the previous 14 days would not be allowed into the United States. The U.S. State Department would also issue "do not travel" advisories for the parts of South Korea and Italy affected by the virus, and is working with those countries to develop screening protocols for people wanting to travel to the United States.
Trump said other restrictions were also being considered. "We are looking also at the southern border," he said ― but just minutes later said there might not be any need to impose any such travel restrictions on the Mexican border.
Trump has been consistently downplaying both the severity of the disease as well as the number of Americans who may have it, and instead has mainly praised himself about what a great job he has done by banning travelers from infected areas who are not U.S. citizens from entering the United States.
He said at a news conference on Wednesday that he was surprised to learn that tens of thousands of Americans die from the flu each year, but that in comparison only 15 Americans had been diagnosed as having the coronavirus.
But those statements elided two key differences. First, the new coronavirus, according to early estimates, is some 20 times as deadly as the common seasonal flu. And second, because the Centers for Disease Control and Prevention initially came up with a flawed test for the virus, only several hundred Americans have even been tested for the disease ― meaning there is a possibility that a much larger number of people have already been infected but do not know it yet.
Trump at that earlier news conference also claimed, falsely, that the United States was producing a vaccine "very rapidly." In fact, his own experts at the National Institutes of Health warn that a useable vaccine is at least a year and a half or two years away.
And in days prior to that, Trump was making even more unsupported claims about the disease caused by the virus, now officially named COVID-19.
Trump claimed "it was very much under control," that it "will go away in April" with the warmer weather, and that, in any event, his administration was doing "a great job" of handling it. At times he has seemed far more concerned about the virus' effect on the stock market than on human beings. "Stock Market starting to look very good to me!" he wrote on Twitter on Monday, while he was in India and as the market was halfway through a deep, two-day slide.
In fact, Trump eliminated the pandemic response team that predecessor Barack Obama had built following a 2014 Ebola epidemic in west Africa. That decision, health experts said, has hurt his administration's ability to get up to speed on the coronavirus.
During Saturday's 50-minute news conference, Trump also attacked the Federal Reserve Board for not lowering interest rates enough and praised a new peace agreement with the Taliban rebels in Afghanistan. At one point he said the Taliban ― the group that once harbored Osama bin Laden ― would now take over the fight against terrorists, and at another point said that invading Afghanistan to overthrow the Taliban was a mistake.
Trump also called on the news media and Democrats to tone down their discussions of the outbreak. "I would respectfully ask the news media and politicians and everybody else involved not do anything to incite panic. Because there's no reason to panic, at all. This is something that's being handled professionally," he said.
That request marked a dramatic reversal from his own criticism of Obama's handling of the 2014 Ebola outbreak, when Trump posted nearly 100 times on Twitter attacking Obama over a three-month period.
"The United States must immediately institute strong travel restrictions or Ebola will be all over the United States-a plague like no other!" Trump wrote on Sept. 30, 2014.
On Oct. 12. 2014, Trump posted: "I don't know if President Obama isn't stopping the flights from Ebola torn West Africa because he is stubborn, stupid, or just doesn't care!"
Obama won praise in the coming months for not only taking actions to prevent the disease from spreading to the United States, but for helping it from spreading further in Africa.
Popular in the Community