Trump's plans and policies could impact the health care sector and renewable energy industry. This could affect millions of Americans.
Trump's policies and plans are unprecedented, and he's looking to disrupt many of Obama's policies, ranging from health care to clean energy. Trump could do some harm to many people and industries if he actually does what he says he will do. The health care sector and renewable energy industry are the most notable because they could have a large impact on many Americans.
The health care sector is one of the most vulnerable to Trump's plans. President Trump has promised a health care plan that would be cheaper than ObamaCare, which he wants to repeal. Now, this isn't really a selling point for his new plan. If Trump "successfully" repeals the Affordable Care Act, or ACA, there would be tens of millions of people without health insurance. Moreover, if he repeals the Affordable Care Act, those who have insurance under the Affordable Care Act would not be able to receive free medicines typically covered under the ACA, such as free birth control.
Under the ACA, young adults could be covered on their parents' or guardians' health insurance plans. However, if Trump repeals the ACA, it'll leave millions of young adults with another expense that they may not be able to afford.
Here's a look at how one of the most widely followed exchange-traded funds (ETFs) that tracks the health care sector performed recently: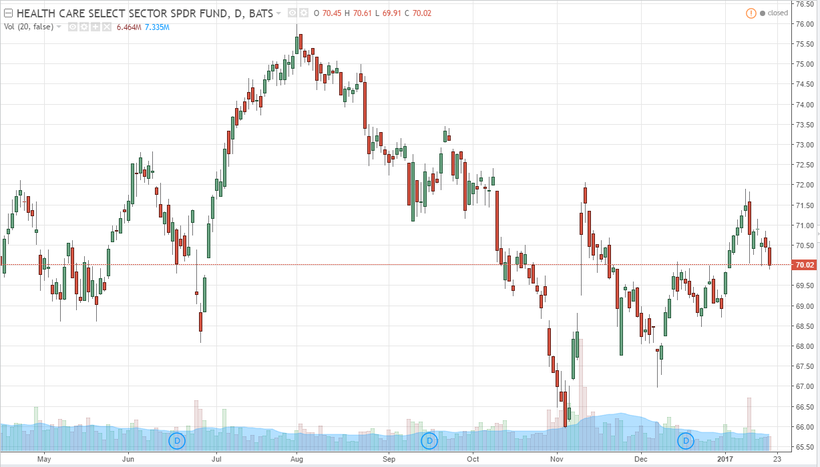 The Health Care Select Sector SPDR Fund (XLV), which primarily holds big pharmas and biotech stocks in its portfolio, rallied significantly since the U.S. Presidential election. Now, this tells us that even the markets believe that Trump is in support of pharmaceuticals and biotech stocks. Trump is not like Hillary Clinton, who was very outspoken about price gouging in the pharmaceuticals and biotech industries, and he may continue to leave U.S. citizens with high drug prices and could leave millions with no health care.
With that in mind, stocks in the health care industry should rise under the Trump administration. However, Trump could leave millions of people without health insurance, coupled with high drug prices.
Trump's Impact on Renewable Energy
Many people believe in global warming and want to prevent any more damage that humans do to the environment. However, Trump isn't buying that the world is experiencing climate change. Trump has gone as far to say, "global warming is a total, and very expensive, hoax." Trump's plans to deregulate energy production will only add to global warming, and could affect billions of people across the globe.
Take a look at how one solar exchange-traded fund (ETF) fell heading into the U.S. Presidential election: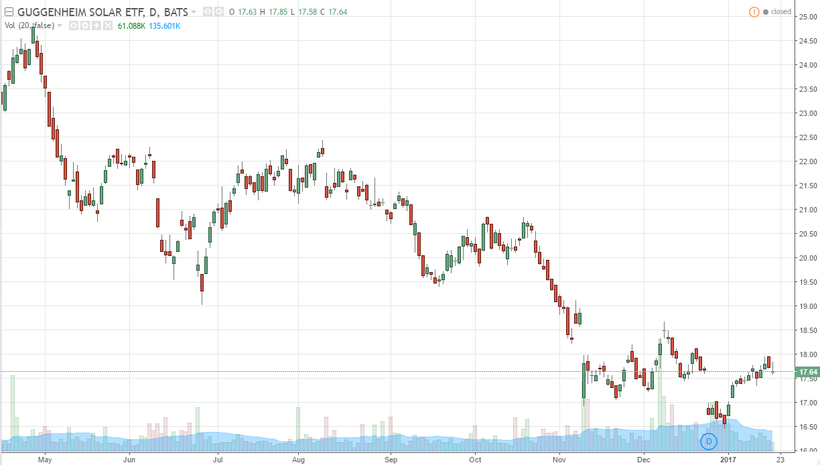 The renewable energy industry doesn't look like it'll thrive under Trump's presidency, unless someone changes his mind. Trump has also selected Exxon Mobil CEO Rex Tillerson, who is known to have strong ties with Russia, as the Secretary of State. Now, if Tillerson wins over key senators, there could be increased activity in the oil and gas industry, which could drastically affect the economy and renewable energy industry.
Trump was just inaugurated into the White House, and his plans and policies could affect millions of people. We'll still have to wait and see whether he will actually repeal the ACA and deregulate the oil and gas industry. One thing is for sure, his decisions will impact nearly all Americans, and could impact the entire globe.
Calling all HuffPost superfans!
Sign up for membership to become a founding member and help shape HuffPost's next chapter
This post was published on the now-closed HuffPost Contributor platform. Contributors control their own work and posted freely to our site. If you need to flag this entry as abusive,
send us an email
.