Corporate executives took the unusual step of disavowing the sitting U.S. commander-in-chief last month after President Donald Trump failed to unambiguously condemn the white supremacist rally that sparked deadly violence in Charlottesville, Virginia, last month. The White House disbanded two advisory councils after chief executives, facing intense public pressure, began quitting in protest.
But that hasn't resulted in the business executives cutting ties to the president, JPMorgan Chase CEO Jamie Dimon acknowledged on Tuesday.
In an on-stage interview at CNBC's Delivering Alpha conference, the chief of America's biggest bank by assets said the dissolution of the council he served on was "not a big deal," and that executives have a responsibility to help when called upon by the administration.
"You can't say, ''I'm not going to go help a new president of the United States,'" he said at the event in New York. But in the immediate aftermath of the controversy spurred by Trump's reactions to the Charlottesville violence, the councils "became more of a distraction than was necessary, that's all," he said, and were "more of a negative than positive."
He added that the ending of the councils doesn't mean CEOs "aren't going to be involved in a way they can be productively involved" with the administration. 
Merck & Co. CEO Kenneth Frazier stepped down from the White House's manufacturing council two days after Trump, in his initial comments on what occurred in Charlottesville, refused to single out the white supremacist marchers, one of whom allegedly drove a car into a crowd and killed an anti-racism counter protester. Trump instead condemned violence on "many sides."
Trump publicly attacked Frazier, the lone African American on the council, with an angry tweet criticizing his company for high drug prices.
But other executives followed suit, including the top bosses of Under Armour, Intel and Campbell Soup Company. And in a rare rebuke, Walmart CEO Doug McMillon ― who served alongside Dimon on the White House's business advisory council, a sister group the manufacturing panel ― published a memo to employees excoriating Trump's response to the Charlottesville tragedy on the retailer's website.
Under mounting calls for more companies to make a similar stand, the White House disintegrated both groups in a move Trump said allowed the firms to save face.
Corporations are by nature averse to weighing in on social politics, yet Trump allowed them to righteously seize the high ground on an issue as morally one-sided as the merits of neo-Nazism. Trump may have forced corporate captains into uncharted waters, but he ultimately blew wind into their sails by giving them the chance to publicly state that they think Nazis are bad and win plaudits by doing so. The whole situation became a most dramatic ― and yet least controversial ― expression of corporate social responsibility in recent memory.
And it came at little cost. Even if a showy and vindictive president disbanded the advisory councils, that hasn't stopped corporate lobbyists and industry trade associations from working with top White House officials such as Vice President Mike Pence or National Economic Council Director Gary Cohn.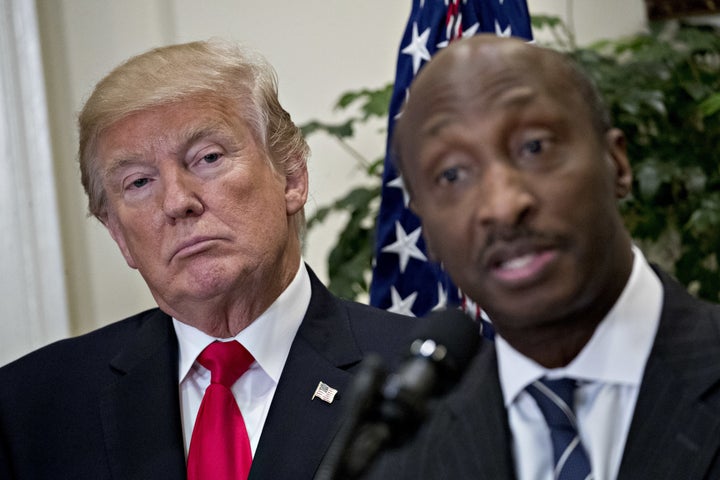 "Businesses will continue to engage on the issues important to the American economy, just through different venues," Michael Steel, managing director at Hamilton Place Strategies, a public affairs firm that represents a number of financial services clients, told Politico last month. "Many people in the business community are frustrated by the president's words and tweets on Charlottesville, but that does not change the importance of policies that make life better for the economy and the American people."
Trump made aggressive deregulation a key part of his policy platform. Since taking office, his administration has been stripping away environmental and banking regulations put in place to combat climate change and prevent an financial crisis like the one that sparked the Great Recession. Now, he's pushing for a major tax overhaul that would sharply reduce the burden on big companies and the richest Americans. On Wednesday morning, he tweeted that destruction left by two major hurricanes this month meant "Tax Cuts and Tax Reform is needed more than ever before."
Dimon, in his Tuesday comments, said business executives "should try to help the president be successful."
"Can you imagine me standing in front of an audience like this and saying I'm not in favor of the president of the United States being successful?" he added. "I would find that ― I'd be a traitor."
REAL LIFE. REAL NEWS. REAL VOICES.
Help us tell more of the stories that matter from voices that too often remain unheard.
BEFORE YOU GO
PHOTO GALLERY
Memorial Held For Charlottesville Victim Heather Heyer