Republican National Convention-goers are in for a big surprise.
Planting Peace, the nonprofit organization behind The Equality House, a rainbow-colored house that sits across the street from Westboro Baptist Church, is calling out Donald Trump and the Republican Party in a massive billboard that went up on Thursday in Cleveland, Ohio, where the RNC will take place next week. The billboard, below, shows an illustration of Trump poised to kiss Ted Cruz beside a caption that reads "Love trumps Hate. End homophobia."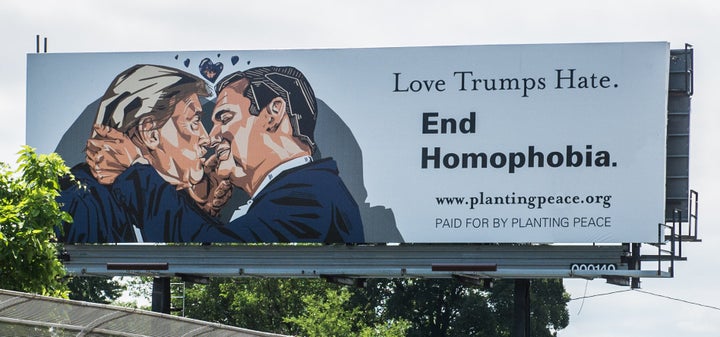 In the eyes of Aaron Jackson, President of Planting Peace, this high-profile move is intended as a direct response to the Republican party and the messages of hate it sends to marginalized groups ― particularly the lesbian, gay, bisexual and transgender (LGBT) community.
"What Donald, Ted and the Republican party either fail to realize, or realize and just don't seem to care about, is that their words and actions toward our LGBT family―especially LGBT children―have meaning and impact," Jackson told The Huffington Post. "LGBT children hear these messages telling them they are nothing but second class citizens and are left feeling broken or 'less than.'"
The proposed GOP platform, which will come up for ratification by delegates at next week's convention, is one of the most anti-LGBT in history. According to CNN, it "opposes same-sex marriage rights, supports efforts to restrict bathrooms to individuals' birth gender and protects businesses who refuse services to individuals based on religious objections to gay marriage."
"When children are dying because of negative messages, then it's time to change the message," Jackson said. "Planting Peace calls for the immediate change in the Republican party platform with regard to our LGBT family and LGBT rights. Never again shall a negative, hateful message be uttered in the name of 'religious freedom.' We are calling for action that brings full, fundamental rights to the LGBT community, and a narrative that empowers LGBT people to live and love freely."
We guess if the folks living in Cleveland have to suffer through the convention happening in their city next week, at the very least they'll have something inspiring to look at, right?
Popular in the Community