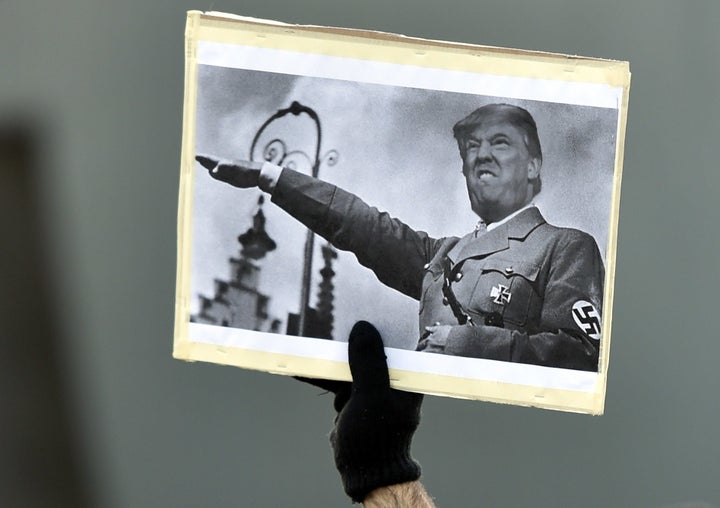 President Donald Trump said he believes that immigrants in Europe are causing the continent to lose its culture. European white supremacists believe the same thing.
In a sit-down interview with The Sun, a British tabloid, on Thursday, Trump said migrants seeking safety from violence abroad have "changed the fabric of Europe."
"And I don't mean that in a positive way," he told the paper. "I think allowing millions and millions of people to come into Europe is very, very sad. I think you're losing your culture. Look around. You go through certain areas that didn't exist 10 or 15 years ago."
In a press conference later that day, he lambasted London Mayor Sadiq Khan.
"I think that all of this immigration has really changed the fabric of Europe," Trump said. "Now, I speak as an outsider when I say that, but I speak as somebody who loves Europe, and I think it's too bad. I think [Khan has] done a very bad job on terrorism. I think he's done a bad job on crime."
Trump's dangerous rhetoric is nothing new but is a reminder of the closely held beliefs he seems to share with so many avowed racists.
Mark Collett, one of Britain's highest-profile white supremacists, has openly called himself a "Nazi sympathizer." In an April video posted on Twitter that showed a group of Muslims peacefully praying, Collett decried that European culture "is being replaced." Another tweet by Collett showing praying Muslims read, "The Western world is under siege." He has been retweeted by Rep. Steve King (R-Iowa), who never deleted the tweet and continues to dabble in white supremacist rhetoric.
Far-right, anti-Islam Dutch politician Geert Wilders consistently vilifies Muslims, calls for closed borders and has compared the Quran to Hitler's Mein Kampf. He's also a big fan of Trump's.
"The president is 100% right," Wilders tweeted in response to Trump's latest comments. "We are losing our culture, nations, identity and freedom because weak leaders as Merkel, Macron, May and Rutte love open borders and promote islamization," referring to German Chancellor Angela Merkel, French President Emmanuel Macron, U.K. Prime Minister Theresa May and Dutch Prime Minister Mark Rutte.
European white nationalist group Generation Identity has said that a nation "cannot replace the native inhabitants of a land and expect the culture to remain."
Trump once retweeted Islamophobic videos from Britain First, a widely known U.K. organization that peddles racist videos that have often been proved fake.
His assertion that immigrants are causing a decay in Europe is a demonstrably false statement that he has repeated time and again.
During the 2016 presidential campaign, Trump shared a story of a supposed friend named Jim who had visited France and said "Paris is no longer Paris" because of terrorism and migration. Trump tweeted last month that crime in Germany was up 10 percent because of refugees in the country. In reality, the number of recorded crimes last year in Germany was the lowest in decades.
According to Bloomberg, Trump told May during her trip to D.C. in 2017 that he believed there were "no-go areas" in London because of the number of Islamic extremists, and she corrected him, saying there were no such neighborhoods.
U.S. ambassadors to Europe have caused outrage in their host countries, promoting similar far-right beliefs and conspiracies. This year Ambassador to the Netherlands Pete Hoekstra was forced to apologize for falsely claiming that there were Dutch "no-go zones" where Islamic extremists were burning politicians.
"When he's not blasting Europe for the sin of accepting migrants, Trump rails against immigrants hoping to make a better life in the U.S."
Trump's narrative that Europe is under threat from migration and that refugees are bringing a surge in crime sounds nearly identical to that of European far-right leaders such as Hungarian Prime Minister Viktor Orban, Italy's Deputy Prime Minister Matteo Salvini and Germany's anti-migrant AfD party leader Alexander Gauland.
Despite migration to Europe falling to levels similar to those before the 2015 refugee crisis, these leaders have hammered on an ethnonationalist message that refugees and migrants are coming in droves, bringing crime and threatening white Christian citizens. Orban warned last year that "too much mixing causes problems" and called for "ethnic homogeneity."
In May, Orban hosted former White House chief strategist Steve Bannon ― a white nationalist sympathizer ― and Bannon compared Orban to Trump and complemented Orban on his election victory the month before. Bannon previously called Orban a "hero." In a move that might have been unheard of for past administrations, the Trump administration has cozied up to Orban's authoritarian government.
When he's not blasting Europe for the sin of accepting migrants, Trump rails against immigrants hoping to make a better life in the U.S.
"They're bringing drugs," he infamously said in 2015. "They're bringing crime. They're rapists. And some, I assume, are good people."
Trump has fallen squarely into the hands of dangerous white nationalists both at home and abroad. And he seems pretty comfortable with it.
Support HuffPost
The Stakes Have Never Been Higher
Popular in the Community