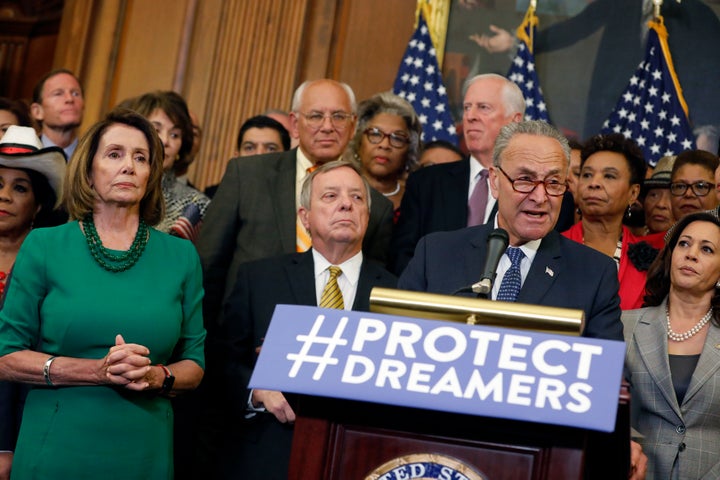 House Democratic Leader Nancy Pelosi (Calif.) and Senate Democratic Leader Chuck Schumer (N.Y.) say they and President Donald Trump have "agreed" to pass legislation to protect the nation's 800,000 Dreamers from deportation. According to the two Democrats, who dined with Trump on Wednesday night, the proposal would not include a physical wall along the U.S.-Mexico border, although aides to the president have pushed back on such assertions.
"We had a very productive meeting at the White House with the president," Pelosi and Schumer said in a joint statement. "The discussion focused on DACA. We agreed to enshrine the protections of DACA into law quickly, and to work out a package of border security, excluding the wall, that's acceptable to both sides."
The White House was far less definitive on Wednesday night, however, saying the meeting was a "constructive working dinner" and a "positive step toward the President's strong commitment to bipartisan solutions for the issues most important to all Americans."
Some reports say the Trump administration has already pushed back against assertions that an agreement on Deferred Action for Childhood Arrivals (DACA) would exclude funds for the wall. Marc Short, the White House's top legislative aide, said that Pelosi and Schumer's statement was "misleading" and that no deal on DACA's so-called Dreamers or a border wall has been reached.
White House press secretary Sarah Huckabee Sanders said that, while Dreamers were discussed, "excluding the wall was certainly not agreed to."
In response to Sander's statement, Matt House, Schumer's communications director, said, "The president made clear he would continue pushing the wall, just not as part of this agreement."
Wednesday's accord is the latest foray into bipartisanship between Democrats and the White House. Earlier this month, the president agreed to raise the debt ceiling for three months and keep the government funded, largely in line with Democratic proposals. Republican leaders, as well as Treasury Secretary Steve Mnuchin, had wanted a longer extension, six to 18 months, and Trump's decision reportedly left top GOP leaders furious.
"I think that's ridiculous and disgraceful that they want to play politics with the debt ceiling at this moment when we have fellow citizens in need, to respond to these hurricanes so we do not strand them," House Speaker Paul Ryan (R-Wis.) said of his Democratic colleagues at the time.
In an interview with The Associated Press published on Wednesday, Ryan said the deportation of hundreds of thousands of Dreamers was "not in our nation's interest," although he said America needed to address border security.
"I do believe that there's got to be a solution to this problem," Ryan said. "But at the same time I think it's only reasonable, it makes perfect common sense, that we deal with the problem that was the root cause of this, which is we do not have operational control of our borders. We are not adequately enforcing our laws. And so it makes perfect sense to fix the source of the problem, the cause, while we deal with the symptom of the problem, the DACA issue, so that we don't end up with a DACA problem 10 years from now."
The president campaigned heavily on a pledge to build a wall along the country's southern border and deport 11 million undocumented immigrants currently living in the United States. Many Republican leaders have long opposed any pathway to citizenship for those who are undocumented, including Dreamers who were brought to America as children and are currently protected under DACA.
Calling all HuffPost superfans!
Sign up for membership to become a founding member and help shape HuffPost's next chapter