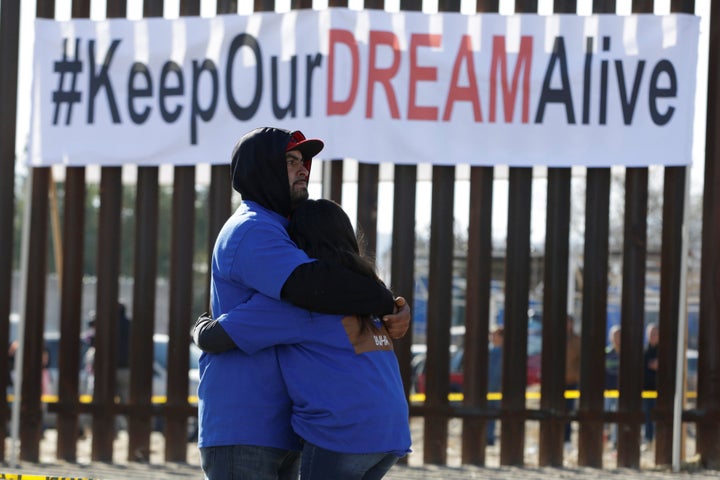 President Donald Trump has again threatened the future status of a program that allowed children who were brought to or remained in the U.S. illegally to stay here, demanding he get a bigger border wall separating the U.S. and Mexico.
In a tweet Friday morning, Trump said Democrats understand "there can be no DACA" ― or the Deferred Action for Childhood Arrivals program ― without a wall on the country's southern border. 
DACA allowed people who were brought to the U.S. illegally as children or overstayed visas to apply for two-year work permits and reprieves from deportation. Earlier this year, Trump reversed the policy, which was created during President Barack Obama's administration. The decision affected hundreds of thousands of undocumented young people, often referred to as Dreamers.
In October, House Minority Leader Nancy Pelosi (D-Calif.) and Senate Minority Leader Chuck Schumer (D-N.Y.) accused Trump of going back on his word on a plan that would protect Dreamers.
"The list includes the wall, which was explicitly ruled out of the negotiations," a statement released by Pelosi and Schumer said. "If the president was serious about protecting the Dreamers, his staff has not made a good faith effort to do so."
Democratic leaders said they will not sign on to a bill next month to keep the government funded if Dreamers are not protected. 
CORRECTION: A previous version of this story mistakenly stated that DACA allowed Dreamers to apply for citizenship.
Calling all HuffPost superfans!
Sign up for membership to become a founding member and help shape HuffPost's next chapter