WASHINGTON ― The Trump administration formalized an immigration policy shift on Thursday evening that was notable for what it didn't do as much as what it did. The Department of Homeland Security rescinded DAPA, a never-implemented program that would have allowed some undocumented parents of U.S. citizens and legal permanent residents to stay in the country.
But more significantly, it left in place the Deferred Action for Childhood Arrivals program, a policy that President Donald Trump promised to eliminate, and one that has shielded hundreds of thousands from deportation.
By Friday, the Trump administration was insisting that the president hadn't gone back on his promise to end DACA. And even defenders of the program remain cautious about its future prospects. Still, nearly 150 days into his time in the White House, Trump hasn't rescinded DACA ― not on Day One of his presidency, as he pledged during the campaign; not when he radically reshaped immigration policy early in his administration; and not on Thursday.
That Trump has been unwilling or unable to move on this front is both a product of an intense, at times underappreciated, lobbying effort by immigration advocates and a testament to the difficulties of removing a benefit once it is in place.
"Their stories and their contributions are the most significant thing protecting DACA," Cecilia Muñoz, director of the White House Domestic Policy Council under President Barack Obama, said. "On some level, it is widely understood that these young people are Americans in every way except on paper. ... That's actually the most important thing, and that was a major contributor to DACA in the first place. The power of that is clearly enduring."
The groundwork for DACA was laid more than a decade before 2012, when Obama created the program. Young immigrants began to "come out" as undocumented, telling their friends, classmates and lawmakers their stories of moving to the U.S. as children, often not knowing they were here without authorization.
In 2001, their stories inspired legislation called the Dream Act, which would give them a path to becoming citizens. They fought for passage of the bill for years, with more and more of them deciding to tell the world they were undocumented, holding protests in their college caps and gowns, or talking to the media about their dreams of joining the military.
This came close to working. The Dream Act passed the House in 2010. But it failed in the Senate.
Under intense pressure from Dreamers and immigrant-rights activists to do something in the wake of that failure, Obama created DACA in 2012, arguing he had the power to grant temporary permission to some who would not be a priority for deportation so he could focus on deporting criminals and threats. Nearly 790,000 young undocumented immigrants have received DACA permits since the program began, allowing them to work legally, get driver's licenses and live without immediate fear of deportation.
Republicans were furious when Obama announced DACA, and threatened to dismantle and defund it. Their efforts were repeatedly blocked by Democrats and rejected by Obama. But by 2016, Trump had capitalized on the brewing anger within conservative circles, bashing DACA and promising to end it on his way to securing the GOP presidential nomination.
After he was elected, immigrant-rights activists immediately began to rally their allies to protect their gains. DACA, said Philip Wolgin, who works on immigration policy at the Center for American Progress, was "the most visible thing on the chopping block."
A group of college and university presidents called for Trump to maintain DACA. The American Medical Association also voiced support for Dreamers, some of whom had enrolled in medical school after its creation. United We Dream, a youth-led immigrant-rights group, asked lawmakers to press Trump's eventual nominees to head DHS and U.S. Citizenship and Immigration Services on plans for DACA. Senators also crafted a bipartisan bill to maintain protections if Trump did get rid of DACA.
It was about reminding people that Dreamers are part of America.
"790,000 people is no small number," Wolgin said. "These are real people. ... You have employers talking about this, you have educators, other folks talking about how these are people in communities. These are people who have built their lives and we can't end this."
United We Dream also hoped to get the attention of Ivanka Trump, the president's daughter and now a senior White House adviser. They didn't think they could appeal to the president on a personal level. But they knew Ivanka Trump was interested in women's rights, so they tried to get her attention through various connections, such as advocacy groups, and by placing op-eds and rallying in New York, said Greisa Martinez, United We Dream advocacy director.
They wanted to get to the president through politics.
"For us, the goal was really clearly to make it a political liability," Martinez said.
Obama got in on the lobbying, too. When he spoke to Trump during the transition, he made an effort to explain who Dreamers were and why they should be protected, Muñoz said. He said at a press conference soon after the election that Trump and his administration should "think long and hard before they are endangering the status of what for all practical purposes are American kids." In his final press conference as president, he promised to speak out should Trump end DACA and try to deport Dreamers.
Whether in response to Obama, or the advocacy pressures, or simply because he rethought his campaign position, Trump began to take a softer tone when talking about Dreamers once elected. He began speaking about them in ways that supporters do: as people brought here by their parents who simply want to work and attend school. In December 2016, Trump pledged to "work something out" for them without formally rescinding his campaign pledge to end DACA.
When he assumed office, he left the program untouched on "Day One" and side-stepped it when issuing an executive order in January that ramped up deportation efforts. According to lawmakers, Homeland Security Secretary John Kelly seemed to take credit for the continuation of DACA, saying he was the "best friend" the program had. But it wasn't just Kelly or Trump changing their tunes. Most Republicans in Congress who had voted previously to end DACA under Obama stopped making an issue of it.
The Trump administration still won't say that DACA is no longer among their targets, even after Thursday's memo. A DHS spokeswoman said the future of DACA remains under review. And White House spokesman Michael Short insisted in an email to HuffPost that "nothing has changed." The "only thing that happened was we rescinded DAPA," Short said. "That's it, plain and simple."
And so, Dreamers with DACA still don't feel entirely safe. On Friday, advocates continued to point out that the administration could still get rid of DACA, or could strip current recipients of their status, detain or deport them one by one, as has already happened in some cases. DACA's continuation after Thursday's action was a relief, but it wasn't a victory.
"The only certainty in Trump's America is uncertainty ― and no memoranda changes that," Lorella Praeli, a former Dreamer and director of immigration policy at the American Civil Liberties Union, said in a statement. "They're trying to distract us with their back-and-forth on DACA as their mass deportation machine proceeds full-speed ahead."
Before You Go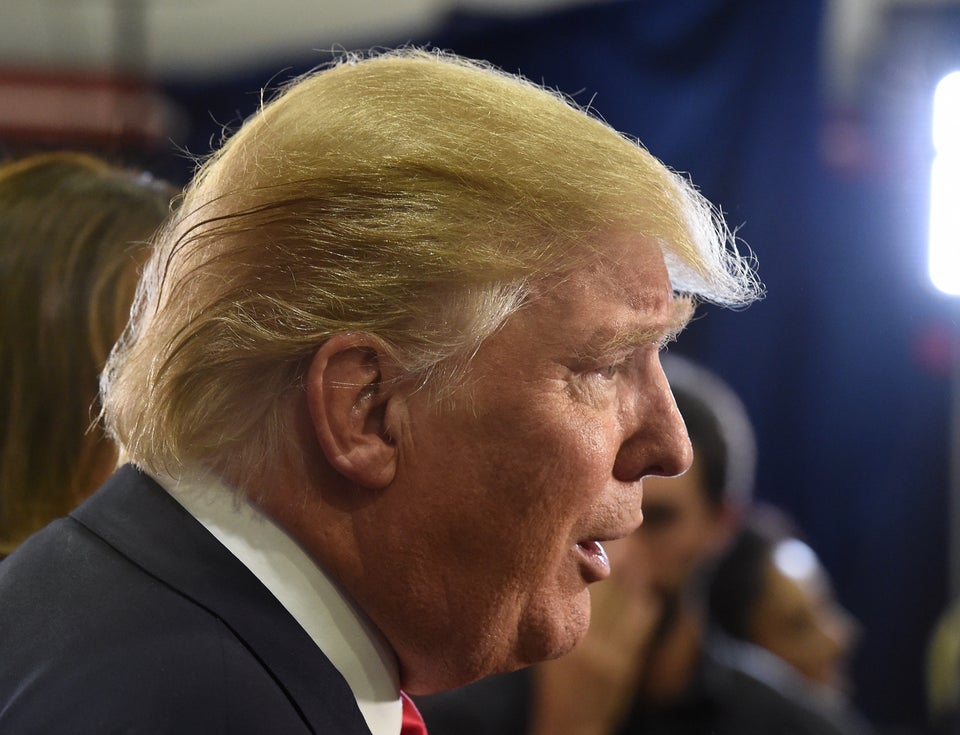 How Donald Trump Talks About Undocumented Immigrants
Popular in the Community