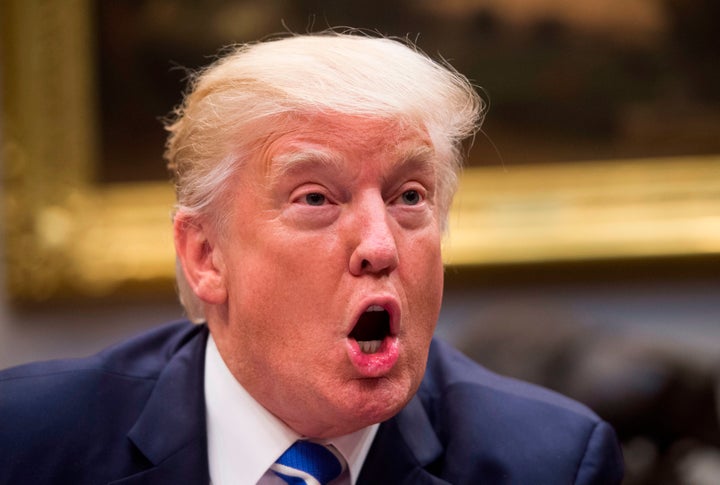 WASHINGTON ― While much of America criticized as heartless President Donald Trump's decision to end protections for people brought to this country illegally as children, one slice of America is angry for the opposite reason: that it took too long and leaves too much wiggle room.
"I have a love for these people, and hopefully now Congress will be able to help them and do it properly," Trump said Tuesday at a White House photo opportunity. "I think it's going to work out very well. And long term it's going to be the right solution."
William Gheen of Americans for Legal Immigration, which advocates for restricting immigration into this country, was not happy. "He's implying that Congress should pass amnesty instead of him."
Unfortunately for Trump, immigration hard-liners make up a disproportionate chunk of that 35 percent of the nation that still approves of his job performance.
"That's not what those stadiums full of people wanted," Gheen said. "Donald Trump is letting a lot of Americans down today."
Gheen and others who want to limit immigration point to a Phoenix rally on Aug. 31, 2016, when Trump gave his word on ending the Deferred Action for Childhood Arrivals program, or DACA.
"We will immediately terminate President Obama's two illegal executive amnesties in which he defied federal law and the Constitution to give amnesty to approximately 5 million illegal immigrants," Trump said, referring to DACA and a related program that was blocked by the courts.
But almost exactly three years earlier, Trump met with a handful of so-called Dreamers ― named for the acronym of the failed legislation that sought to protect them ― during which he reportedly told them that they had persuaded him on the issue. And since taking office, Trump has on numerous occasions talked about his "heart" and his "compassion" toward the DACA enrollees.
These conflicting statements follow a pattern of Trump's personality, in which appears to want to please or at least avoid a confrontation with whatever group he happens to be speaking to at the moment.
When meeting with the DACA recipients, he told them what they wanted to hear. Then, in front of a rally crowd, he told them what he thought they wanted to hear.
"He doesn't like conflict," said one Republican consultant close to the Trump White House, who spoke on condition of anonymity in order to speak candidly about the president.
So, the consultant said, after having promised his voting base one thing and DACA kids the opposite, Trump decided to offload the issue onto Congress, which should have dealt with it in the first place.
"This is checkmate for him," the adviser said of Trump's strategy, adding that Trump has many times made clear he empathizes with the plight of the DACA recipients. "He thinks more of the Dreamers than he does of Republican leaders in Congress."
That punt-to-Congress tactic was accepted Tuesday, if not necessarily embraced, by some of DACA's most strident critics. Ira Mehlman of the Federation for American Immigration Reform also wished Trump had acted sooner. "We can't go back and change the past. The announcement today is that it's going to be phased out." Mehlman added that he expects Trump to force Democrats to "come to the table" and work to fix border security and eliminate the benefits of coming to this country illegally. "And then we can figure out how to deal with this."
But to Gheen, the fact that he and his group have to deal with the issue at all with Trump in the Oval Office is maddening.
"We're miffed now that we're having to fight Trump's amnesty. Those are two powerful words that we never thought we'd have to put together: Trump possessive 's' amnesty," Gheen said.
Popular in the Community