WASHINGTON ― President Donald Trump, Vice President Mike Pence and a group of Senate Republicans congratulated themselves Thursday for meeting to discuss a problem Trump created four months ago when he put hundreds of thousands of undocumented young people at risk of deportation.
"What we did today, which I think was truly a breakthrough, is we saw the president assume leadership on this issue," Sen. Thom Tillis (R-N.C.) told reporters after the meeting, adding that Trump "already has" shown leadership on delivering a message on immigration to the public.
Tillis and other attendees insisted the White House gathering signaled progress toward a compromise on young undocumented immigrants who came to the U.S. as children and now fear removal because Trump ended the Deferred Action for Childhood Arrivals program. But they came out of the meeting with few details about what Trump wants, beyond what he's already tweeted. And the meeting came two months after bipartisan negotiations began in the Senate — negotiations Trump has mostly stayed out of.
Any deal on DACA will require Democratic support, in part because some of the Republicans involved in Thursday's meeting have opposed proposals that give legal status to undocumented immigrants. The Republican senators who attended the meeting were John Cornyn (R-Texas), Chuck Grassley (R-Iowa), Tom Cotton (R-Ark.), Lindsey Graham (R-S.C.), James Lankford (R-Okla.) and Tillis — of them, only Graham is still heavily involved in talks with Democrats on Dreamers. No Democrats were invited to Thursday's meeting.
Sen. Jeff Flake (R-Ariz.), who is involved in bipartisan negotiations, didn't attend Thursday's meeting at the White House for that very reason.
"I have no interest in attending any more Republican-only meetings on DACA," Flake told reporters. "It's counterproductive. This has to be a bipartisan bill."
Trump will hold a bipartisan meeting on immigration next week, the White House announced on Thursday. But so far, the administration hasn't been involved much in bipartisan talks on a DACA deal. White House Chief of Staff John Kelly met with a bipartisan group of senators to discuss the issue before Christmas, promising a "punch list" of specific demands that still hasn't come.
"I have no interest in attending any more Republican-only meetings on DACA. It's counterproductive."
The clock is ticking. When Trump ended DACA, he allowed some recipients to renew their two-year work permits and deportation protections, but not those who were set to lose them after March 5. That means that DACA recipients will begin to lose protections by the hundreds each day in March unless Congress acts.
But the March "deadline" often cited by Republicans is a false one ― DACA has already been rescinded, meaning no new applicants can apply, and people who did not renew their permits within a set period are already losing protections. Advocacy groups estimate an average of 122 people have lost DACA protections each day since Trump ended the program.
Flake has rejected the notion that Congress has until March to do something. He co-sponsored the Dream Act, a bill that would give young undocumented immigrants who came to the U.S. as children the ability to gain legal status. Graham, who attended the meeting on Thursday, is also a sponsor of the Dream Act.
Senate Majority Leader Mitch McConnell (R-Ky.) told Flake last month that he would hold a vote on an immigration bill if a deal was reached by the end of January. Not much has changed in the interim. The key requirements for a deal Trump laid out at Thursday's meeting were all ones he's mentioned before: a border wall, ending the family reunification visas he calls "chain migration," eliminating the diversity visa lottery and more enforcement of immigration laws.
Republicans still haven't reached a consensus on what to do about most of Trump's demands. Some have adopted Trump's calls for a wall, others say border security should involve other measures, some agree with limiting legal immigration, others do not. But the more immigration measures the GOP tries to pile into a deal — particularly polarizing ones like cutting legal immigration or dramatic increases in enforcement — the harder it will be to get a bipartisan bill passed.
Democrats have repeatedly said what they want from the bill: protections for Dreamers — ideally, the Dream Act — in exchange for increased border security measures. Sen. Chuck Schumer (D-N.Y.) reiterated to reporters on Thursday that those are their goals, but didn't explicitly rule out measures the president wants, such as limiting family reunification.
Democrats have called for DACA protections to be part of must-pass spending bills, but ultimately, many still voted for a short-term government funding bill in December that left Dreamers out. They could do the same thing when funding comes up again this month. Both Trump and Republican leaders in Congress have said they want immigration dealt with separately.
Pence and Republican senators praised Trump in front of journalists for his role in the negotiating process.
When reporters were brought into the room, Lankford told Trump, "You gave us a deadline and setting that for March the 1st, and that's a tremendous gift to be able to get that done." Lankford has also thanked Trump for the "gift" of ending DACA and urging Congress to pass a bill.
Pence said Trump had "opened the door to an agreement on DACA, and today, as part of an ongoing discussion with these Republican leaders but also with Democrats on Capitol Hill, to accomplish that, and I look forward to being a part of it."
Trump said that he believes a bipartisan approach is possible.
"I can tell you the Republicans want to see it work out very well," he said. "If we have support from the Democrats, I think DACA is going to be terrific."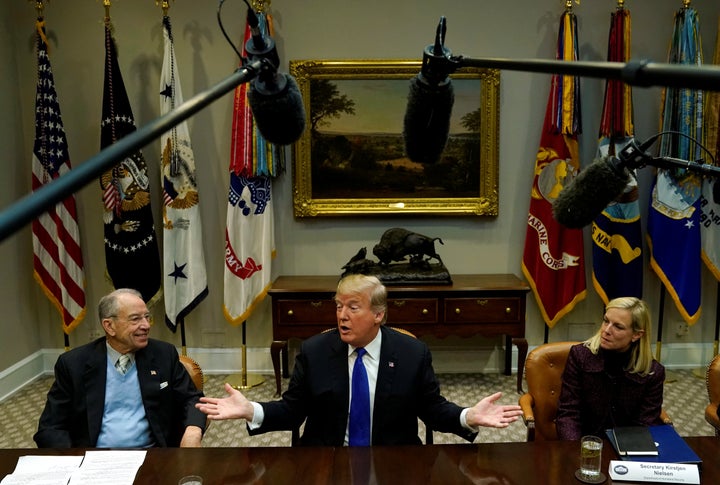 Before You Go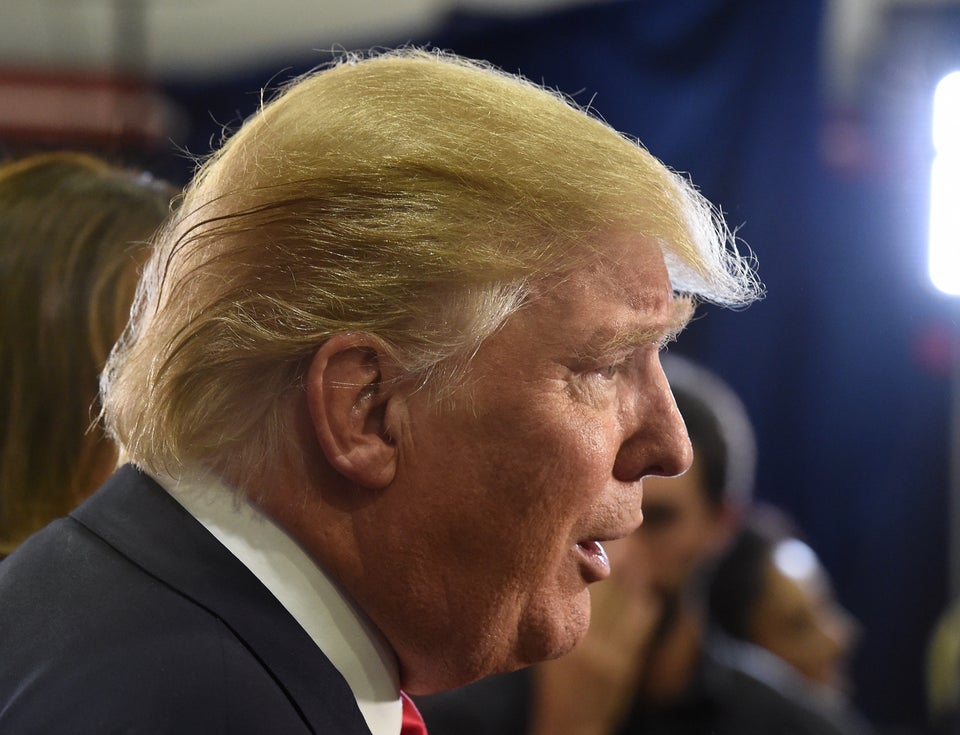 How Donald Trump Talks About Undocumented Immigrants
Popular in the Community