President-elect Donald Trump favors completing the Dakota Access Pipeline, not because of his stock ownership in the companies building it but because it's good policy, according to an aide's memo to supporters.
Trump's support for the divisive pipeline "has nothing to do with his personal investments and everything to do with promoting policies that benefit all Americans," according to the memo this week reported by The Associated Press, Reuters and other news outlets.
"Those making such a claim are only attempting to distract from the fact that President-elect Trump has put forth serious policy proposals he plans to set in motion on Day One," according to the memo to supporters and congressional staff.
Trump's extensive financial portfolio has raised worries that he will find it difficult to separate personal business from the national interest. He had pledged to remove himself from his company to avoid conflicts of interest, yet he hasn't provided details on how the arrangement will work.
The incoming Republican president has a multitude of business interests, and one sliver of his pie included investing in the companies behind the 1,172-mile pipeline that will link the North Dakota oil fields with existing energy infrastructure in Illinois.
In May 2015, according to campaign disclosure reports, Trump owned between $500,000 and $1 million worth of shares of Energy Transfer Partners, the pipeline's lead developer, but had less than $50,000 invested when he sold off the remainder of his shares this summer, according to The Washington Post.
As of last May, Trump had at least $100,000 invested in Phillips 66, which owns a quarter of the oil line, according to the AP.
There was mutual support, as Energy Transfer Partners CEO Kelcy Warren had donated $100,000 to a committee supporting Trump's election.
Trump "intends to cut the bureaucratic red tape put in place by the Obama administration that has prevented our country from diversifying our energy portfolio," according to the memo.
The Dakota Access Pipeline has been stalled since September, when the Obama administration ordered a review of the approval process to hear concerns of the Standing Rock Sioux. The Sioux fear that the pipeline could burst near their drinking water source in North Dakota and have contended that the plan has disturbed sacred tribal grounds in violation of the Historic Preservation Act.
Despite signaling the pipeline's completion is a priority, Trump's memo offered encouragement to the hundreds of pipeline protesters who've camped for weeks, if not months, on federal land in North Dakota.
Trump and his team "respect all Americans' First Amendment right to peacefully protest, and we hope that local and federal officials continue to give support to local law enforcement so they are able to continue to protect these protesters," the memo said, according to the AP.
Hundreds of veterans are converging on the main camp, Oceti Sakowin, to help form human shields around protesters, who prefer to be called "water protectors."
The U.S. Army Corps of Engineers has issued a Dec. 5 deadline for protesters to leave the area while North Dakota's Republican governor, Jack Dalrymple, issued a mandatory evacuation for the camp because of a winter storm. Officials from both offices have said authorities will not use force to remove the protesters.
More than 500 people have been arrested in clashes with police since the protests intensified over the summer.
Before You Go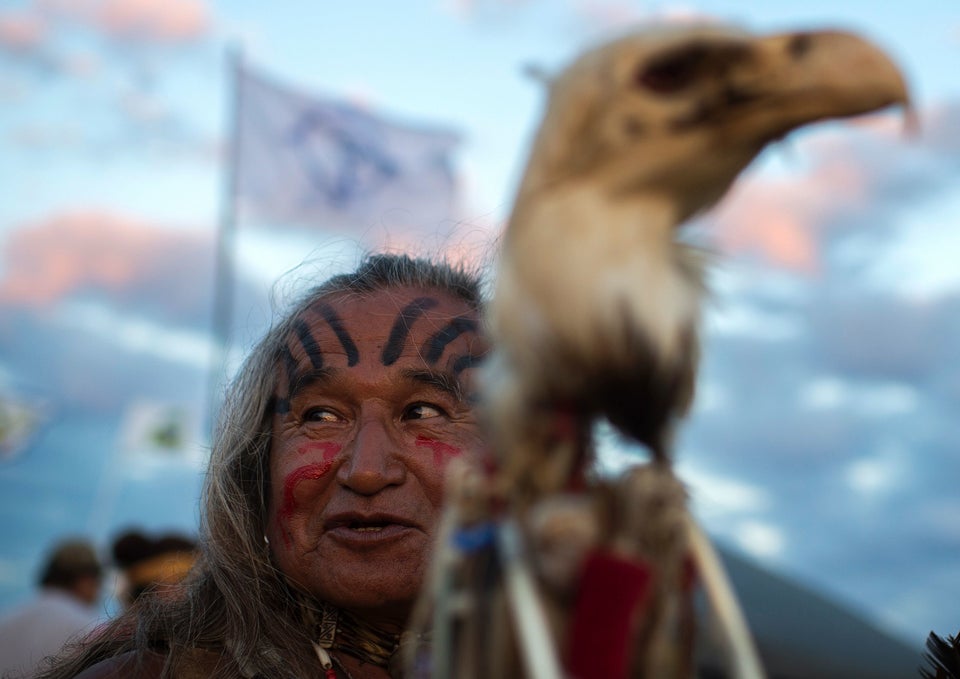 North Dakota Pipeline Protests
Popular in the Community