At a rally last month in Novi, Michigan, Donald Trump's campaign appears to have arranged a brief meeting between the GOP nominee and an activist who once positively reviewed David Duke's 1998 autobiography, which the anti-Defamation Leage labeled "a minor league Mein Kampf."
Brian Pannebecker, a veteran living in Shelby Township, wrote about his experience at the Sept. 30 rally on Facebook, thanking Scott Hagerstrom, Trump's Michigan state director, "for arranging for me and my Son Josh to sit on stage with Donald Trump, and get the opportunity to meet Trump back -stage and have our pictures taken with him." He also invited the New York businessman to come back to Michigan for another rally.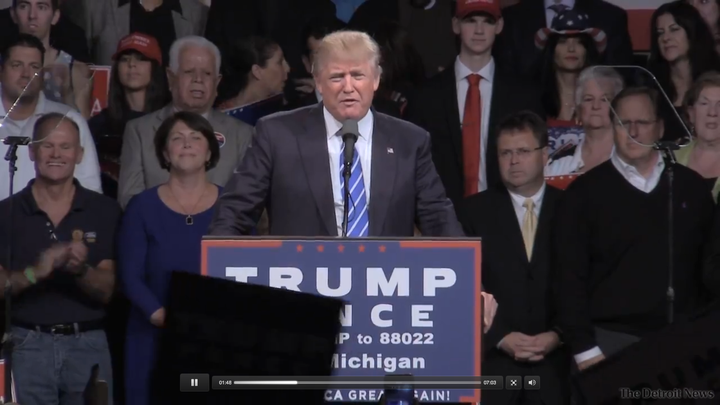 "He told his aides to make it happen, and they said they will see if it can be done," Pannebecker added. "If they can set it up, I promised him we will fill it with autoworkers and veterans!! Let's take back our country!"
According to Politico, Pannebecker wrote an Amazon review in 2001 calling the former KKK leader's autobiography, titled My Awakening: A Path to Racial Understanding, an "honest, fair and well documented book on the important and sensitive issue of race." After reading the book, Pannebecker promised, one "will be able to discuss the issue of race without the fear of being labeled a racist because you will have the facts and the truth on your side." The ADL had a different take in its own review: calling the book an affirmation of Duke's "racist, anti-Semitic, sexist and homophobic roots."
Reached via phone on Wednesday, Pannebecker claimed he was the victim of a "political smear."
"I made a comment online 15 years ago that said people should read books and judge for themselves," he said, adding that the "author of that book had denounced much of his past."
"Why don't you stop digging up dirt, and stop trying to conform everybody to your political correctness," he told HuffPost. "Stop trying to embarrass people, and cause guilt by association."
Pannebecker's scheduled appearance last year at a House Education and the Workforce Committee hearing on so-called right-to-work laws also caused some controversy. The committee rescinded its invitation to Pannebecker to testify at the panel after it became aware of the Amazon review.
It's unclear whether the Trump campaign was aware of the review. A spokesperson did not immediately return a request for comment.
Trump has attracted the support of a number of prominent white nationalists over the course of the campaign, including Duke, who used the GOP nominee's name in a robocall urging people to vote for him in Louisiana's senate race.
HUFFPOST READERS: What's happening in your state or district? The Huffington Post wants to know about all the campaign ads, mailers, robocalls, candidate appearances and other interesting campaign news happening by you. Email any tips, videos, audio files or photos to scoops@huffingtonpost.com. 
REAL LIFE. REAL NEWS. REAL VOICES.
Help us tell more of the stories that matter from voices that too often remain unheard.
BEFORE YOU GO
PHOTO GALLERY
Republicans Who Have Withdrawn Their Support For Donald Trump