World leaders are serving up some shrewdly veiled criticism of Donald Trump at the World Economic Forum in Davos, Switzerland, days before the U.S. president is due to speak there.
Indian Prime Minister Narendra Modi kicked things off with a nearly hourlong address on Tuesday morning, warning explicitly of the dangers that protectionism and trade barriers pose to the world, which he likened to the threat of terrorism.
Modi's remarks came just hours after Trump slapped tariffs on imported solar-energy components and large washing machines ― a move decried by Asian nations as the "America First" leader's trade battle with China escalates.
"Forces of protectionism are raising their heads against globalization," Modi cautioned. "The negative impact of this kind of mindset cannot be considered less dangerous than climate change or terrorism."
The prime minister delved further into climate change, which has become a contentious issue between Trump and other world leaders since he pulled the U.S. out of the Paris climate accord on reducing greenhouse gas emissions.
Trump once dismissed global warming as a "concept" that was "created by and for the Chinese in order to make U.S. manufacturing non-competitive." (Yes, really.)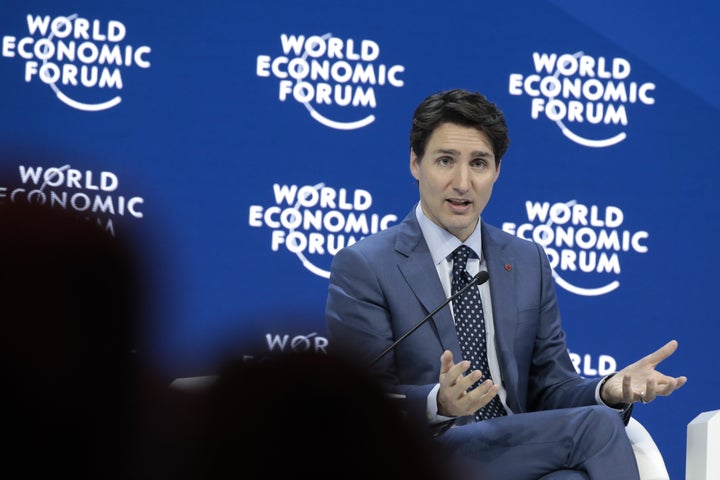 Next up to take a swing at Trump was Canadian Prime Minister Justin Trudeau, who vowed on Tuesday to "push back against the anti-trade tendency in globalization that will leave us all worse off."
"We're working very hard to make sure that our neighbor to the south recognizes how good NAFTA is and [how it] has benefited not just our economy, but his economy and the world's economy," Trudeau added, referring to the North American Free Trade Agreement. Trump has repeatedly slammed the trade pact between Canada, the U.S. and Mexico as "the worst deal ever" and threatened to upend it.
Then, in a direct blow to Trump and the U.S., Trudeau announced that Canada would join a massive Pacific trade deal with 10 other countries, not including the U.S.
Trump has dedicated much of his year-old presidency to trying to erase his predecessor's legacy and curb U.S. leadership on global trade. The TPP was President Barack Obama's signature trade achievement. Obama also spent years renegotiating and reaffirming NAFTA.
On Wednesday morning, German Chancellor Angela Merkel echoed Modi's warnings about rising protectionist tendencies among major economic powers.
"If we are of the opinion that things are simply not fair, that there is no reciprocity, then we have to seek multilateral answers, and not pursue a unilateral protectionist course where we isolate ourselves," she said.
Without directly mentioning Trump's influence, Merkel also lamented Europe's passive approach to foreign policy.
"We need to take more responsibility," she said. "We need to take our destiny into our own hands."
"The times in which we can fully count on others are somewhat over," she said in May. "We Europeans must really take our destiny into our own hands."
In English, French President Emmanuel Macron delivered a snide comment clearly directed at Trump in absentia on Wednesday.
"When you look at the snow outside, it could be hard to believe in global warming," Macron said. "Obviously and fortunately, you didn't invite anybody skeptical of global warming this year." Touché.
Related
Popular in the Community