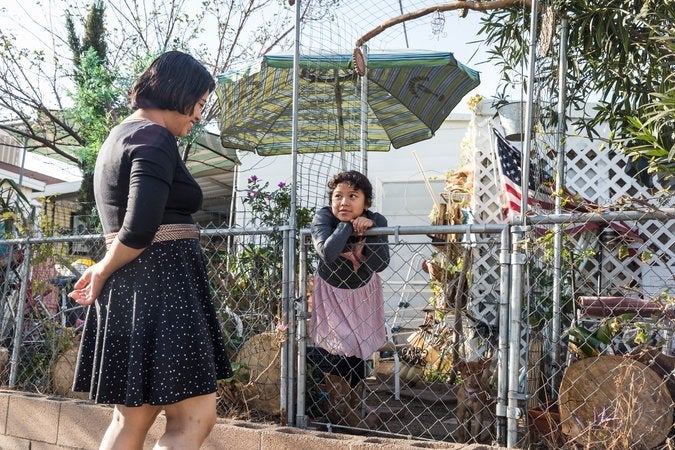 In an act of heartless callousness, Trump's Office of Homeland Security, ordered approximately 200,000 Salvadorans legally in the United States as part of a humanitarian program to leave the country by September 2019 or face arrest and deportation. They are in the country with Temporary Protected Status (TPS), many since major earthquakes wrecked their country in 2001. Their status was renewed in the past by both Democratic and Republican administrations because El Salvador continues to be one of the most dangerous places in the world. It is a failed state with rampant crime and a high murder rate. Haitians and Hondurans also face deportation as the Protected Status program is ramped back.
The Trump Administration is also targeting young, undocumented immigrants, known as Dreamers, who were brought to the United States as children. The President is using them as pawns in his battle with Congress to build a wall separating the United States and Mexico. Facing intense scrutiny because of published accounts branding him as unstable and incompetent, Trump staged a for-television meeting with Democratic and Republican leaders where he tried to appear "Presidential." Despite suggestions of flexibility he insisted that a reprieve for DACA Dreamers must be tied to building his vanity wall, a wall that border security experts believe be ineffective while also diverting funding from proven national security measures.
In an editorial response to Trump television headlined "Dreamers' are people, Not Bargaining Chips," the Los Angeles Times argued Trump's "proposed border wall with Mexico remains a silly, expensive, counterproductive and insulting idea" and denounced his "using the lives of some 700,000 people as political leverage" as "cold-hearted."
Meanwhile, Republicans in the House of Representatives, Trump's erstwhile allies, are promoting a hardline anti-immigrant bill to sharply reduce the number of legal immigrants to the United States; place greater restrictions on employment; punish "sanctuary" cities that protect undocumented immigrants; detain minors stopped at the border; eliminate family preferences; and toughen sentences for deportees who try to return. Republicans plan to offer DACA recipients a three-year renewable reprieve but no path to citizenship.
Over the last more than fifteen years in the United States, the refugees from Salvador have had children, who are American citizens, have bought homes, and built communities. According to the Center for Migration Studies, a New York-based think tank, Salvadoran in the United States under TPS have 192,700 American-born children; almost nine out of ten are in the labor force, and nearly one-fourth own their own homes. If Trump has his way families could be separated and entire communities will be disrupted.
There are probably 2 million people of Salvadoran decent in the United States today with large communities in Los Angeles, the Washington DC area, and Greater Metropolitan New York. On Long island, New York, the population of the towns of Brentwood, Hempstead, Uniondale, New Cassel, North Bay Shore, and Roosevelt are over 20% Salvadoran.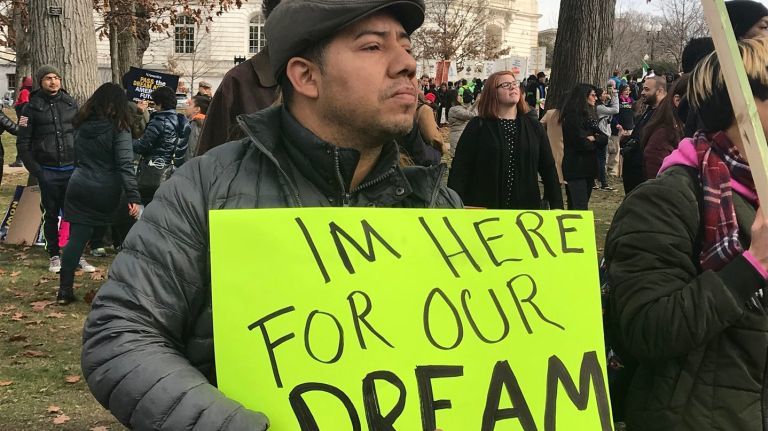 Newsday, a local Long Island newspaper, interviewed Inmaculada Oliva, who lives in Port Jefferson with her husband and three daughters. She and her husband have TPS status but their daughters are U.S. citizens. They own a home, she cleans at an elderly care facility, and her husband is a maintenance worker at a local golf course. Oliva is terrified about the possibility of bring her children to Salvador where they would go to schools infested by gang turf wars.
In the Newsday article, Patrick Young, program director at the nonprofit Central American Refugee Center in Hempstead and Brentwood, warned that "Anyone who knows anything about El Salvador knows that it has become one of the most dangerous countries in the world and you are now going to be deporting people who have lived in this country without any criminal background, for the last 20 years on average, to a country where their lives will be in grave danger."
At the same time that the Trump Administration has declared Salvador safe for the return of refugees, it is engaged in a war with Salvadoran street gangs, particularly MS-13, that are active in the United States. In Salvador, MS-13 has an estimated 60,000 members and extorts about 70% of businesses in Salvador. Ironically, the gang actually started in Los Angeles and was transplanted to Salvador when gang members were deported.
Salvador was also victimized by U.S. policy earlier in the 1970s, 1980s and 1990s when the United States armed and backed a military dictatorship and police death squads that attacked civilians protesting against undemocratic rule. The United Nations reported that as many as 75,000 people were murdered, including the Roman Catholic Archbishop who protested against U.S. support for the military regime and four American Roman Catholic nuns who were on a relief mission.
With its attack on families and communities the Trump Administration may have seriously miscalculated. Separating parents from children, firing co-workers, and deporting neighbors and church members, is not the "American Way." It will upset many who tolerated other Trump actions and will mobilize resistance. During slavery days in the 19th century vigilance committees were organized across the North to protect escaped freedom-seekers from recapture by slavecatchers and the agents of Southern slaveholders. With neighbors being kidnapped and threatened by reenslavement, bystanders became activists. We will need new vigilance committees in our communities. Personally, I pledge to do whatever I can to defend my neighbors from being kidnaped and to protect families from being divided and deported by the agents of Donald Trump.
Calling all HuffPost superfans!
Sign up for membership to become a founding member and help shape HuffPost's next chapter
This post was published on the now-closed HuffPost Contributor platform. Contributors control their own work and posted freely to our site. If you need to flag this entry as abusive,
send us an email
.