As millions of Puerto Ricans struggle to recover from Hurricane Maria, President Donald Trump attended a golfing event Sunday. And just in case anyone was going to go after him for not paying attention to the disaster, he attempted to pre-empt the criticism: He dedicated the trophy to the victims of the storm.
"On behalf of all the people in Texas and all of the people of ― if you look today and you see what's happening, how horrible it is, but we have it under really great control ― Puerto Rico, and the people of Florida who have suffered over this last short period of time with the hurricanes. I want to just remember them," Trump said.
"And we're going to dedicate this trophy to all of those people that went through so much that we love, a part of our great state, really a part of our great nation," he added, before pivoting to talking about golf. "And I'll tell you what ― I've been watching this thing from the beginning. And I have to say, our Team USA, wow, did you play well."
Trump made his remarks at the Presidents Cup golf tournament at Liberty National Golf Course in Jersey City, New Jersey. Trump's attempt to appear engaged by giving a shout-out to the storm victims made the optics of the whole situation even worse.
A person at the ceremony yelled, "You don't give a shit about Puerto Rico!" according to reporters at the event.
A golf trophy does nothing for the people who are struggling to recover after the devastating hurricane. Only 5 percent of Puerto Rico's electrical grid is back up and running, and it could be months before residents get regular service back. More than half the U.S. territory remains without drinking water.
Trump is the first sitting U.S. president to present the trophy to the winning team, and the first sitting president to attend since 2000.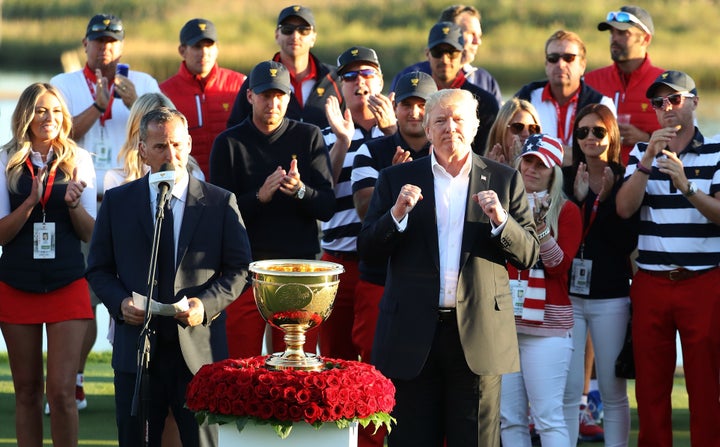 Trump, however, loves golf. Last weekend, as the crisis in Puerto Rico was unfolding, the president spent time at his own private golf club in Bedminster, New Jersey. Trump was there this weekend as well.
Although his administration received praise for its response to the hurricanes that hit Florida and Texas, Trump has appeared more out-of-touch for Hurricane Maria. He and his top officials have insisted that they are doing a superb job responding, attracting harsh rebuttals from people who are actually on the ground. Elaine Duke, the acting head of the Department of Homeland Services, called what was happening in Puerto Rico "a good news story in terms of our ability to reach people and the limited number of deaths that have taken place."
That assessment was quickly hit down by the mayor of San Juan, who was disgusted by the comments. Mayor Carmen Yulín Cruz said the hurricane was a "people are dying' story.'" Army Lt. Gen. Jeffrey Buchanan, who is leading the military response to the hurricane, acknowledged that the response was so far "not enough."
Trump's attempts to show his engagement in the recovery efforts have made him look even more out of touch. Besides dedicating a golf trophy, Trump tweeted an attack Saturday morning on the mayor of San Juan because she dared to criticize him:
Trump has not yet been to Puerto Rico in the aftermath of Maria, but he plans to visit the U.S. territory on Tuesday.
CORRECTION: This article originally stated that Liberty National Golf Course was in Bedminster, New Jersey. It is located in Jersey City. Trump's private golf club is in Bedminster.
Want more updates from Amanda Terkel? Sign up for her newsletter, Piping Hot Truth, here.
Before You Go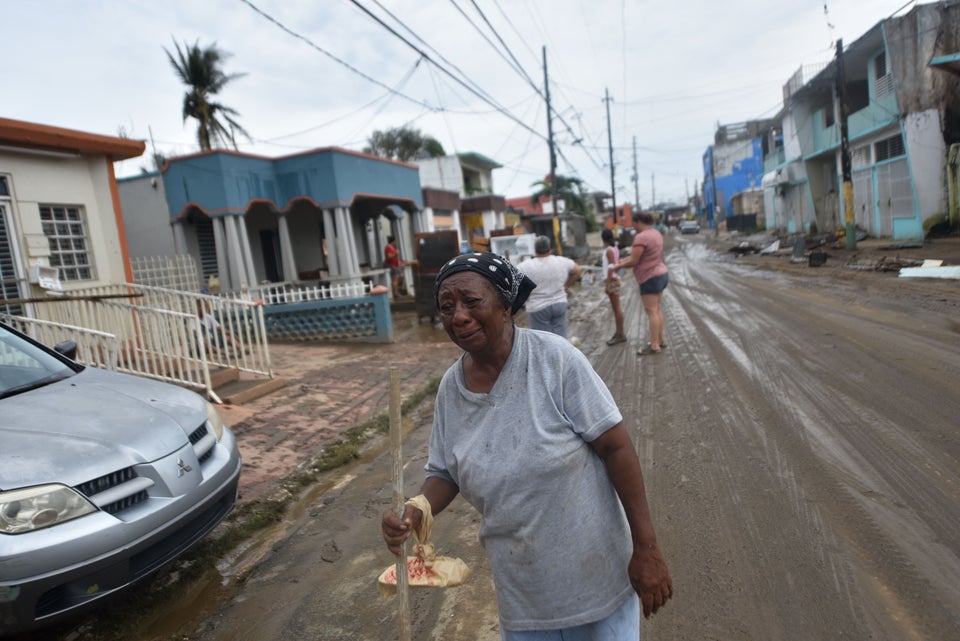 Puerto Rico Reeling After Hurricane Maria
Popular in the Community